Amber Karev, born Amber Evans, is the younger sister of both Alex Karev and Aaron Karev.
Early Life
Edit
Not much is revealed about Amber's childhood apart from the fact that, along with her two siblings, she was raised by a mentally ill mother and drug-addicted father. Her brother Aaron tried to kill her during a psychotic episode when she was sixteen. Aaron was then diagnosed as schizophrenic like their mother.
According to her brother Aaron, Amber is just as smart as their older brother Alex, and is more than capable of going to college.
Notes and Trivia
Edit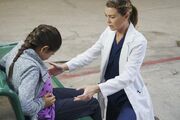 It is likely that her surname was legally changed from Evans to Karev, her mother's maiden name, to disassociate from her father, James Evans.
When she was younger, Alex Dutch braided her hair.
She's the only member of the known Karev family not to have been introduced.