Austin Hayes is the youngest son of Cormac Hayes.
Mom's Illness and Death
Edit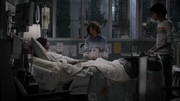 Austin's mom developed cancer after a tumor in her uterus, believed to be a fibroid, was macerated, spreading the cancer cells throughout her body. She underwent treatment, including two clinical trials, but they were unsuccessful and she died. After she died, they gathered up her things from her hospital room and sat in the empty room together for a while before going home. ("Love of My Life")
Visiting the Hospital
Edit
Austin came to the hospital with his brother on a day when the schools were closed due to parent-teacher conferences. ("Save the Last Dance for Me")
Conference and Visiting his Aunt
Edit
Austin and his brother went along with their father to LA for a conference as their aunt lived there and it gave them the chance to visit her. ("Love of My Life")
Relationships
Edit
His mother died two years prior to his move to Seattle.
Notes and Trivia
Edit
He played piano, but not very well.
He had a teacher named Mrs. Douglas who had skin cancer and recovered. She once accused him of writing bad words on his desk.
Appearances
Edit
Grey's Anatomy

,

Season 16

#01
"Nothing Left to Cling To"
#08
"My Shot"
#15
"Snowblind"
#02
"Back in the Saddle"
#09
"Let's All Go to the Bar"
#16
"Leave a Light On"
#03
"Reunited"
#10
"Help Me Through the Night"
#17
"Life on Mars?"
#04
"It's Raining Men"
#11
"A Hard Pill to Swallow"
#18
"Give a Little Bit"
#05
"Breathe Again"
#12
"The Last Supper"
#19
"Love of My Life"
#06
"Whistlin' Past the Graveyard"
#13
"Save the Last Dance for Me"
#20
"Sing It Again"
#07
"Papa Don't Preach"
#14
"A Diagnosis"
#21
"Put on a Happy Face"
Community content is available under
CC-BY-SA
unless otherwise noted.