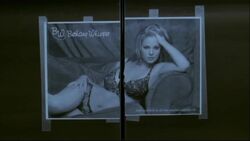 Bethany Whisper is the name of the lingerie company Izzie modelled for.
Before Season 1
Edit
Izzie Stevens worked as a model for Bethany Whisper and the money allowed to her to pay for medical school.
Though the work Izzie had done was shot a year before Izzie started at Seattle Grace Hospital, her pictures came out the year she started at Seattle Grace.
The first person to notice was a drunken patient, but later, another patient noticed that she was the girl in the picture and Alex Karev even printed off hundreds of pictures of Izzie wearing the underwear and hung them all over the hospital, also covering the entire intern locker room in posters. Thus, Izzie was dubbed "Dr. Model" for quite some time.
Notes and Trivia
Edit
Bethany Whisper is possibly an allusion to Victoria's Secret, a popular lingerie company.