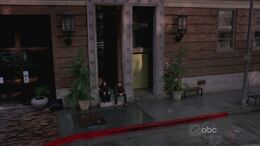 Callie and Arizona's former apartment, formerly Cristina and Callie's apartment, was first seen in season five.
Season Five
Edit
In the episode Here Comes the Flood, Izzie feared that Derek would make her move out so she approached Alex and suggested that they both move into a new apartment she found but he said no. She then approached Cristina but Cristina misunderstood and she and Callie paid a deposit for themselves. Luckily for Izzie, Meredith allowed her to continue to live at her house.
Cristina and Callie moved into apartment 502 and were occasionally visited by Meredith, Derek, Owen, and Arizona.
Season Seven
Edit
Arizona moved in and Cristina moved out.
When Arizona got the grant to go to Africa, she and Callie found a subletter for the apartment. However, when she returned, she bought out the subletter and moved back in. Callie moved back in after they reconciled.
In It's a Long Way Back, Callie and Arizona brought 12 week old Sofia home to the apartment, where they lived as a family until Callie and Arizona purchased a house in Take It Back.
Notes and Trivia
Edit
The full address of the apartment is 628 Barrington St., Apartment #502 Seattle, Washington 98103.
Across the hall is 501, where Mark Sloan lived from season six until his death.
The rug in the apartment was previously in Meredith's house, but set decorator Nicole Cramer decided to lay it in Callie's apartment instead.
The blanket on the end of the bed has been on set since Sara Ramírez joined the cast. It was used when Callie lived in hospital basement.
It was retrofitted to be handicap accessible after Arizona's leg was amputated.
Community content is available under
CC-BY-SA
unless otherwise noted.