Cormac Hayes is the new Head of Pediatric Surgery at Grey Sloan Memorial Hospital.
Meeting Abigail, Her Illness, and Being Widowed
[
edit
|
edit source
]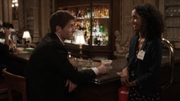 Cormac was at a surgical conference where Abigail, a representative from a drug company who handing out pens, caught his eye as he entered the hotel. Later, she joined him at the bar and offered him a pen. He informed her that the pen was advertising an erectile dysfunction drug, explaining why none of the men wanted to take them. She hadn't known because she was an artist who only took the job for money. He invited her for a drink and took the rest of her pens from her so she'd agree. They ended up getting married and having two children.
When Abigail was 33, she developed fibroids in her uterus. She went in for a minimally-invasive hysterectomy, but it turned out one of the fibroids was actually a cancerous tumor and the machine used to make the hysterectomy minimally-invasive spread the cancer around her body. She underwent treatment, including two clinical trials, but they were unsuccessful. When she reached the point where she knew she was going to die, she talked to Cormac about her wishes for their children and told him it was okay for him to fall in love again. Shortly afterward, she died.[1]
Cormac started his new job at Grey Sloan Memorial. He went to round on his first patient, Jamie Caldwell, and found that they'd already started. He asked that they wait for him in the future before rounding on his patients. He butted heads with Meredith Grey when he insisted on examining her himself and came to the same conclusion Meredith had. They ordered a CT, which showed a mass in her back between two ribs. Meredith believed it was a gallstone that had escaped during a previous surgery, but Cormac thought it might be a malignant mass. Meredith didn't want to mention a possible malignancy to Jamie and her mother, but Cormac insisted on telling them. They did a biopsy, which showed that the mass was not malignant. Meredith decided to remove the mass to see what it was. Cormac tried to object, but Meredith said it was her house and he was just a guest. The mass turned out to be exactly what Meredith predicted, impressing Cormac. He later saw her when he was leaving the hospital and told her that while he understood it was her house, someone had given him a key, so they needed to learn to live together. He explained that he told Jamie and her mother about the possible malignancy because his wife's doctors weren't transparent with him when she was dying. After he left, Meredith got a text from Cristina saying that Cormac was the package she had sent.[2]
When Jo brought in the baby who had been surrendered at Station 19, Cormac examined him. He said everything was good, except a minor rash which was nothing to worry about. Then he told Jo he's surprised she brought him in as he probably would have kept the baby himself, unaware that Jo had taken the baby home for several hours before bringing him to the hospital. He told Jo of his own sons, saying he believed he missed their best stage because he was a resident when his sons were babies.[3]
Cormac was on the case when Kai Hale came into the ER with shortness of breath and coughing up blood. After seeing the CT, Cormac knew Kai had been vaping, which had destroyed his lungs and caused the bleeding in his esophagus. Cormac wanted to stop the bleeding and remove part of Kai's lung, but Meredith wanted to use coiling to stop the bleeding so they wouldn't have to remove part of his lung. Cormac agreed to let Meredith try her way, but it failed and they had to remove part of his lung anyway. Cormac said he wouldn't gloat, unlike Cristina, who had been the one on his side the first time he saw a case like that.[4]
Cormac brought his sons to the hospital on a day when there was no school due to parent-teacher conferences. During this time he introduced them to Meredith. They were reluctant to be shown around and then when the time came for them to go to their conference, he had trouble finding them and asked Meredith if she had seen them.[5]
When Joey Phillips resisted doing his physical therapy, Cormac brought him video games, hoping to encourage him to do his exercises. Joey said he couldn't, not without knowing that his siblings were safe. Bailey arranged to have the three of them come over to the hospital for a while to have pizza and play video games together.[6]
During a blizzard, Cormac became enraged when a liver became available for his patient, Elisa Tang, but couldn't be transported to the hospital due to the weather. He was grateful when Andrew offered to go on foot to retrieve the liver. While Andrew was gone, Cormac continued to monitor Elisa. When she started hemorrhaging, he and Meredith took Elisa into surgery to place a shunt to stop her bleeding. While they were in surgery, Cormac took the time to get to know Meredith and the two of them bonded over being widowed. When the liver arrived, they transplanted it into Elisa, who immediately started to improve. After her surgery was done, Cormac and Meredith told her parents she'd be okay. That evening, as he left the hospital, Cormac ran into Meredith and told her it was nice to talk to someone who understood what it was like to lose a spouse so young and that it helped to have a friend. Meredith said that it helped her too. He then confessed that Cristina did talk about having a twisted sister and asked Meredith if that was her. Meredith shrugged and smiled knowingly in response.[7]
Cormac offered his services during the pro bono surgery day Meredith had planned. He made a joke about pro bono surgery day being every day in Ireland, which Meredith didn't appreciate. At the end of the day, Cormac came to see her and brought her tea. He congratulated her for pulling off the pro bono surgery day, but she was not as impressed with herself. In response he said he could now see the twistedness in her that Cristina Yang had talked about. She told him it took him long enough and thanked him for his help.[8]
Cormac went to the Surgical Innovation Conference in Los Angeles upon Bailey's request. He was uncomfortable at the conference, as it reminded him of the time when he first met this wife Abigail at the same conference at the same hotel many years prior. When sales rep Dane Pinetti tried to pitch to Cormac and Teddy on the possibility of his company partnering with Grey Sloan, Cormac revealed that he already knew how one of their most popular devices, the C-30 power morcellator, worked because it had killed his wife by spreading an isolated cancerous tumor throughout her body. As Cormac revealed the company knows that it's a problem but is paying to suppress the proof that it kills people. He refused to hear anything more from Dane, told him in no uncertain terms to leave, and passed on the drink. Dane left and Cormac apologized to Teddy for his outburst.[9]
Cormac worked on the case of Daya Burman, who was at the hospital for a bilateral gracilis transfer to treat Moebius syndrome. During the surgery, he was surprised to find that other people at the hospital had knowledge of his dating life when Jo asked him if he used any dating apps. He told her he didn't and she replied that he didn't need to seeing as he has his own personal matchmaker referring to Cristina. He asked her what that was supposed to mean and in response she changed the subject. After the surgery, he told Jo he hates set-ups and tried to ask her more about it, but she refused to give him a straight answer. He then decided to ask Meredith to get a drink. She accepted, but said she was too exhausted to do it then and told him to ask her again another time. He told her he would and bid her goodnight.[10]
He was married until his wife, Abigail Hayes died. He says that before she died, the doctors weren't transparent with him, which is why he tells families everything he knows. It is clear he loved Abigail very dearly because he developed a deep hatred for Wilkes and Boon, a company that created a medical device that resulted in her uterine cancer spreading throughout her body and ultimately killing her, to the point he threatened to kill a sales representative from that company when they wanted to partner with Grey Sloan.
Upon moving to Seattle he began developing a relationship with Meredith Grey. At first their relationship was a rocky one as they butted heads over the case of Jamie Caldwell. However, following that they worked together on the case of Kai Hale during which Cormac apologized for his previous behavior and the two became friends. Eventually Cormac asked Meredith out and she accepted.
He has two sons, Liam and Austin, who are both teenagers.
His father-in-law used to make him watch American football, which he never understood.[11]
He knows Cristina Yang. She is responsible for him coming to work at Grey Sloan Memorial Hospital.
He is the Head of Pediatric Surgery at Grey Sloan Memorial Hospital. Before taking the job there, he used to work at the Klausman Institute for Medical Research.
He speaks Italian.[12]
Richard Flood, the actor who plays Dr. Hayes, was promoted to the Main Cast on July 30, 2020 ahead of Season 17.
| | |
| --- | --- |
| | A more complete gallery with pictures of Cormac Hayes can be found here. |
Community content is available under
CC-BY-SA
unless otherwise noted.