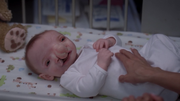 Craniofacial surgery is surgical sub-specialty of plastic surgery that deals with congenital and acquired deformities of the skull, face, and jaws. Although craniofacial treatment often involves manipulation of bone, craniofacial surgery is not tissue-specific, so craniofacial surgeons deal with bone, skin, muscle, teeth, etc. Craniofacial surgery does not, however, include surgery of the brain or eye.
Notable Craniofacial Surgeons
Edit
Surgical Procedures
Edit
Notable Cases
Edit
Grey's Anatomy
Edit
Tyler Sims: A newborn named Tyler was born with part of his brain on his forehead.
Notes and Trivia
Edit
Although Dr. Mark Sloan has never been referred to as a craniofacial surgeon, he reconstructed Rebecca Pope's face, indicating he's also able to perform craniofacial surgeries. However, it is not a specialty he exclusively practices.
During Arizona's surgical residency at Hopkins, she spent a year studying under craniofacial surgeon, Dr. Bud Clement.