Geena Davis played Nicole Herman in seasons eleven and fourteen of Grey's Anatomy.
Geena Davis was born on January 21, 1956 in Wareham, Massachusetts to Lucille and William F. Davis.
At a early age, Geena became interested in music. She learned how to play the piano and flute. She also played the organ as a teenager, and played it well enough to serve as a organist in her church.
She attended Wareham High School and was a exchange student in Sandviken, Sweden, becoming fluent in Swedish. She enrolled in New England College and graduated with a bachelor's degree in drama from Boston University in 1979.
On September 1, 2001, Geena married Reza Jarrahy, and have 3 children
She was previously married to Richard Emmolo, (1982-1983), actor Jeff Goldblum (1987-1990), and Renny Harlin (1993-1998).
Cowgirl's Last Ride (????)
Eve (????)
Dear Angelica (short) (2017)
Don't Talk to Irene (2017)
Marjorie Prime (2017)
Me Him Her (2015)
When Marnie Was There (2014)
In a World... (2013)
Untitled Bounty Hunter Project (2013)
Accidents Happen (2009)
Exit 19 (2009)
Stuart Little 3: Call of the Wild (2005)
Stuart Little 2 (2002)
Stuart Little (1999)
The Long Kiss Goodnight (1996)
Cutthroat Island (1995)
Speechless (1994)
Angie (1994)
Hero (1992)
A League of Their Own (1992)
Thelma & Louise (1991)
Quick Change (1990)
The Accidental Tourist (1988)
Earth Girls Are Easy (1988)
Beetlejuice (1988)
The Fly (1986)
Transylvania 6-5000 (1985)
Fletch (1985)
Secret Weapons (1985)
Tootsie (1982)
GLOW (2019)
She-Ra and the Princesses of Power (short) (2019)
Grey's Anatomy (2014-2018)
The Exorcist (2016)
Annedroids (2015)
Doc McStuffins (2013)
Coma (mini-series) (2012)
Commander in Chief (2005-2006)
Will & Grace (2004)
The Geena Davis Show (2000-2001)
The Earth Day Special (1990)
Trying Times (1989)
Family Ties (1984-1986)
George Burns Comedy Week (1985)
Sara (1985)
Remington Steele (1985)
Riptide (1984)
Fantasy Island (1984)
Buffalo Bill (1983-1984)
Knight Rider (1983)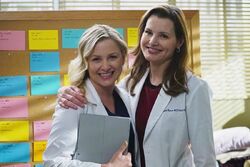 She became really good friends with Jessica Capshaw while filming their scenes together. Thereby, Arizona Robbins has become her favorite character.
Geena signed on for the show without knowing much about her role, except that she was an excellent doctor. That's the first time she ever did that. She only found about Herman's tumor around episode 5.
Geena is married to a surgeon, who helped her out to understand the medical dialogue. He worked with Linda Klein before and she got him a role on the show. He was a scrub nurse in one of Nicole's surgeries.
According to Kevin McKidd, she was really nervous when she first arrived on set.
She has a research institute that looks at gender depictions in media.
Geena is a very accomplished archer and she was in semi-finals of the Olympic trials.
She is a member of Mensa, a social organization whose members are in the top 2% of intelligence.
Community content is available under
CC-BY-SA
unless otherwise noted.