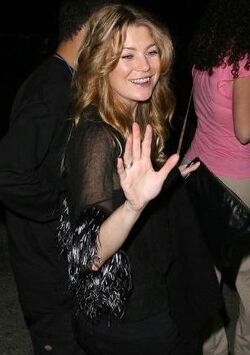 Good Medicine was a one-off musical charity event performed by the cast of Grey's Anatomy and Private Practice in aid of the Solidarity Fund, set up by the Writer's Guild of America for all those who had been put out of work because of the strike.
The show was on Friday, February 29th, 2008 at the Royce Hall, UCLA, Los Angeles, CA, with 1,800 tickets selling for $85 each. Reports indicate a large amount of the audience was the press and journalists, but also included fans and the cast and crew of Grey's Anatomy and Private Practice (such as Steven W. Bailey (Joe the Bartender)).
Notable absentees from were Patrick Dempsey and Kate Walsh, as both were abroad; Dempsey, promoting his film Enchanted in Japan, while Walsh was in Australia promoting Private Practice (however sources claim at the time of the show Walsh would have been on a flight to Colorado). However, both submitted videos for the night.
The cast, filled with Tony Winners, Broadway stars and Emmy winners, performed both musical events and comedic events.
Notable events of the evening include:
A video tape from Patrick Dempsey (Derek Shepherd) promoting his own film Enchanted, "Soon to be released on DVD."
A video tape from Kate Walsh (Addison Forbes Montgomery), claiming the strike has left her feeling stressed and tense, while receiving a massage on camera.
Broadway stars Sara Ramírez (Callie Torres), T.R. Knight (George O'Malley), Chandra Wilson (Miranda Bailey), Audra McDonald (Naomi Bennett) and Loretta Devine (Adele Webber) each performing individual musical numbers.
Paul Adelstein (Cooper Freedman) and Tim Daly (Pete Wilder) on guitars, accompanied by Amy Brenneman (Violet Turner) on tambarene with vocals and Chris Lowell (Dell Parker) on harmonica.
James Pickens, Jr. lip-syncing to James Brown (in costume).
A musical performance by Pickens's wife, Gina.
Katherine Heigl (Izzie Stevens) and T.R. Knight reading naughty fanfic.
Katherine Heigl being left in the dark after insulting the lighting crew.
Ellen Pompeo (Meredith Grey) explaining the roles of people behind the scenes, forgetting the role of a "Best Boy", which featured Sara Ramírez running onto stage, who was unaware of the role as well. The "Best Boy" incident became the running joke of the night.
| | |
| --- | --- |
| | The Grey Matter blog post on this episode can be found here. |
External Links
Edit
Community content is available under
CC-BY-SA
unless otherwise noted.