Wiki Targeted (Entertainment)
Play Sound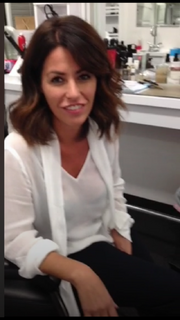 Grey's Anatomy Crew Call was a weekly event hosted by Karin Gleason on the social media app Periscope. Every Friday during the production of season twelve, Karin had a chat with one of the crew members of the show in order to allow viewers to get to know them better and understand what they do on the show.
Usually, the Crew Call was held around 2:00 PM PT, but this varied based on the crew member's availability. Karin notified her followers on Twitter about an hour before it started. The length of the talks varied on the amount of time the crew could spend with Karin.
Guests
[
]
Overview of the guests

| Name | Job | Date |
| --- | --- | --- |
| Annette Sutera | First assistant director | August 6, 2015 |
| Beau Baker | Sound mixer | August 13, 2015 |
| Mimi Melgaard | Costume designer | August 20, 2015 |
| Brian Harms | Production designer | August 27, 2015 |
| Angela Whiting | Prop master | September 3, 2015 |
| Chris Hayden | Unit production manager | September 10, 2015 |
| Nicole Cummins | Script supervisor | September 17, 2015 |
| Norman Leavitt | Department head make-up artist | September 24, 2015 |
| Nicole Cramer | Set decorator | October 2, 2015 |
| Melanie Smith | Department head hair stylist | October 23, 2015 |
| Scott Ramsey | Visual effects supervisor | October 30, 2015 |
| Barbara Friend | Medical researcher | November 6, 2015 |
| Tammy Ann Casper | Post production supervising producer | February 5, 2016 |
| Danny Nero | Stand in | February 12, 2016 |
| Olivia Hernandez | On-set PA | February 26, 2016 |
| Vanessa Delgado | Assistant Editor | March 4, 2016 |
| Payton Silver | On-set medical advisor | March 11, 2016 |
| Jeffrey Snyder | Set decorator on-set dresser | March 18, 2016 |
| Christina F. Witt | Production office PA | April 1, 2016 |
Summaries
[
]
The following summaries summarize the shared info about the crew members and what they had to say about their jobs.
Beau has been part of the crew since season 2. As a sound mixer, he records actors speaking when they're filming their scenes. The main goal is to try to get the clearest sound for post-production, because it's hard to cut or seperate sounds from filmed sounds, whereas it's easier to add them if necessary. Himself aside, his team consists of a mixer and two boom operates, who handle the boom poles that actually record the sounds. Beau has worked in the business for about 30 years, out of which 16 as a mixer. He's worked all over the Unitated States and even did a couple of movies in Europe. Beau is very appreciative of his job on the show, because it allows him to stay local and spend time with his family.
Asked about how he decided to become a sound mixer, Beau explained that as a University of Southern California film student, he was fortunate to visit different sets, which sparked his interest in sound. He started working with a well known sound mixer in his 20s and work with him on jobs he had. Initially, he traveled around for jobs, but after he started a family, he started to look for jobs close to home.
As to the challenges of his job, Beau explained that there are two major challenges. The first one is that the microphones can't actually be seen in the screen shots. Therefore, he has to be very particular about where mics are placed and hidden. The second one is that microphones also pick up background noise or equipment sounds etc. It helps that mics have directionality, so they can be put directly facing an actor or a machine, but it can't leave out the background noises.
Since there are different types of microphones, it all depends on the action in the scene which type is used in that scene. If actors are standing at a nurses station or in a patient room, microphones held over the actors on boom poles. If it's a walk-and-talk scene, the actors wear small transmitter microphones hidden in their clothes. Overall, it's the main goal to minimize the outside noise as much as possible. During the crew call session, Beau showed all different types of microphones they used.
A special and challenging episode was of course the musical episode. The songs were pre-recorded and played for the actors as they filmed their scenes. A play-back operated was hired to manage the pre-recorded music. The most challenging was timing the dialogue perfectly to the pre-recorded music. Wearing ear wigs, costing about $1,000 each, the actors could hear the songs so that they wouldn't be recorded again as Beau and his team were recording the dialogue and background sounds.
Another special type of scenes is OR senes, where the actors wear masks and there's real medical equipment that makes loud noises, such as the suction and heart monitor. Sometimes, Beau has to do a "wild track", also known as wild sound or wild lines, which means he has the actors run through their lines with the right timing while the scene is not being filmed so Beau can focus on the dialogue. Sometimes, actors do have to do ADR (automated dialogue replacement), which means going back to record particular lines. The fact that the actors are wearing masks is also helpful, because it makes it unnecessary to have a perfect timing then because the dialogue doesn't have to perfectly match the movement of their previously recorded mouths. However, ADR is usually avoided in order not to take too much time away from the actors as they already spend so much time filming on set.
Must-have skills for a sound mixer, according to Beau, are the ability to focus on what you do or what you want to do. It's best to focus on learning the sound. Listen and learn. Since working in film is a trade profession, it's best to work with someone as an apprentice to learn by watching and doing it afterwards. You have to be attentive and cheerful, and willing to work long hours in sometimes hot, wet, or cold conditions. As long as you keep yourself happy in your work, you'll go far, Beau says.
Beau's favorite episode is That's Me Trying because of the mass casualty trauma drill scenes. There's lots of rain in the background all the while the doctors also had dialogue while treating the mannequins. Beau is very proud of the fact that he managed to record all the sound during the 3 to 4 days shoot without requiring ADR, despite the strong and loud rain and issues with wetting the microphones..  
The best thing about the job is his team. They have worked together for a while so that they've become one entity when it comes to working together to get something done. He's also happy to be involved in the scenes, but only having to worry about the sounds, whereas others have worry about sets and wardrobe and other things like that. He's not part of what we see, only of what we hear.
To conclude, Beau shared some advice for those trying to work in his profession. These people have to work hard at finding and learning what they don't know. Luckily, nowadays there are many modern ways to record sound. The technology is becoming more affordable, so learning the basics of audio is easier and affordable. With some networking, it's easy follow around a mentor who can teach you some things you need to know. It's a trade craft, so you have to dive in the water and learn how to swim with it.
Mimi is the costume designer. She has been working on the show since As We Know It, the middle of season 2. Her job is to read the script and figure out what the characters need, where they're going and who they are. That vision of the characters depends on where Shonda wants it to go. After receiving the script, Mimi has 7 days to days fit and alter clothing before it goes on screen.
Asked about why she became the costume designer, Mimi says she has always loved fashion and how clothes can help tell the story. She wanted to become a costume designed since she was in school. She's had jobs in theather, comericals, movies and television. She prefers the pace of TV since she has so much energy to dedicate to the show. Movies give her more time to pick out outfits for the character. As an example, she gives wedding scenes. On television, she still has 7 days to pick outfits for both the bride and groom as well as outfits for all the guests in the scenes, no matter how big the wedding is, while movies offer her more time.
Mimi thinks that as a costume designer, it's important to be super organized, to have a really good work ethic and to be good with managing a lot of different personalities, as every artist has a different way of communicating. You also need to know where to get the research for whatever project that you are working on. 
When asked how she chooses different types of outfits for the various cast members, Mimi says a wardrobe meeting is held to discuss the characters. In the meeting, Mimi discusses what she'll need and certain characters details, such as their personality, as the wardrobe is an extension of the character. Also, the actions of the character makes a difference to what she'll need. For example, vomiting and bloody scenes require more of the same outfit than usual because it'll require multiple takes.
The best thing about her job is just coming to work at Grey's Anatomy. Even after all these years, she's still excited to read the scripts to get to know what's going to happen next with the charactres. She thinks it's rare to have such excitement after so many years.
As to advice for those trying to work in her profession, Mimi explains the film business takes a special kind of person. You have to work really hard and be committed and open to hearing other people's points of view. You have to be committed to your own but listen to others. Mimi states you should take every job that you can, work for free if you have to or at half a price until you get to the point where you can charge full price. Mimi thinks that if you keep plugging along, eventually people will start to hire you.
A special piece of the wardrobe are the scrub caps. Mimi is in charge of choosing the fabric and then works with the actor and Shonda Rhimes to choose which one is best for each character. Like all other wardrobe, the scrub caps are an extension of the character and part of the storytelling.
Brian talked about being promoted from art director to production designer as of this season. He talked about the ferry boat scrub cap and how they didn't have a duplicate and the fabric wasn't available anymore, so they took it apart, scanned it, and used that to make fabric to duplicate the cap.
He went on to discuss the union art directors are members of and what it takes to be allowed to call someone an art director on a production.
He talked about growing up in a small place and not knowing anything about Hollywood. When he got to college, he thought about business, but then went to biology resources as a major, but then he got a scholarship for music, voice and saxophone. He worked in a recording studio and then started doing sound for the theatre at his school. This eventually led to more jobs related to theatre as a technical director. He went back to school and changed his major to theatre. He went on to graduate school to get a masters of fine arts in theme design. He worked in theaters all over the country and met a designer from LA who encouraged him to come to LA. He said it took another ten years before he finally made the move. He got there and his friend helped him find work. He started with several small jobs.
She asked him about his job and what things he does. He says it's a lot of thinking about what it will take to do what you need to do. You don't need to know how to do a lot of things, but you need to have a solid grasp of architecture and decorating style. His history with the theatre helped him out.
She asked about the best thing about his job. He says they must all be masochists. It's hard work and it's a lot of long days, but he loves the people he works with. He says they're sometimes faced with impossible tasks, but they always make it work.
She asked him what advice he had for young people wanting to get into the industry. He said initially to run, but then said they have to want to do the work. Don't do it to get famous. You'll learn the harder lessons doing the thankless jobs and you'll work your way up the ladder so you can be trusted to do more.
Karin said several of the questions were spoiler-related, so they couldn't answer them right now, but she said they could come back once the season starts. She asked him about his favorite set that he designed. He said that's a spoiler, but he liked working on the hospital rebrandings. One of his first jobs on the show was designing the Seattle Grace Mercy West Hospital logo. He likes making logos, but says it was a lot of words for a decent logo. He made several designs and sent them to Shonda Rhimes and they gradually narrowed it down to one. Only a few people have seen the designs that didn't get chosen. She says he can include them when he writes his book. He says with logos, he needs to be careful about what he shows, because they tend to choose the one he doesn't like. She thanks him and they say goodbye.
Angela introduced herself. She's the property master and has been props master for 10 ⅓ seasons. Ryan Blank moved to video playback and Angela took over as prop master. A prop is anything an actor touches and the prop master is in charge of all that. Food, license plates, and many other things are also props. There's a crossover between props and set decorations. You have to imagine the world off the page in order to create the whole scene. She once did a scene which required horsepucky, which she was able to get because they were on a ranch.
She says she's always loved moved and she has a bachelor's of fine arts from the University of California at Santa Barbara. She moved to LA to learn how movies are made. She did many different jobs before working for a producer at Fox, who got her a job as a production secretary. She met people who wanted to do props. They banded together and figured out how to get into it.
She eventually got the chance to look into all different aspects of film and chose props.
She says props can be hard because it's hard to make some props. Props represent things, so you want to fit them into the story. You have to collaborate with many others. You have to be able to work with things. You need to be creative, so you can solve problems and figure out how to build things you can't buy or get in time. She tells a story of when Meredith got hit in the face with stomach contacts, she had to figure out what that would look like and make it something they could use.
She says all the props are her favorites, but she built a prop with her own hands for season twelve. She sat at her desk for a few hours to create it. She says it's nice to present something you've made yourself rather than something you bought or hired someone else to make.
She says there's three good parts of her job. 1. It's different every day, but you never know what's going to happen. 2. She loves the collaboration. She loves working with other people to accomplish goals. It feels good when you complete something under pressure. 3. She loves representing the science. She tells a story about a stem-cell lab. It was based on a real case of a doctor who grew an esophagus for a kid. She says the script just said "working" and she didn't know what that meant. She viewed the research in order to get the steps right. Everyone was happy, but then the doctor came to visit her and said the prop looked exactly like what it looked like in the lab.
They talk about the pigs that Owen worked on. They hired a company to build the pigs. Legacy Effects built those pigs for the show. They still got letters from people upset about them working with the pigs because they looked so real. They had to build specific organs in order to get the shots right.
She says she works very closely with Linda Klein to figure out how to create the medical effects. The longest meeting for each episode is always to figure out props. They have to go through every scene in the episode to figure out what they need to make.
She's asked what advice she'd give for someone who wants to do props. She says a lot of people who do well in the business started out in high school theatre or band or something like that, so they learn to appreciate the story. She says they should study art history, pop culture, architecture, understand storytelling, read books, listen to music. Immerse yourself in culture. It's not a career for the faint of heart. You have to love it. Absorb any kind of culture you can. You uses the specific example of Game of Thrones, which takes place in a different time period.
She's asked what the tequila is made out of. She says iced tea and water. All their alcohol is made out of that.
Chris is the unit production manager, which he says means he gets to look over the budget. He says no a lot. He's been with the show since reshoots for the pilot. He gets to make sure they're spending their money wisely and if they aren't, he gets to say no. It falls under the Director's Guild. It's a union job. He began on Grey's Anatomy as an assistant director.
He started his career as a production assistant for commercials. He then got into the Director's Guild. Worked as assistant director in commercials. Became a second assistant director on some television shows. He was second assistant director on The Pretender for three years before being promoted to first assistant director for a final year. He worked on several other shows and one feature film until he moved on to Grey's.
He was a philosophy major in college. He went to Berkeley. He's always lived in Los Angeles. He says it's different being UPM instead of assistant director. He gets to work in an office now and looks at budget reports. He shows off a huge pile of paperwork he has to sign. He says it's the most glamorous job on the show with the exception of every other job on the show. But it is a necessary job. They couldn't function without him. He says he hopes so because he wants to be able to pay for his son's college.
He says Western Philosophy is involved with rigorous analytical thinking, which helps a lot with his job. He says there are lots of ways to shoot scenes and it depends on a lot of factors and that thinking helps figure out which way to do it. He says he tries to support the directors as much as he can, to get them what they want within budget.
Must have skills include being analytical and logical. You also need an ability to sign your name many times without cramping. He works closely with the accountant, so being able to crunch numbers helps. It's his first season as UPM and the first time he's worked as one.
The best thing about his job is that now he's stepping up after years of working on the floor. He has a better picture of what goes into making the show. He's had the chance to direct two episodes, one of which was the jumbo episode She's Leaving Home. It gave him perspective on the whole process. The first scene he directed, he doesn't remember anything of it. It's a blur. It was fun in retrospect. He will be directing a season 12 episode as well. He had to let go of everything else and just be a director, while still being responsible. He's in a unique position because he's been in the production side and the creation side.
He used to work for a guy on another show who just didn't want to spend money on anything. He says the best way to save money is to shut everything down and then you don't have to spend a dime, but that's not what they're about. You have to spend money to make the show. You have to be willing to spend money on things that are worth it.
He's asked about his favorite episode. He says they blend together. He says he likes the Thanksgiving show, as painful as it was to film. And the lead up to Cristina and Burke's wedding, because Diahann Carroll was such a delight to work with and Sandra Oh is phenomenal. He loves the bomb episode, as much as he hated it. It was heavy work. He says it became a two-parter three days into shooting. So all of a sudden, they came in with a second script and they had a quick turnover. He says everyone was so great working on the episode. He says Kyle Chandler was the nicest guy and great to work with. He also notes the ferry boat episodes were fun to work on. They used a lot of prosthetics and green screen. It was a good place to learn. They had a lot of extras. An extra dressed as a firefighter was running and popped his knee out and Chris ran over while he was with the medic and he said not to worry because it happens all the time. When his knee popped out, they had a lot of fake doctors and not a real one in the bunch. The medic came over to help though. The extra was back to work the next day. It was cold when they filmed it because it was January. Five minutes after they wrapped on the last day, it started raining heavily. The weather was on their side that day.
His advice to people who want to get into the business is that he doesn't think you need to go to film school. You need to be around this kind of work. The main actors get to do it every day. They practice. They learn their lines. They do it. They also have guest actors who don't get to do it every day. They're often looking for work. They aren't as good. They don't learn the lines as easily because they don't have the same kind of practice. It's the same thing for anyone working anywhere. You'll become better by doing it more times. When he first started, his first job was a Sunkist orange soda commercial in Venice Beach. A college friend got him a day on it. He thought about what he had that no one else had and what strengths he had to get him a second day. He didn't know anything about the set, but he is smart, he was in good shape, and he was strong. He rushed to get everything as soon as he knew what someone wanted. The other PAs commented that he was making them look bad, but he said that they knew where they were working the next week and he didn't, so he needed to make himself look good.
He's asked what their most expensive episode was. Karin says she was talking about it recently and they thought it might have been the 200th episode. Being on location, the circus performers, clothing, and tons of extras made it expensive. The ferry boat episodes were also expensive. The musical episode was very expensive because of the rehearsals and the additional music crew. He says that as far as their crew goes, their show is actually one of the least expensive shows around.
Nicole introduces herself as the script supervisor, as well as playing Paramedic Nicole Cummins and directing. She's been with Grey's since reshoots for episode one. Her daughter was three when she started the show and she's 14 now.
A script supervisor writes everything the camera shoots for the editors, so they can put it together later on. She shows the script from 11.21 and then shows her notes, which are much more extensive. Everybody gets copies of her notes. She's the eyes and ears of post on set. She connects the set to post-production.
For TV, since you move quickly, the editors can figure it out, but on a feature film, it's much more important. The notes would be even more extensive. The script supervisor never gets to rest. Nicole says being able to think for 18 hours a day helps because her brain never shuts off. She says everything happens so fast, and things on set get changed so quickly that she has to be on it to know what needs to happen. It's rare on Grey's to have to go back to reshoot things.
She had an acting background and was doing small parts. She has a friend who is JJ Abrams' script supervisor and her friend was a Rams cheerleader when she was a Raiders cheerleader, which is how they met. Nicole showed up for a job where her friend was a script supervisor and she thought it was an interesting job. Her friend taught her how to do it on the set of Tales from the Hood. And the producers got to know her and hired her and she's been working ever since. Karin admits she doesn't have the brains to be a script supervisor. It's a job you have to learn by doing. Her first day on set with Dawn, she thought about leaving, but Dawn convinced her to stick it out. It's not a job for everybody. It looks like a lot because it is, but if you have a system, that makes it easier. She knows when she does certain things and when she does others. There are no breaks. She has to be available all the time or she'll miss things.
She's asked which is her favorite among supervising, directing, and acting. She says they all excite her in different ways. The way she became a paramedic was that someone didn't hire a paramedic for a scene and they held auditions right then and there and she was asked to say a line, along with several others around on set, including Rob Corn's young son. She says she said the line and gave it some sass and he said she was hired right away. She was acting, taking her own cues, and then she'd run back to the village to stop the stopwatch. Karin asks her if as a director, with the knowledge of being script supervisor, it changes how she does things. She says it's in her. She's been caught several times while directing still doing her script supervisor duties even though it's not her job. She can't turn it off because it's a good place to be, especially with people who need a lot of guidance.
Karin asks if she thinks as an actor, she'd have moved into directing or if it was seeing the directors in action. She says she always had an interest in directing and being a script supervisor made her more aware. She says that if you're an actor, people don't always take you seriously. They put you in the actor box. But there are good directors who are actors. She says she probably wouldn't be directing if she were still just acting. She shows the script she has. It's an old script, so no spoilers.
You have to be focused, organized, on-time, and ready to go. You need a strong bladder. Your heart really has to be in it. You have to go in with an open mind and be able to go the extra distance. The job's not for everyone. She suggests that if you know anyone in the business, you shadow someone else, to see how it works before you try it yourself. It takes a lot of work to build a show.
She's asked about the flash mob, which she says was the best. There were dancers in there who danced with Michael Jackson. It was a long day, about 15 hours.
The best thing about her job is that it changes every day. Things stay the same, but every day, there's a different situation. You never know what you'll get from guest actors. Some are great (she mentions Diahann Carroll by name), but others aren't.
She says one of their assistant editors came in as an assistant-PA. She came in and shadowed Nicole and learned it and now it helps her as an assistant editor. She knows what all of Nicole's notes mean. The more you understand, the better it is. You can figure out what you really want to do. She says to give yourself a chance, because even if this isn't for you, it might help you figure out what you do want to do. She's directing another episode and took a break from cutting to do Crew Call.
She's asked where she went to school, but she didn't really. She learned from her friend. There's not one way into this work. Film school's not bad, though. It teaches you everything else happening on set. She learned all that while on set.
She says Crew Call will continue while the show is airing and they may do followups after episodes have aired, when spoilers aren't an issue.
Norman is the make-up department head. He's been with the show for 12 years. He did the pilot and has been there ever since.
He's asked what his job entails. Running the department is about coordinating the supplies that everyone needs and making sure everything runs smoothly. Each actor or actress wants something different. They use different materials for different ones. She asks if they come in knowing which ones they want or if he recommends them. He says they have a trailer full of supplies and things that work really well and different actors will come up with ideas of different things they want. They also have to work around allergies.
He's asked about his background. When he was young, he wanted to be an effects artist. At Universal Studies, there's a lab and he found out that being able to do wounds and such made you more valuable than just regular makeup. He says in his career, he has made up some monsters. He works closely with Tom Burman and Bari Burman. He'd worked with them on previous shows as well. Back at the time he started working with them, he had just one other guy working on makeup with him. He'd do the makeup for the day and then go back to make the stuff for tomorrow. He does the blood and bruising and wound makeup for the show. He also makes the fake vomit. He mentions Linda Klein, who says he's one of the better ones to make bodily fluids. It has to be non-toxic and edible, because it's sometimes put in someone's mouth and he knows how to do that. He says it's best made with a yogurt because so many people are vegan or vegetarian now. Or using health drinks, like Naked juice or papaya juice, which he says has the right color. All the tasty juices mixed together look nauseating. You can make some disgusting-looking vomit that tastes good. It has to taste good because they sometimes have to swallow it.
He's asked if he made Arizona's leg and he did not. That's a separate department.
Must have skills for a makeup artist aside from applying makeup is dealing with multiple personalities. Very early in the morning or very late at night, you have to be professional.
He says his blood is made out of an old-timey recipe. It's carob syrup and different food colorings. It, like vomit, has to taste good.
The best part about his job is doing a show where he does regular makeup and then getting to do blood and bruising and fluids. It's neat, but unusual to be able to do that.
His advice to people thinking about doing this is if you really want to do it, do it, no matter what the cost. Learn as much as you can about doing makeup and go for it.
He's asked about doing stitches. He says he makes the mark on the body and the stitches are just glued on the wound. If they have to make it look like it's being made and there's a guard put in place to make sure it doesn't hurt the actor. The appliance goes on top of that and the actor sews that.
His favorite thing from the show is hard to say. He says the plane crash was days and days of fun, but challenging. Everybody looked horrendous because of the crash and that was fun.
He's asked about the cat man and that was the prosthetics team.
Nicole introduces herself and says she just passed the ten-year mark being with the show. She started on episode 2x03, but she doesn't remember what they were doing then. They shot it as 2x04, though.
A set decorator creates the environment for the actors. She buys pillows. They're doing the interview in Alex and Jo's Loft. It's a new set for the season and was fun to build. She fills a blank canvas with rugs and plants and chairs and lighting and curtains. She works with the production designer, who designs the sets, then they're built and painted, and then she decorates, like you would decorate your own house. She says she didn't spend a ton of money on the loft set. They used a lot of the furniture from Alex's old house. They're sitting on the sofa that Jo bought Alex for his house.
She says she was a late bloomer in the business. She grew up in Santa Barbara and was a beach bum. She took art classes and was into photography and she waited tables. She was living the good life and then she was coming up on 30 and she went to see Swingers and after seeing that movie, she decided to move to LA to make movies. She was always interested in film, like her mother, who always took her to movies, not necessarily appropriate movies. She was also into textiles. Even as a kid, she always had a matching bedroom and often redesigned her room. She was always organizing it.
She came out to LA and then she went to UCLA and started taking editing and producing. She took a production design class and fell in love with it. She had a neighbor who asked her to do production design on his short film. With no money, she had to turn an office into a morgue. She called prop houses and started discovering the industry. Her neighbor has gone on to direct his own film, The Wedding Ringer. It got her started on her journey. She and Karin agree that if you can learn to do something on low budget or no budget, it's a treat when you have money to work with. She did student films and independent films. She got together with a group of friends and made a bunch of short films and then she discovered set decorating. She became a shopper for a decorator and then kept going and going and ended up at Grey's Anatomy.
The loft is one of her favorite sets. She had a great time shopping for it. She went to vintage stores. It was a dive and then she transformed it. One of the best things about her job is knowing the characters so well that it's easy to make up backstories for them to help her decorate. Her shopper, Nathan, and she make up stories about how the doctors came to be as they are and why they would decorate the way the set is decorated. Karin says she goes around the sets and takes pictures of things she likes.
Some of the skills you need to be a set decorator are organization, though she's not that organized herself, and making quick decisions. You have to be able to pick an item for a set quickly because you don't have much time to make decisions, like you would decorating your own home. They have meetings where they discuss palate and colors, but she has to make many large decisions by herself.
The chandelier in the loft is something they constructed rather than bought. They went through Pinterest and say it and had construction build it for them.
The best thing about her job is she gets to be creative every day. And she gets to work with so many fabulous people. It's rare that you get to come to work every day with such a great group of people you get along with. She doesn't have to sit at a desk all day. She gets to run around and shop all day, with other people's money. It's a great job. She never thought she'd be doing it. When she moved to LA and found this niche, she was grateful. She's grateful.
She misses the firehouse set, the kitchen in particular. She misses The Dream House. That was one of her favorite sets for sure. It wasn't difficult for her department, but for others because of all the green screen. Once they had the set decorated, it was great for them because they didn't have to worry about the green screen. She loved that set and she misses it. She tries to think of other sets she misses. She says the wedding sets have been great to do. They had to do the winter wedding, Ben and Bailey's, in one week. She poured her heart and soul into it. The hospital gala also took a lot of work.
Her advice to people who would like to be set decorators is to go to school. She went to school, but she would recommend going to school and learning as much as you can there. There's so much to learn. She deals with a lot of art. You pick fabric, artwork, plants, flowers. There are so many things to learn to be a set decorator. When you have opportunities to work in theatre or film, do it and start talking to people in the business. That's how you meet people. You also have to work your butt off because it pays off.
She's asked about the spinal tumor on the wall. That was the production designer Donald Lee Harris. He had it drawn and then Patrick Dempsey added to it in the scene. And then they cut it out to move it to The Dream House. And they had to replace the drywall and never painted over it. And now it's a piece of artwork in Meredith's house somewhere.
Melanie introduces herself. She's the department head hair stylist and she's been with the show since season four. She's been department head since season six.
She is from a small town and worked in a hair salon. Then she decided to move to Hollywood because she wanted to pursue doing hair for television in film. She had no idea where to start, so she went to Rodeo Drive and found the fanciest hair place and started talking to people and got a job shampooing people's hair. She just kept talking to people and telling them what she wanted to do and an actress matched her up and invited her to work with the actress. She worked on a non-union show for three years to get into the union and Grey's was her first gig after that.
She went for Rodeo Drive because she figured that would be a good way to meet people. Grey's Anatomy is her first television show. Prior to that, she did movies and non-union work. She liked it, but the goal was to get into the union.
Her job, as department head, means being the first one there, at about 5 AM. She has to go through what they're doing for the day, which scenes. She has to keep continuity for the show. It's more challenging during double up days. Lots of hair changes. For Guess Who's Coming to Dinner, it was different because they were out of the hospital, so they do hairstyles differently. She says she loved seeing the girls a little more glamorous, not in pony tails. They were able to have more freedom. The actors love it as well. They have to keep the hairstyles matched to Seattle and remembering that they're not runway models. It's supposed to be realistic. She has a department with two other people. They get two additional members on double-up days. They have specific actors they work with. She divides it up equally, so they each have some of the girls and some of the guys.
Must-have skills include being organized. You need to keep current. Try out tons of products. Find out what works. Sometimes, they have to keep the styles simpler, so they stay better. Ellen got a hair cut this year, which makes it easier to do her hair.
She gets ideas from magazines and the latest trends.
The best thing about her job is being a part of the show. They've gone 12 seasons and that's a great thing. She loves working with the cast and crew. They're on top of their game.
Karin says they do such a good job, their work is invisible. People don't think about the actors getting their hair done.
Her advice to someone who has no experience and wants to do her job is to go to cosmetology school and then moved to Hollywood, if you want to get into doing hair for television and movies. Set a goal and work on it every day.
The average time to do hair is 20 minutes.
She's first in and last out every day. Jason Orion Green did April's wedding hair.
She's asked if she prefers the every day hair or the glammed up hair. She says she really likes doing the car accident victims, with blood and bits of pavement. They get some lead to figure out how to do those hair styles.
Karin thanks Melanie and says goodbye.
Scott Ramsey
[
]
Scott introduces himself. He's the visual effects supervisor. He works for Stargate Studios and handles all the visual effects for Grey's Anatomy. He came on in season three. The ferry boat episode was his first episode. It was 425 shots and that's when he met everyone on Grey's. They had several hundred feet of green screens to get the effects for that episode. It took about three weeks to put it all together. They hadn't done many visual effects on Grey's before that and it got them nominated for an Emmy, which they lost to Battlestar Galactica.
Karin says it's easier to do spaceships and things that don't actually exist because you can do whatever you want with it, but having to make something look real is a greater challenge.
In 1992, he had just graduated college and was a page at Paramount Studios, giving tours and such. Then he got on a show called Viper and when it was cancelled, he got with the team from that show and learned from them for about six years before going on his own. He did some freelance and some feature films and then ended up on Grey's Anatomy.
He's asked about his favorite episode, his favorite effect. There's two favorites. The first is a time when they couldn't make a prosthetic hand in time. He was asked if he could make it and he said he could. So they did a scan of the actor's hand and built a 3D model of it. It showed them what visual effects could do. They then asked if they made a character with no nose, could he do that? He said he could, so they did that. They rebuilt his entire face for it. And the other favorite is one most people don't know about. After Richard Webber was electrocuted, they rebuilt his whole face for the first six episodes. He was made to look gaunt and ill. They had to stop because they ran out of time. They got too close to the end dates.
Much of what Scott does for the show isn't big things. He also does Arizona's leg. He did the effect of her leg shattered. That scene actually grew. Originally, it was supposed to be simpler, but they talked through it and developed what ended up in the episode. He says it was a lot of fun and Jessica's always a lot of fun.
He says must-have skills are being detail-oriented, thinking on your feet, and being creative. He had to be able to get what the producers want. He says he had a great team. Every week, there's a new effect. But as a show, they don't want to leave the lot, so they have to figure it out. They have about two weeks to get it all together. Oftentimes, they'll do their final drop on Monday for an episode airing on Thursday.
With the finale at The Dream House. They had to film on the last day, which was a Tuesday. They did all the work on Wednesday, turned it over on Thursday, and have to have it completely done by Monday. It was 86 shots and it went on the air that Thursday. The Tunnel collapse was also hard. They only had eight days to do that whole sequence.
The most shots he's done in an episode is the ferry boat, which was 425 shots over two episodes and was done in three weeks. He remembers coming for lunch and still looking at it, saying he still had more to go.
He originally planned to be a writer or a director, but he liked visual effects because it was brand new at that point. You couldn't do it then like you can do it now. The technology didn't exist. He liked that you could be on in pre-, post-, and during production, which meant you made more money. In show business, you don't usually make any money at all when you start out. Over time, the technology grew and you got more influence and it was a great move to stick with it. He loves TV because it changes every week.
He's asked about innovation. He says there are times when you have to make sure you film it right so it won't be so difficult later. He works with a team and he says it comes down to creative people figuring it out.
The best thing about his job is coming to set. It gets him out of the office and there's always something new going on. The meetings at Grey's are also really fun. There's a lot of joking. It's not too serious. Last year, when they were doing the bridge episode, they were talking about location. It was a Saturday meeting and he walked in late and Rob Corn said, "There's the guy who's going to solve all our problems." It's relaxing and a lot of fun to work on the show. It's like a family.
He explains that a shot is a visual effects shot. Technically, it's one cut in the show. Arizona walking with her leg. One shot of her walking across the room is a shot. One visual effects shot.
Her advice to people who want to do visual effects is to get into a visual effects house. They'll start as a PA or an intern. Get in however you can and stick with it. You'll make it if you are dedicated and stick with it. You'll climb the ladder. Visual effects is growing. There were very few houses when he started, but now they're all over the place. If you want to do it, there are places.
He was self-taught in visual effects, but now there are schools where you can go and learn that. He says he can't sit still that long, but he tells people to stick with it.
He says he does not watch the show. He was in a meeting in season four and they were asking him about the characters and he didn't know what they were talking about. When he was doing the ferry boat episode, he actually asked a friend about the characters, because he didn't know who they were. And then in season four, they asked him if he actually read the scripts and he said he reads the portions where the effects are, but he doesn't read the rest. He only watches the shows if he's there for the crew lunch viewing. He's run into people who find out he works on Grey's and they're in their early 20s and they watch on Netflix. They'll watch several seasons in a short period. He says it's not surprising it's still on the air because based on what he sees, it's a great show.
He says that turnaround was difficult when he first started. Also, when you start a new show, it's difficult to understand everybody. On Grey's, it was really easy. People take you under their wings. Sometimes, the difficulty is in knowing what the people making the show want from you. Sometimes, you have to guess what they want and then show you what you've made. Grey's is different. They asked him what to do and he told them.
He says thank you and goodbye.
Karin introduced Barbara, who is the medical researcher for the show. Barbara is the medical researcher on paper, but when Elizabeth Klaviter started the job, she gave herself the title Director of Medical Research, which sounds more elegant, so that's the title she prefers. It's on the bottom of all her emails. Barbara's been with Grey's since near the end of season nine, so she's a newbie in comparison.
A medical researcher does all the research for all the medical stories. She either googles it or calls their consultants or reaches out to specialists. It's a lot of going out and finding information however they have to do it. Sometimes it's easy, but sometimes it's not. Sometimes, she finds the medical conditions and sometimes she just researches conditions they ask her about. She sends out emails with cool medical conditions to suggest them as possible cases they could do. Most of the time, though, it's about the personal stories they're telling, so sometimes, they'll take two characters they need to work together and use that to find a case that would require both of them. Once they know what the case is, they work with Linda Klein to make it happen. There's actually four people on "Team Medical." It's her, Zoanne Clack, Fred Einesman, and Naser Alazari. They go into the writers' office with the case and then it's Linda and Angela Whiting and everyone else making it come to life. They just do the writing part.
She went to film school and wanted to be a writer. The researcher position is usually just a writer's assistant position. On Scandal, it's legal stuff. On Grey's, it's medicine. She enjoys medicine and thought for a long time she wanted to be a doctor, she has no background in medicine. She loves it, but it's a step to being a writer. It'll help down the line. Writing for the show is the hardest job, because they have so many characters and it's medical and personal stories. She hopes that'll make future jobs easier for her.
She's been grossed out by a patient in episode eleven, which she can't talk about too much. Part of her job is finding photos of conditions as references and that one was hard. Karin says that sometimes, she'll hear that Barbara just sent a picture and she'll refuse to go look at it because she knows it's gross. When she started, the ick factor got to her more, but she's gotten used to it.
Her favorite recent medical story was the train girls from Sledgehammer. She loved the medicine, but also loves when they can take the patients and tell stories that impact the world in a bigger way. It had messages about bullying and LGBT youth and suicide. She feels like they were able to tackle huge topics like that in a profound, clear, and heartfelt way. And the medicine was good, too, like Aliyah's wishbone fracture. She recalls the consult call for that and remembers shuddering when she heard about it. The doctors were also all weirded out about it. Another case in episode seven is really cool medicine. Last season's final, Keith Gardner in the tunnel was from their trauma consultant. She said the consultant is great because when they asked if it could happen, sometimes, it's unlikely, but he'll say it could happen in a 1-in-a-million scenario. Taking the idea the writers had and then finding out that it was actually possible and making it come to life was cool.
There's a fight between dramatic and authentic and she has to help figure out where they fall on the line. The biggest cheat they do is compressing time because it's boring to show 23 hours of surgery or all the pre-op time. They're looking into things that could go wrong when most surgeons want surgery to go smoothly. She thinks they keep it fairly true, but it is television and drama and it's about the characters.
Must-have skills for her job are being a good detective and being detail-oriented. She says the hardest thing for her is working on three episodes at once. It's a lot to keep track of all of it, especially when they need to change things last-minute. If you drop a ball, it becomes a mess. She says it's nice having a team because you have people you can fall back on. Since the rest of the team are all doctors, it's in their heads while she has to go find it, but keeping things organized is sometimes a nightmare.
She's asked if she ever thinks she might have a disease she's researching. She says sometimes she'll ask a friend to check it out if she thinks a friend might have it, but not usually for herself. They're mostly going after one-in-a-million cases anyway.
The best thing about her job, besides the people she works with, is the specialists they get to talk to. They talk to some of the smartest people ever. When Derek did his brain mapping thing, they got to talk to the real guy who was doing that research in real life. She's learning all kinds of amazing things and talking to cool people. It's a lot of great life experiences. One of the doctors they called was on a trip to China and said all the doctors he was with were watching Grey's on their tablets on the plane. The impact, when it hits you, it's crazy.
She started with an internship for Private Practice during season five and someone noticed that she baked and decorated cakes and told Shonda. She'd made one for Scandal, which had just started. Shonda interviewed her, but there wasn't a job right then. She kept checking in and finally, the PA job opened up and she quit her other job to take it.
Her advice to people is meet as many people as you can and have samples and be ready. The more people you know, the better chance you're going to have. She was wanting to be a writer and ended up as a medical researcher, which is a great stepping stone. She says keep talking to everyone and hopefully, eventually a door will open up.
She says goodbye and thank you.
Karin introduces us to Tammy Ann Casper, supervising producer in post. She's been with the show since the beginning. Since they're in digital, she oversees the footage from when it leaves the camera until the masters are sent to ABC. Editing, ADR, final picture, final sound, visual effects, music, and many other things are part of her duties.
Her background is in banking then she decided to make a film. From there, she started producing for music videos and commercials, then she moved to television, which is when she moved to post. She loves the music and how they do it on the show. She works closely with Alexandra Patsavas. They get a lot of comps sent to the show and they have a lot of score from Danny Lux. They're so inundated with new music that they don't go out and seek it as much. Alex and Shonda talk about what Shonda wants for the show and then Alex sends post complications that have the right tone for a particular season. She thinks the tone changes every season and it's fun to mix it up. Grey's has started the careers of a lot of artists.
They were one of the last shows to switch from film to digital, which they did at the start of season eleven. One of the biggest changes is not getting calls from the lab in the middle of the night with problems. The problems have gone away. They were already file-base, which meant they were converting it, so dealing with the change from film was the biggest aspect of it. Karin asks about the number of dailies because with film, you have to cut, but digital won't run out in the same way. Surprisingly, the average number of dailies hasn't changed. Averages for directors are about the same. They tend to have fewer dailies than other shows, 1-2 hours compared for 5-6 from other shows. A lot of the directors on the show are returning directors and they still call, "Cut!" A lot of them are old school and came up with film. It's good for directors, because it means fewer dailies to comb through.
Must-have skills include managing people, effective communication, being a motivator, being able to deal with budgets, patience, being calm under pressure, and juggling a million things at once (they're currently juggling six episodes in post at the moment). She makes it clear that even when the show isn't on the air, they're still working. They're always up against the air date. If it takes longer to shoot, they get crunched in post. It makes working in television harder than film, because of the tight turnaround. By the end of the season, they usually only have five or six days in post. They have an amazing team on Grey's, which helps get the shows done because everyone's motivated to get it done. The shortest turnaround they've ever had was five days from camera to air. And that's when they were still on film, so they have to lab it first, which takes longer. Not being on film saves that time, too.
The best things about her job are that it's ever-changing (she loves change), every day is different, and she loves the career she's in. And every day, they're telling a story and at the end of each episode, they're making something organic that they're sharing with the world, which she feels passionate about.
The advice she'd give to people who want to get into her job. She says to seek out information interviews first. Then in the interview, always ask for another referral. Do the research. Social media is wide and so you should go after what you want and be prepared for what you're going to get. If you want to work with a brilliant person, go for it. If you want to go for features, do that. The information is available and out there.
The musical episode was a learning curve for Grey's. It was easy for her, but it was so different. They were blessed with the talent of their actors and Tony Phelan as the director and Rachael Lawrence as their vocal coach. They had a great team. She says you should surround yourself with amazing people. Even though the musical episode was different, it was fun. Watching Sara Ramírez record Grace was particularly special. One of the best things they achieved was in How to Save a Life. In the show, the music changed the day of airing. It was completed and delivered and they were prepping music for the next episode and Shonda found a version of Chasing Cars. 7 AM the day of airing, they were looking at changing to another song. Shonda loved it and had to have it, so they all jumped in and accomplished it. Within six hours, they had it done. They have to beat the east coast feed. They never want to have to do it again, but it was great and the song ended up being perfect. It was exciting.
Karin thanks Tammy for taking the time out of her day. She says goodbye.
Danny Nero introduces himself. He's a stand in on Grey's Anatomy, a utility stand in. He was originally a stand in for Eric Dane, but since he's no longer on the show, so he stands in for Joe Adler and other characters as needed. Stand ins should be the same height and coloring of the actors. He's worn wigs to get the right look as a stand in. He's not a fan of the wigs, though. He's been with the show since season four. His first day was just after Chyler Leigh started working and they'd worked together on other projects prior to that. She was #13 on the call sheet and Patrick Dempsey used to tease her about it. He says it doesn't seem like it's been that long.
Being a stand in requires watching the rehearsal. The actors first rehearse privately with the director. Then everyone else is invited in to an open rehearsal to watch. They have to watch like a hawk because the stand ins need to know everything they do. They put marks on the floor if the actors move, but they also have to know where the actors look and how they deliver their dialogue, so they have the sides, which is a short description of the script. That's important so the actors can go away. They actors are the first team and the stand ins are the second. The stand ins try to wear the same colors the actors are wearing. They go through the actions so they can do the lighting for the scenes and then the blocking. If they're coming in close, the stand ins need to look the right direction. Sometimes, they have to tell the actor they've moved things a little to make it work. Being a stand in wasn't his dream.
He also does background work and the difference is that you're on camera as a background actor. He's been an anesthesiologist on the show before, an unnamed one.
He's from a showbiz family. His stepfather is an actor who did bit roles and background work. Then he had a stroke and wasn't able to work. Danny's mom jumped in and became queen of dress extras. Dress extras are counted on to have the best clothes, hair, and makeup to be with the president or in first class. They play upscale, posh people. He did it as a summer thing. He worked on Soylent Green. He's done a bunch of other things since then. He did background casting for a while. He learned then that desk jobs weren't for him. He then started doing background work and fell into standing in. His first stand in job was Poltergeist 2, standing in for Craig T. Nelson. He was asked to fill in for another stand in who hated the job. He went out there. It involved being in a harness. It led to other jobs for him. There's a lot more to standing in than just standing. If you look enough like the actor, they'll put you in the actor's clothes and shoot you from behind. When Judge Reinhold had people chasing him all over town, that was Danny dressed as a clown, driving the car. They're there to save wear and tear on the actors. They don't have to be there for the whole process when they don't need actors. Stand ins started in the '20s.
They look at the wall behind them, which shows many things that have filmed at the studio where they are. He points out Robin Blake, who has retired. Back in the '60s, she was Nurse Judy on General Hospital, which didn't start at the studio, but moved there in the '70s and still shoots there. Grey's Anatomy is also on the wall. One of their first publicity photos is up there. They look at the other shows on the wall.
To be a stand in, you need patience and being able to anticipate because time is money and they don't want to waste a second looking for the second team. That's why they're doing the periscope during lunch and they told everyone where they were going just in case. He had a late call, but was staying until the end of the day. you can have long days or short days depending on what you're doing each day. Some people the day before worked for an hour and got paid for eight. And then there are days you work 16 hours. It works out.
The best thing about his job is that he's there. He's been on other shows and he's been fortunate because very few of them were nightmares for him. He knows people who have worked on shows and hated it because there was tension and dissension and problems and that doesn't happen at Grey's. He loves that they're his second family. He sees them more than he sees his own family.
His advice to people who want to become stand ins is that if they're going to work in that kind of situation, they should be members of SAG. He used to be part of the Screen Extras Guild, which doesn't exist anymore. It had split off of SAG in the '40s and then they re-merged later. Then SAG and another union merged. Whatever work they're doing, they should be a member of the union. It's not easy, but they need to do it. AfterMASH was his first job and was doing background work as an orderly. Then he got a call from the production office and they asked if he was a SAG member and if he'd like to be. Within an hour, they'd delivered a script with his one line and he had to join the Guild. Sometimes, it's just the right place at the right time that gets you membership. Every stand in he knows has a different story about how it happened for them.
You can start with Central Casting if you're not union and do work at the non-union rate and if you want to pursue it, you can get union vouchers along the way, which makes you eligible to join and then you can ask to stand in and sometimes it happens. Networking is important, as well as being in the right place at the right time. He's @danero on Twitter. She thanks him for his time and they say goodbye.
Olivia introduces herself as on-set production assistant. She's been with the show for two seasons, so she's newer to the show than most. She'd heard about the show before she worked on it, but it missed her age group. But she did go back and watch it later. She was 12 when the show started.
As an on-set PA, she facilitates set operations. Anyone from any department should be able to come to her with a problem and she'll fix it or find someone who can fix it. She puts out fires on set.
She came to be a set PA by going to film school and then day playing, which means she could work on a different show every day of the week, like temp work. When she went to flip school, she knew she wanted to go into assistant directing. Being a PA is part of that path. The DGA is hard to get into. She says any project can get you on the road to your goal. Being a PA is about the only way to go. You get to see everything that happens on set and figure out what you like and don't like.
Must-have skills are listening and endurance. Taking things one step at a time. It's a long day to work. They work all day. They have to multi-task a lot. You also need a sense of humor, because it's like hosting a huge party. You have to keep the plates spinning. You have to keep morale up. A regular day is chaotic, but double-up days, days when they have two units shooting at once, are double that.
The best thing about her job is that she gets to solve problems quickly and be constantly moving. You're part of making everything work. Even on light days, there's always something to do.
Her advice for people who want to get into being a PA is not to be entitled. You're not going to be going out as much or having much energy at the end of the day at this stage in the game. She says she's fortunate because the Grey's team is great. The common thing is that PAs are treated poorly, but that's not true on Grey's. She expected to be treated poorly, but she wasn't. It's not always that way on sets. If you can get on a show with people who used to be PAs and get it, that helps.
They're on the porch at Meredith's House talking. Last night's episode, Unbreak My Heart, was big because it was mostly just two actors. There were a lot of makeup, hairdo, wardrobe changes. It affected her a lot because part of her job is to get the cast members where the need to be quickly. She had to keep track of all the changes they needed to do. When things were forgotten, they had to notice that and fix it.
When asked if it's easier or harder with more or fewer cast members around. She says it's just a different kind of day. She says you get used to how the different actors act, what their routines are, so you know what to expect, even without seeing them. There is a Big Brother aspect to it because she has to know where the cast members are always.
She says thank you and goodbye.
Vanessa introduces herself as an assistant editor on Grey's Anatomy. She's been with Grey's since season seven. She interned during the summers for seasons seven and eight while she was in college and then was a PA for nine and half of ten. She left to get into the union and the came back. She remembers her mom telling her she shouldn't be watching Grey's when it first started, but she started watching it later and then went back to catch up.
An assistant editor keeps the editor editing, supporting them however possible. There's a technical side and a creative side. The technical side is organizing footage and keeping things together while the creative side is doing sound design and helping with scoring and cutting scenes. From beginning to end, she has to be present and invested.
She's asked if the switch from film to digital impacted her. She says it didn't much, but it affected PAs a lot. They still get all the dailies and it looks the same when they get it. Karin says some directors are less inclined to cut because they won't run out of films. Vanessa replies that sometimes, you'll hear the actors commenting that it's digital now, so they can keep rolling. There's more freedom in that way. When they were on film, the directors only printed what they liked, but now they print everything.
Every day, they get everything that was shot the previous day. And she has to go through and organize it, sort it, and check for problems. She takes the puzzle pieces and sorts them. It's organized to the point where even someone not involved would be able to tell what the scenes are about. Part of her job is being very organized to make it easier for the editor.
Some dailies are still put on DVD, but they're mostly digital because it's easier.
In school, she was a sociology and Spanish major with the goal of being a lawyer, but she liked the idea of being a lawyer. She shadowed a lawyer and hated it. Then she visited the Grey's Anatomy set and changed her major to film. She got into documentary and a lot of that is editorial. By virtue of being involved in student film, she got involved in post. She then asked Thom Barg if she should start shadowing on Grey's. She did it one day a week and then got more into it.
Must-have skills are being organized and being able to have a bunch of tabs open in your mind and not going crazy. They're always working on multiple episodes at the same time. They're starting 20 and still finishing 14. You have to embrace it and not get stressed by it. Being able to predict problems before they're problems is good. You might notice something in dailies that could become a problem. Like with Casey. He was supposed to have a burned out lung, but there was a clear bandage over it when they got the dailies. It became a lot of visual effects. You always have to be on your toes. There are three sets of editors, but when you're starting a new one, you're still finishing up the previous one. You also need to know what's happening in the episodes between yours, so you know where storylines are going. You have to be up-to-date on everything. In addition to editors being able to cut scenes, assistant editors can as well.
The best thing about her job is that it's the perfect blend of nerdy and creative. You're contributing to the show and collaborating and it's not just her pushing buttons for Brandi Bradburn. There's a mentorship there. You're constantly learning and it's constantly changing. Once a month, they're on a new story. Unbreak My Heart, with all the rewinds, was a challenge. She has it up on a monitor. They gave a guide in the script about how it should feel, but they had to figure out what that would look like and how they'd do it.
She then takes a phone call from Rob Corn, who is calling to harass her.
There were 25 rewinds, so it couldn't be too elaborate. They had three different versions of the rewind before Shonda picked one. One night, they were there until 2 AM, trying to figure out what they wanted.
Her advice to people who want to become editors is sitting in an edit bay with someone. You don't need to go to film school. It would help to study film and TV in school, but sitting in an editor's bay is important because you learn so much. It's one of Karin's favorite places to be. Small changes can make a big difference. There are people who can't sit and watch and editor edit, because it can be quite tedious, so seeing how editors do it can help give you creative ways to solve problems.
They were late doing the crew call because she was doing notes. They do the director's cut, then it goes to Shonda and the episode writer, they get a script with the writers' notes, and they go through them and make changes. It takes a lot of work.
Watching what people do and taking it in helps you learn. Assistant editors have to be in the union. That's why she left Grey's. She needed to work 100 non-union days in order to get union membership so she could work as an editor on Grey's. For her, she worked on several other shows. She had to change her sleep schedule in order to make it work. You have to be content to sit in a room without windows to make it work. It's not as social as other roles. It's more solitary. Joe Mitacek, she says, likes to come into the bay and if he shows up, you're not getting any work done, but it's great conversation. You can't just editor for 10-12 hours straight. Sometimes, you need a distraction or a break. You can be social sometimes, but you also have to hit deadlines. There are also weeks where it's less chaotic, so you can rejuvenate and organize and files things away.
As an editor, she's asked if she's interested in directing. She says she's somewhat interested in directing, in the future. She's learned a lot about directing in editing. Like the beat of a scene, because you can only have one beat per scene. Many editors on Grey's have become directors. It's a similar muscle, but it's not quite the same. There's some overlap, but not everyone can cross over. For right now, she's focused on becoming a good editor, so she doesn't want to get distracted by other things.
She uses Avid to cut. She has an old negative cutter. Brandi has another old piece of a equipment. Back when they used film, they literally cut it.
She says she really loves her job.
She is asked how long it takes to edit. They have ten days of filming, and they edit as they go. Depending on the schedule, they get three additional days to finish it. Each episode is about 50 scenes. All that gets done, then score and music, then they turn it over to the director. The director works with them for about four days, changes some things or using different takes. Then it goes to Shonda. They work with her for four days or more. By the end of the season, there's no more cushion. After working with Shonda, it's sent to the network and there notes are more legal, about what words they can and cannot use or things that can't be shown, like logos. That day or the next, they lock it and send it to their online people, who finish sound and color and effects. Laying in ADR. Everything temporary gets replaced. This is happening while they're starting dailies for the next show. A week and a half after that, they watch the episode for the last time and make notes. It's never picture, just sound, and they work together to deliver it. And then it airs. Sometimes, they have to cut for time, which happens during the producer's cut. The magic number is 42:19:10. 42 minutes, 19 seconds, and 10 frames. It can be under, but that's really rare. Acts can't be shorter than 4 minutes and 30 seconds. If an act comes up short, they go to Shonda and she'll sometimes restructure things. Scenes sometimes get moved to other episodes. One scene, "doc knocker," was moved to several different episodes before landing somewhere and staying there.
She thanks Vanessa for taking time out of her day and they say goodbye.
Payton introduces himself. He's the on-set medical advisor. He is also Dr. Knox on-screen. He's on his eleventh season and he's in the neighborhood of his 250th episode. Dr. Knox appeared in the third season. Payton was on the set as his crew role, but they needed him to be in the scene. He was with Kate Walsh. An electrician on set was also named Payton. In the scene, they'd just delivered a baby via c-section and Kate Walsh walked away from the table and said, "Will you close for me, Dr. Knox?" That started everyone calling him Dr. Knox on the radio. That's when he decided to create a backstory for Dr. Knox. Every time a patient is in the OR, they have to put in an ET tube and tape it to their mouth. That's how Dr. Knox became an anesthesiologist, because then he could sit next to them in costume. He also wanted to make sure the actors playing patients were treated well and weren't choking on the fake tube. It went from there. He had the props and costume departments make a name tag for him. Sonay Washington then raised the question of why Dr. Knox never spoke and since she was writing the next script, he spoke in that script. That's Dr. Knox's origin story.
As on-set medical advisor, he's trained to do medicine on television, but not in real life. If a medical emergency happened on set, he'd step back. Then he says the only person to have an on-set medical emergency was him. They'll go back to that story. He previously worked on Chicago Hope, as did much of their crew, including Linda Klein. They were good friends and Linda got Grey's Anatomy and was overwhelmed. She was complaining about not having medical people to be her assistants. He said she should hire him for the remaining episodes that season and then not have him back after that. He ended up staying. Once he arrived on set, the vibe was different. It was when the show was first taking off. He'd worked with one of the first people to do colorblind casting, so the feel on set was very familiar, in the cast and the crew. That's how he decided he wanted to stick around. He went around set and tried to memorize the names of all the medical items. He ended up learning a lot about all of it and now he orders almost all the medical supplies for the show and he knows what they all are. He also hires additional personnel they need for the show. They hire real medical professionals, like paramedics, firefighters, scrub nurses, ER nurses, doctors, and such. He has a long list of people he can contact based on their needs. In an OR set, all the people except the recognizable people are genuine hospital staff who can handle the equipment. You can't really get an actor to duplicate their work. He specifically mentions BokHee and how she does things.
Another part of his job is setting up medical situations. He goes a scene or two ahead and makes sure sets are ready to go, working with all the other departments. He works closely with props and considers himself part of the props team.
He works with the prosthetics team, Bari Burman and Tom Burman. Sometimes, he even builds the prosthetics himself. He says Linda Klein is good at creating fields that look like they would in real life. He doesn't work with video playback. He sets most of the background for a scene, such as extras. In the ER, he likes to take the day players, who make minimum wage to sit on a bed for them, and asks them what brings them to the ER that day. A lot of the time, it's wannabe actors or young actors and he gets amazing reactions. Recently, he had a guy who said he was a pre-op transsexual whose hormones were all out of whack. He had a woman who said she was just raped. He takes what they say and creates the scenario, because it makes the day more fun. Even if it's never seen, it's fun. The other extras, who play doctors or nurses, get something more to work with. Sometimes, they'll get nervous when they catch wind of the fact that he's going to ask them the question and they go blank. They always get something to play with and something to do.
Must-have skills are being creative, of course. The most important part, he says, is to understand the story being told. Making sure you know what's in the frame and how that helps tell the story. You have to make sure the medical things help tell the story. And make sure the medical things are on camera. He also has to make sure things are based in reality, but drama trumps medicine. A lot of medical professionals who come to work on the show don't quite understand that. They need the things that look good and to boil it down to three steps.
He loves being Dr. Knox. It helps put him in the actors' shoes and understand their different stresses. He was trained as an actor and he brings that training in when he works with the actors. One of the biggest lessons he learned during his training, a lesson he failed miserably, he had to go follow a professional and bring it back. He had been a busboy in a country club and decided to do that, but she berated him for not doing the work because everything was fake. When he went to gather his props, she said, "That's a busboy." Once he'd dropped the pretense, he had it. He knows enough about acting to know what each actor might need. Some want to work with props and others don't. T.R. Knight was great because he'd come in and tell Payton to give him five things to do.
The two best things about his job are the crew - Working with people who still want to keep coming to work after eleven years - and the days are never the same. When you come to the stage, it's a different day and you never quite know what you'll be doing.
He's asked what his advice to people who want to go into his field should do. He came onto the show ready to learn and he had a lot to learn at the show. He came in and found that surgery was like theatre, which he loved because it was all like putting on a show. You can find something in almost anything to relate to your passion.
He says thank you and goodbye.
Jeffrey Snyder
[
]
Jeffrey Snyder introduces himself. He is the on-set dresser and he's been with the show for nine seasons. As on-set dresser, he represents the art department while the crew is shooting. He has to be detail-oriented.
The set dressers create the sets that the actors use when filming scenes, bedrooms, hospital rooms, everything the actors don't touch, like furniture, gurneys, etc. That leads into property, which is everything the actors do touch. As on-set dresser, he's also part of the props department.
He fell into set decorating about 25 years ago. He had a friend who is now an executive producer. They were talking and got jobs at an independent studio that did low-budget productions. He didn't go to film school. He got on-the-job training. He moved up from there, became part of the union, and went from low-budget productions to doing television and feature films and then sitcoms. He likes to do sitcoms because it was encapsulated environment. It's a smaller group and they have a live audience. As an on-set dresser, he wants to be in the middle of things. On Grey's Anatomy, they are isolated. It's exciting for him when he opens a script and finds something they haven't done before. It gets monotonous to do the same things over and over again. He needs to be stimulated to keep from getting bored.
Must-have skills for a set dresser include paying attention. You need to be aware of what's around you. When you're constantly moving, you need to know where everything it because they take things apart and it's like a puzzle to put everything back. Before the crew gets on a set, he takes photographs of everything to help with that. He uses tape and puts spike marks down around wheels. Walls have to move out of the way to make room for cameras for new angles. He can either reference photos or do it from memory, which he does a lot now because he's been doing it for years. You need to anticipate where things are going to move in order to stay on top of things. Sometimes, while they're shooting scenes, he catches himself wandering away without thinking about it because he's not needed.
His favorite thing about the job is that every day is different. Every moment of the day is different. When they spend a whole day on one set, like an OR, he can lead into props and the medical tech and he's constantly getting called on to help out. His position is unique because he works with so many departments at once.
His advice to someone who wants to get into the business is be ready for long hours. Relationship can be difficult because they work 68-70 hours a week. The people they work with become family because they see them more than their own families. Having kids is hard because they come in early and leave late. They say if you can see yourself doing something else, you should do that. It's when you can't see yourself doing something else that you should do this. It's an unconventional profession. It's much different from the 9-5 profession. You meet interesting people and get to go to amazing places. And sometimes dodgy places.
There are perks to their job. And like any other job, there are good days and bad days.
Christina introduces herself. She's the production office PA, which means she's the assistant of everyone who works in the production office for Grey's Anatomy. She works under many people. She's the go-to girl. Whatever they need, from coffee to copies, she gets it. It's her first season on the show. Grey's Anatomy is one of her favorite shows. She's been watching it since it started when she was in high school with her mom and sister. They watch the whole TGIT lineup together. They were excited when she got the job. Her first thought when getting the job was that she was excited to get to know what's going on before others. But she can't tell anyone.
As office PA, she does runs for everyone. She corresponds between set and the production office. She passes out things they need. She relays messages. Anything that needs to be done, people ask her and she does it. She was once asked to get cat food. She won't say why, but she did it. She also answers the phones in the office.
She was always interested in television and went to school in San Francisco for it. Then she moved to LA and was working in restaurants. Then she got a call saying they had an opening for Grey's Anatomy. She did a victory dance once she was off the phone. She came in for an interview and a few days later, she had the job.
Must-have skills are taking orders, being friendly, learning to do things efficiently, and being a pleasant person in general. The office is a very friendly environment. She shares stories about working in the office with the other employees.
She's asked if she deals with fan mail. When it comes in, they give them to the respective actors. She says the actors really appreciate it. They read it and do what they can for fans. They can't do everything, but they try. Many amazing, elaborate things have come in from all over the world.
She works long hours. There's another PA and they trade off. One comes in early and one comes in late and every two weeks, they switch. But her day is 12-14 hours. She's in before call. When call is 7:00 AM, the first PA comes in at 6:30. Then the second PA comes in three hours later. It varies a lot, though. There was a day they didn't have crew call until 1 PM, so she didn't have to come in until 8:30 and they went to 1 AM. She says she prefers the morning shift because she gets to leave early-ish to have some kind of a life. Sometimes, it doesn't matter because she loves being in the office.
She talks about getting to see what each department does. She likes being in the production office most. She wants to be a producer. But working as a PA gives you the chance to see how everything works and you can try different things out.
Her work is tedious, but calming. She gets to see the process of scripts. She gets to know things first. If you like keeping secrets, you should be a PA. She has all the dirt and can't tell anyone.
Her advice to people wanting to get into the business is to be patient and try to build up your resume as much as you can. Go to a lot of events, especially working events. It took her a year after moving to LA to get a job. Eventually, a job will come up. Take your time and know what you want to do. Get to know people. Networking is a big part of it. It's the advice she was given and she didn't believe it. Once you've gotten a job, you build relationships. She talks to the people on set about what she wants to do and builds those relationships up.
Her favorite moment so far on set was meeting Denzel Washington. She was in awe of him.
Notes and Trivia
[
]
The first Crew Call was organized on August 6, 2015, during the hiatus between seasons eleven and twelve.
On September 30, 2015, Karin Gleason announced that because they would be screening episodes for the crew during lunch on Thursdays, Crew Call would move to Fridays.
Tweets regarding the topic can be found with the hashtag #GACrewCall.
Actors won't be interviewed, as the Crew Call is meant to spotlight the hardworking crew.
Sometimes, there's no Crew Call:

There was no Crew Call on October 16, 2015 as the crew was on location while Karin was back at the office to catch up on some work.
Karin decided not to do a Crew Call on November 13, 2015 because of the terroristic attacks that happened that day in Paris.
From November 20, 2015 to December 18, 2015, there were no crew calls either as Karin was too busy in the weeks leading up to the holiday break.
Afterwards, the Crew Call was on hiatus with the show until a new Crew Call happened on February 5, 2016.