WELCOME TO THE
GREY'S ANATOMY UNIVERSE
WIKI
EPISODE GUIDE
LAST EPISODE
NEXT EPISODE

"And Dream of Sheep"
Season 15, Episode 17
(March 14, 2019)
"Add It Up"
Season 15, Episode 18
(March 21, 2019)
Ties are strained as Andrew and Carina confront an unforgiving family history. Meanwhile, Teddy and Owen work together on a married couple who is expecting, and Amelia attends a conference for alternative pain relief.
Maggie introduces mood rooms as an alternative approach to medicine. Alex and DeLuca butt heads over an 11-year-old patient who tries to sabotage her own surgery. Jackson and Richard deal with a gender non-binary patient. Meanwhile, Teddy has a pregnancy scare that brings Owen and Koracick to odds.
---
LAST EPISODE
NEXT EPISODE

"I Fought the Law"
Season 2, Episode 9
(March 14, 2018)
"Crazy Train"
Season 2, Episode 10
(March 21, 2019)
When Andy, Maya, and Dean respond to a call, they find an injured woman with amnesia. But soon into the treatment process, they realize there is much more to her story. Meanwhile, Captain Sullivan takes Ben and Jack on a house call that quickly becomes a close call for the patient they're treating, while Ryan may not have seen the last of his father, Greg.
Jack and Maya are called to treat people stuck in a subway train and discover a potential threat to the passengers and themselves. Meanwhile, Travis, Ben and Dean get pressured into inviting Sullivan to help repaint walls in Travis' house and come to a surprising conclusion about Sullivan.
FEATURED ARTICLE
MAIN CAST



EPISODE COMPETITION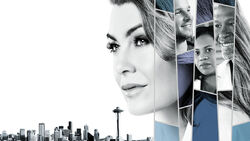 Cast your vote!
Help us decide which episode is our community's favorite of all time!
COUNTDOWN
Only March 7, 2019 20:00:00 EST until the next episode of Grey's Anatomy followed by the next episode of Station 19!
In the meanwhile, you can help out by editing the wiki or letting us know more about your experiences here! Please take the time to do so.
AFFILIATES
THE FANDOM APP
Discover our app in the App Store and the Google Play Store!
THE WIKI ON TWITTER
NEW TO THE WIKI
Please create a login first to keep track of your contributions.
Don't be afraid editing a page. Admins are around to correct possible mistakes.
If you have questions about the wiki or editing, you can ask them to Nerdfightergirl or Tooniee. They'll be happy to help you!
If you have a comment or a question about an article, feel free to bring up on the article's talk page (click on the talk page button next to the edit button at the top of the page). Other users will try to respond as soon as possible.
Please note not to upload strongly edited photos to the articles. Feel free to upload them to your userpage though.
Have fun!
RECENT NEWS
Loading RSS data...
DISCLAIMER
Please note that this site is not in any way affiliated with ABC or any other persons or organizations responsible for the production of Grey's Anatomy and Private Practice. All trademarks and copyrights belong to their respective owners, and are used here under the terms of Fair Use. All images and videos © copyright of ABC.