Here is the place to ask questions on this wiki and also Grey's Anatomy and Private Practice. Questions should be asked on the talk page and if the questions become frequently asked they will be moved here. Please note that users on the Grey's Anatomy and Private Practice Wiki won't know the answer to everything.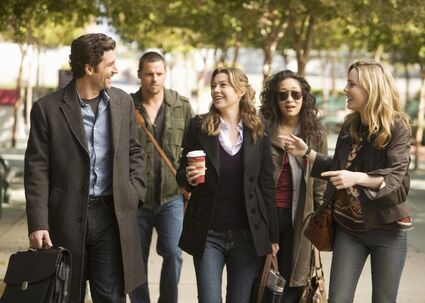 Grey's Anatomy and Private Practice
What happened the Grey's Anatomy theme song?
Although it still plays at the end of the episode with the credits, on her official Twitter Shonda Rhimes explained that the thirty seconds the song played for took away thirty seconds of a valuable storyline.
What happened with Isaiah Washington (who plays Preston Burke)?
Isaiah Washington was let go of his contract, following an incident between himself, Patrick Dempsey and T.R. Knight. The Grey's Anatomy and Private Practice Wiki does not deal in rumors and speculations and will not discuss this matter beyond this.
What happened with Brooke Smith (who plays Erica Hahn)?
Reports indicate she was fired due to ABC's executive being uncomfortable with her playing a lesbian character. The official line from Shonda Rhimes is [1]:
"Brooke Smith was obviously not fired for playing a lesbian. Clearly it's not an issue as we have a lesbian character on the show – Calliope Torres. Sara Ramirez is an incredible comedic and dramatic actress and we wanted to be able to play up her magic. Unfortunately, we did not find that the magic and chemistry with Brooke's character would sustain in the long run. The impact of the Callie/Erica relationship will be felt and played out in a story for Callie. I believe it belittles the relationship to simply replace Erica with 'another lesbian.' If you'll remember, Cristina mourned the loss of Burke for a full season."
And once again, the Grey's Anatomy and Private Practice Wiki does not deal in rumors and speculations and will not discuss this matter beyond this.
Of course, Erica could have been hiding in the parking lot the entire time!
What's happening with T.R. Knight and Katherine Heigl?
And again, reports indicate that both T.R. Knight and Katherine Heigl have been asked to be released from their contracts. If this has a bearing on their storyline is up for debate, but not here.
Shonda Rhimes line on this is:[2]
"I don't think there are any coincidences. I think Katherine's stated publicly that she's happy to stay. I think that there have been lots of rumors about TR, but TR's never said anything. Take from it what you will."
Why are Izzie and Meredith not listed as their married names?
They didn't change their names when they got married. Wiggl believes that akin to most physicians worldwide, neither Izzie or Meredith would change their name (at least professionally) due to the fact that most physicians build a reputation for themselves under one name. In the same vein, Dr. Bailey has not adopted her married name and is not called Dr. Warren.
Why are there no dates on this wiki?
Because the time in the Greysverse runs differently to real life. Considering that Season 1 to Season 3 are the characters' intern year, the show runs at a slower pace. However, Season 5's time jumps allows the show to align to the real-world timeline. This results in Season 6, and every following season, to reflect one residency year. It is noted that near the end of Season 11, the timeline is pushed one year forward, allowing the last episodes of Season 11 and the start of Season 12 to take place in the same year, likely returning to a slower pace.
According to the Timeline, the Grey's Anatomy and Private Practice Wiki estimates that Grey's Anatomy began in 2007. Despite chronological inconsistencies within the episodes, this start year overall fits.
2007-2008: Intern year, Season 1-3 (GA)
2008-2009: Second year, Season 4-5 (GA)
2009-2010: Third year, Season 6 (GA)
2010-2011: Fourth year, Season 7 (GA)
2011-2012: Fifth year, Season 8 (GA)
2012-2013: First year Fellowship/Attending, Season 9 (GA)
2013-2014: Second year Fellowship/Attending, Season 10 (GA)
2014-2015: Season 11 until She's Leaving Home (GA)
2015-2016: She's Leaving Home time-jump (GA)
2016-2017: Season 11 Time Stops through Season 12 (GA)
As Private Practice began Season 4 (GA), its start year is estimated to be 2008.
Aren't the department head titles chief?
While the wiki understands and acknowledges that the official title of department heads are chief, (i.e. Chief of General, Chief of Cardio, etc.), the decision was made to use "Head of" to distinguish them from Chief of Surgery and/or Chief of Staff. Additionally, the "Head of" titles were exclusively used in the show's dialogue until season 4. Since then, the dialogue interchanges between "Head of" and "Chief of" especially during the later seasons.
Grey's Anatomy and Private Practice Wiki
What is a wiki?
A wiki enables documents to be written collectively (co-authoring) in a simple markup using a web browser. A single page in a wiki is referred to as a "wiki page", while the entire body of pages, which are usually highly interconnected via hyperlinks, is called "the wiki"; in effect, a very simple, easy to use database.
A defining characteristic of wiki technology is the ease with which pages can be created and updated. Generally, there is no review before modifications are accepted. Most wikis are open to the general public without the need to register any user account. Sometimes session log-in is requested to acquire a "wiki-signature" cookie for autosigning edits. More private wiki servers require user authentication.
—The definition of a Wiki from Wikipedia.
What is the point of the Grey's Anatomy and Private Practice?
This wiki should eventually be a place on the web where all information about Grey's Anatomy and Private Practice can be easily found. We want to make the world's largest database of information about Grey's Anatomy and Private Practice and we want everyone to be able to contribute to it and make it as accurate as possible.
Is it free?
Everything on Grey's Anatomy Universe Wiki is free (including editing and registering).
AFD? OOU? What does this all mean?
A handful of acronyms are used by our community which refer to certain activities and methods of writing. Many of these are commonly found on many other wikis.
Contributing
Do I have to register to contribute?
You may choose to contribute to Grey's Anatomy Universe Wiki without having to register or log in, however the option is there for those who wish to become more engaged in the community.
Why should I register?
If you register, all your contributions to the site will be shown on your contributions page and everyone here will be able to recognize your efforts. You also receive additional powers, such as the ability to start new pages.
Why should I contribute?
If everyone had that attitude nothing would get written, would it? If you contribute you will be helping to make the information here much more reliable and accurate. Also, since Grey's Anatomy Universe Wiki is free, contributing is your way of paying us back.
Why are some links red?
Some links on Grey's Anatomy Universe Wiki are red because the articles for those links have not been created yet. You can click on a red link to start the article yourself.
Something's not working. What should I do?
If you find something that isn't working, you can report it to an admin or in the Forum.
Community content is available under
CC-BY-SA
unless otherwise noted.