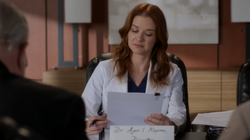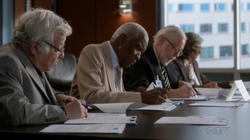 The Grey Sloan Surgical Innovation Contest is a surgical research competition hosted by Grey Sloan Memorial Hospital anonymously funded by Jackson Avery. Contrary to the Harper Avery Award, the contest doesn't reward innovation but instead funds it. April Kepner serves as the Director of the contest.
Conception
Edit
Jackson came up with the idea after his boredom resulted in his challenging his male colleagues for little games when they were hanging out on his boat. After being confronted with Meredith's Harper Avery nomination, he realized he would never win that prize. In order to get in on the game, he decided to spend half of his newly inherited money, $125,000,000, on a new surgical innovation contest. He presented the idea to Bailey and asked her to set it up, since his name couldn't be anywhere near it.
Organization
Edit
Since she wanted to participate, she had Richard take over organizing the contest, but he soon passed it on to April Kepner for the very same reason. She happily took on the responsibility and came up with the rules. The surgeons were tasked with writing a proposal on their projects. 25 proposals would be chosen to receive $100,000 seed money. After phase 2, five projects will receive a million dollars, out of which one winner will be selected to receive 5 million dollars. April also assembled a panel of esteemed emeritus surgeons of Seattle hospitals to help her judge.
Participants and Projects
Edit
Several doctors teamed up for projects.
In the Running
Edit
Out of the Running
Edit
Notes and Trivia
Edit
The contest was open for surgeons from all over the country to apply.
Owen Hunt came up with an idea concerning clotting factor but decided not to participate when he was confronted with patents and writing proposals.
Jackson Avery was working on a project involving aerosolized stem cells that provide rapid tissue coverage and epidermal regeneration without any grafting, but he instead decided to join his mother and her friend's project on perfecting the vaginoplasty.