Holly Anderson was a young girl admitted to Seattle Grace Hospital with her sister, who survived.
Car Accident
Edit
Holly was a sixteen year old girl who came into the ER of Seattle Grace Hospital with her sister after she crashed her father's car when texting while driving. She was texting to tell John and the guys where to meet them.
In the ER, the two bickered. Holly didn't want to give the doctors her name for fear she'd get in trouble, but Emma gave their names and dialed their dad on her cell phone so the doctors could alert their parents.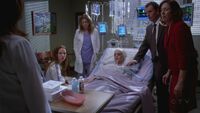 Sadie tried to comfort Holly by saying that her parents wouldn't get too angry, they'd just be happy she was safe, but then Alex noticed something wrong with Holly's eyes and quickly wheeled her away to an O.R. and Emma screamed after them "Good, take her away. I hope you die!". She was taken for a CT and began leaking brain matter through her nose. She was brought into surgery and died on the table of a carotid dissection and a stroke, which Dr. Dixon pointed out that she nor Dr. Shepherd could have foreseen and she was declared brain dead. When Emma and Holly's parents were brought in, Dr. Dixon suggested organ donation. Emma yelled at Dr. Dixon, so Meredith asked Dixon politely to leave.
Later, Meredith comforted Emma, telling her that no matter what happened, Holly loved her, and she loved Holly and that if roles were reversed, Holly would forgive her.
Holly was taken back to surgery for her organs to be harvested by Dr. Dixon.
Relationships
Edit
Holly's sister and parents were devastated when she died.
Notes and Trivia
Edit
She was 16 at the time of her death.
Episode Stills
Edit
Community content is available under
CC-BY-SA
unless otherwise noted.