Wiki Targeted (Entertainment)
Play Sound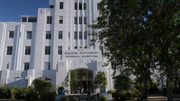 Pacific Northwest General Hospital (also known as Pac North) was a hospital located in Seattle. It was ranked last in Seattle, though its new investors were hoping to turn it around, which was why they hired Alex. The hospital was later purchased and shut down by Catherine Fox and her foundation.
History
[
]
As part of the turnover, Alex and Richard revamped ER triage protocols to improve patient flow, which reduced the waiting time by 10%. Richard's enhancements to the education program include doctor-patient communication and other soft skills. With a possible new investment, Richard was planning to upgrade the skills lab to improve the residents' surgical techniques. Additionally, construction for a new research wing was started.[1] The Catherine Fox Foundation bought the hospital because of Catherine and Richard's argument. The hospital staff had to report to Grey Sloan and interview for their jobs. Parts of the hospital still remained open and operational, such as the ER, radiology, and the research department. The building was later severely damaged by fire as a result of an explosion.
Staff
[
]
Doctors
[
]
Nurses
[
]
Research Staff
[
]
Others
[
]
Hospital Privileges
[
]
Some medical doctors have privileges at Pac-North, despite not being on staff, which allows them access everything that medical/surgical team at Pac-North would be generally entitled to, such as use of ORs, access to patient files, administration of medications and use the pharmacy and clinical labs, access to treatment equipment, including treatment in the ER and trauma bays, and nursing assistants. Privileges are usually extended to attending-level physicians and surgeons.
Currently holding privileges at Pac-North:
Notes and Trivia
[
]
In conversation, the hospital is referred to as Pac-North.
Attending surgeons wear green scrubs.
The hospital is ranked #1 in mortality rate, physician burnout, patient dissatisfaction, and malpractice claims.[2]
The hospital had at least 4 operating rooms.
Teddy Altman has stated the head of cardiothoracic surgery is ranked somewhere around the 200th place in the country.
This building is also used as a hospital in the series Ghost Whisperer as Mercy Hospital.
Victoria Hughes said that they commonly referred to Pac-North as The Morgue while she was in training.
References
[
]