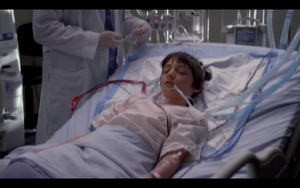 A pediatric intensive care unit (commonly referred to the PICU) is an intensive care unit specializing in the care of critically ill infants, children, and teenagers. Typically, PICUs are directed by pediatric critical care physicians and staffed by doctors, nurses, and other medical personnel specifically trained and experienced in pediatric intensive care.
Seattle Grace Hospital housed a PICU; however, due to the merger with Mercy West Medical Center, and then subsequent name change, the PICU is now part of Grey Sloan Memorial Hospital.
Notable Cases in the PICU
Edit
Due to bowel and liver failure, Jackson Prescott was admitted to the PICU by Head of Pediatric Surgery Dr. Arizona Robbins and surgical resident Dr. Miranda Bailey to await an intestinal and liver transplantation. When the initial transplant suffered complications, Jackson remained in the PICU as his body went into sepsis. Just before his life-sustaining care ended, Dr. Richard Webber was able to procure new organs for Jackson's transplant surgery and ultimately save his life.
Notes and Trivia
Edit
While PICUs can take care of critically ill neonates, hospitals with NICUs are typically better equipped and its staff better trained to handle those patients.
Community content is available under
CC-BY-SA
unless otherwise noted.