"
This is not general surgery in miniature. These are the tiny humans. These are children. They believe in magic, they play pretends there is fairy dust in their IV bags. They hope and they cross their fingers and they make wishes, and that makes them more resilient than adults. They recover faster, survive worse. They believe. In peds, we have miracles and magic. In peds, anything is possible.
"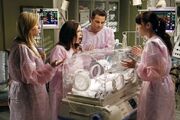 Pediatric surgery is a surgical specialty that deals with the care of fetuses, infants, children, and adolescents. The upper age limit ranges from age 14 to 18, depending on the country, before the patient would be seen by another physician for any medical problems.
Pediatric surgery has its own sub-specialties branching into other specialties, such as pediatric general surgery, pediatric neurosurgery and pediatric cardiothoracic surgery, as well as two sub-specialties of its own, neonatal surgery and fetal surgery.
Neonatal Surgery is the surgical sub-specialty of pediatric surgery that consists of the surgical care of newborn infants, especially ill or premature newborn infants
Fetal Surgery is the surgical sub-specialty of pediatric surgery and maternal-fetal medicine that includes any of a broad range of surgical techniques that are used to treat birth defects in fetuses who are still in the pregnant uterus. 
Notable Pediatric Surgeons and Sub-Specialists
[
edit
|
edit source
]
Although her training does include pediatric surgery, Dr. Montgomery has never been referred to as a pediatric surgeon: she has always been referred to as a neonatal surgeon, or, on occasion, a fetal surgeon.
There are only 38 pediatric surgery fellowship spots in the country.
As a surgical specialty, pediatric surgery is the elite of the elite.
Although pediatric surgery is a surgical specialty requiring a residency in general surgery and a fellowship in pediatric surgery, surgeons of other specialities are known to take on pediatric cases without any known direct involvement of a pediatric surgeon. There have been numerous incidents where this has happened, notable examples include the following:
Clowns are part of the facilities of the peds floor at Grey Sloan Memorial, as well as giving a lot of candy on Halloween. When it's Easter, someone also dresses up as a bunny to hand out Easter eggs.
Community content is available under
CC-BY-SA
unless otherwise noted.