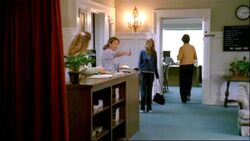 Roseridge Home for Extended Care is a home for the sick and elderly. After Adele started showing more advanced signs of Alzheimer's, Meredith recommended Roseridge to Richard, saying it was a top-notch facility.
Notable Patients
Edit
Notes and Trivia
Edit
They get seven major newspapers each day.
They have monthly family dinners.