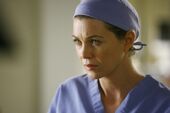 Scrubs are the short sleeved shirts and pants or gowns worn by nurses, surgeons, and any other operating room personnel when "scrubbing in" for surgery, worn under sterile surgical gowns.
The wearing of scrubs has been extended outside of surgery in many hospitals. Scrubs are now worn by any hospital personnel in any clean environment, for cleanliness and hygiene issues, and are worn under lab coats.
All staff at Grey Sloan Memorial Hospital have a standardized set of scrubs that is usually worn by the staff, if some form of formal wear is not worn. Different colors in scrubs indicate which department and/or rank they are:
The standard scrub caps are light blue fabric scrub caps as worn by residents, and attendings have navy blue scrub caps although some have personalized scrub caps. Paper/plastic scrub caps are available as well, including hair nets available to non-medical personnel in the OR (more frequently the case in caesarean sections where the partner is present).
All staff at St. Ambrose have scrubs, and all medical staff on the show have been shown to wear purple scrubs, and the nursing staff appears to wear blue scrubs.
The female staff at Oceanside Wellness Group also have their own pink/purple scrubs, which are worn by both doctors and nurses. Dell has blue scrubs (similar to that of St. Ambrose nursing staff) as part of his conditions of working at the center and Pete has his own set of black scrubs. Most staff have their own personalized scrub caps.
Notes and Trivia
Edit