Wiki Targeted (Entertainment)
Play Sound

The thirteenth season of Grey's Anatomy premiered September 22, 2016, and consisted of 24 episodes. It was broadcast on Thursday nights at 8 PM on ABC as part of the TGIT line-up.
Summary
[
]
Performing medical miracles on a daily basis makes the surgeons of Grey Sloan Memorial consider themselves a breed apart from mere mortals. However, what works in the O.R. doesn't always cut it in the "real world." And when the gloves and scrubs come off, they often find that fixing their own chaotic lives takes a lot more than neatly tied sutures.
After being on her own for some time, Meredith is beginning to explore the idea of a romance with Riggs. Unfortunately, Maggie desires him as well, which threatens to drive a bitter wedge between the sisters. At the same time, despite their differences, Jackson and April must come together when they are assigned a difficult case. Meanwhile, Alex faces the consequences of his vicious attack on DeLuca, Owen and Amelia's marriage implodes and a hospital-wide mutiny erupts when Bailey demotes Webber. Finally, Arizona may have found love again - but is she sleeping with the enemy?
Plots
[
]
Meredith slowly opens herself up to love again with Nathan while making sure Maggie doesn't get hurt.
The fall-out of Alex beating up Andrew and Alex finding about Jo's secret marriage.
Bailey's loyalties get tested when Alex faces felony charges and Catherine demands she hire an eduction consultant to overhaul the residency program when Leah Murphy returns to the hospital.
Richard feels betrayed by Bailey and Catherine when Eliza Minnick, the consultant, takes over his job, while the other attendings support him. The tension results in a civil war inside the hospital.
With Callie and Sofia in New York, Arizona is caught between Alex and Andrew and she develops a secret romantic relationship with Eliza Minnick.
Newlyweds Owen and Amelia have a fallout over having children.
Jackson and April move in together to co-parent Harriet despite not getting back together. April has to decide where her loyalties lie as she's presented with a job offer while Jackson seeks out his father and leans on April for support. He also bonds with Maggie while treating her mother.
Jo feels isolated after Alex's actions and the following trial and finds a friend in Andrew.
Stephanie buries herself in work to avoid grieving and happily welcomes the Minnick method, which gives residents a more prominent role in the OR.
Maggie deals with her crush on Nathan and her mother's disease while bonding with Jackson.
Ben feels caught between his attending friends and resident colleagues given their conflicting feelings about Minnick as he navigates through residency playing it safe.
Nathan pursues Meredith and tries to get to her to open herself up to love, drawing from his own experience.
Andrew bonds with Jo and develops feelings for her as he continues his internship.
A hospital fire and news about Megan throws everyone for a loop.
Cast
[
]
Main Cast
[
]
Recurring Guest Stars
[
]
Prominent Guest Stars
[
]
Recurring Co-Stars
[
]
Notes and Trivia
[
]
ABC officially renewed Grey's Anatomy for its thirteenth season on March 3, 2016.
This is the first season since her introduction in season 2 not to feature Sara Ramírez as Dr. Callie Torres.
On October 10, 2016, it was announced that Tessa Ferrer would be reprising her role as Dr. Leah Murphy in a recurring role in this season.
Caterina Scorsone was pregnant with her second child during the start of filming the season. Her pregnancy was not written into the show.
Camilla Luddington was pregnant with her first child during the filming of this season. It is also not written into the show. She gave birth during production of the last few episodes of the season, resulting in a multi-episode absence of Jo Wilson.
Ellen Pompeo welcomed a third child into her family whilst filming this season, resulting in noticeably less screen time in the episodes mid-season. It also led to her making two voice only appearances, as well as her first episode ever with no appearance at all.
For production reasons, presumably including three actresses with a baby on the way, it was decided at the beginning of the season that there would be four stand-alone episodes, focusing on only a couple of characters per episode. They were all filmed around the same time in late 2016, but spread throughout the season:
The season introduces a remarkable amount of relatives of main characters on screen: Richard's mother, Maggie's mother and father, Jackson's father, and Owen's sister.
You Can Look (But You'd Better Not Touch) is the first episode where Meredith doesn't appear on-screen. However, she does provide the voiceover. This happens again in It Only Gets Much Worse. In Who Is He (And What Is He To You)?, Meredith doesn't appear, nor does she narrate the voice over, making it the first episode ever not to feature Meredith in any way.
This is the first season of the series where there isn't at least one main character to appear in every episode.
It's the first season since her birth not to feature Sofia Robbin Sloan Torres.
Meredith Grey has narrated the voiceovers except for two.
Filming for this season started on August 1, 2016 and wrapped early in April 2017.
Episodes
[
]
No. in series
No. in season
Title
Directed by
Written by
Original air date
270
1
"Undo"
Debbie Allen
William Harper
September 22, 2016
When one of Grey Sloan's own lands in the hospital, Bailey tries to figure out what happened while the rest of the doctors jump in to help. Meredith juggles huge secrets that affect her relationships with Alex and Maggie. While Richard helps Jo with a big decision, April and Catherine clash over the new baby.
271
2
"Catastrophe and the Cure"
Kevin McKidd
Karin Gist
September 29, 2016
Meredith considers her loyalties, as Alex deals with the repercussions of his actions. Newlyweds Amelia and Owen host a dinner party with unlikely guests, and Jackson proposes an arrangement to help April through her recovery.
272
3
"I Ain't No Miracle Worker"
Rob Corn
Andy Reaser
October 6, 2016
A car crash at a funeral brings a bickering family into the hospital. Back from New York, Arizona ends up caught between Alex and Andrew. While Ben takes on a new parenting role, Amelia helps Meredith and Maggie through a problem.
273
4
"Falling Slowly"
Victoria Mahoney
Jen Klein
October 13, 2016
Alex tries to do the right thing, but still can't catch a break. Jackson and April adjust to their "new normal" with the baby. While Meredith and Nathan establish what's going on between them, Amelia questions the status of her relationship with Owen.
274
5
"Both Sides Now"
Chandra Wilson
Mark Driscoll
October 20, 2016
Meredith and Bailey are at odds when both of their patients need a liver transplant, Owen seeks help from the other doctors when he is charged with babysitting baby Harriet for the day, and Amelia struggles with telling Owen some important news.
275
6
"Roar"
Nicole Rubio
Elizabeth J.B. Klaviter
October 27, 2016
A familiar face returns to Grey Sloan, throwing many of the doctors for a loop. With Catherine putting on the pressure, Bailey has to make a decision about Alex, while a tough ER case makes Amelia's bad day even worse.
276
7
"Why Try to Change Me Now"
Jeannot Szwarc
Austin Guzman
November 3, 2016
The arrival of a new consultant puts all of the doctors on edge, especially once she starts stepping on toes in the OR. Amelia and Owen bring their personal problems into the hospital, while April explores some uncharted territory.
277
8
"The Room Where It Happens"
Debbie Allen
Meg Marinis
November 10, 2016
A difficult surgery brings back pivotal memories for Meredith, Richard, Owen, and Stephanie, as they work together to save a life.
278
9
"You Haven't Done Nothin'"
Rob Corn
Karin Gist
November 17, 2016
Believing he's going to jail tomorrow, Alex makes a big decision about his future. While the hospital is overrun with victims of a building collapse, Richard demands answers from Bailey about Eliza's presence at Grey Sloan.
279
10
"You Can Look (But You'd Better Not Touch)"
Jann Turner
Tia Napolitano
January 26, 2017
Bailey, Arizona and Jo go to a maximum security women's prison to treat a violent, 16-year-old pregnant girl and her unborn baby.
280
11
"Jukebox Hero"
Kevin Rodney Sullivan
Zoanne Clack
February 2, 2017
Richard and the attendings set out to make Eliza's first day at Grey Sloan a bumpy one. Meanwhile, Meredith tries to track down Alex.
281
12
"None of Your Business"
Geary McLeod
Andy Reaser
February 9, 2017
Maggie gets a surprise visit from her mother at the hospital. Bailey has to make a difficult decision when one of the attendings refuses to work with Eliza, and Stephanie gets caught up in Owen and Amelia's personal drama.
282
13
"It Only Gets Much Worse"
Jeannot Szwarc
Lauren Barnett
February 16, 2017
The residents are excited for Eliza's next phase of teaching, but they spend the day caught between the warring attendings. Meanwhile, April has a challenging first day in her new role at the hospital.
283
14
"Back Where You Belong"
Oliver Bokelberg
Jen Klein
February 23, 2017
Alex returns to the hospital and discovers a lot has changed since he left. Meanwhile, Jo has to make a difficult decision on a case, and Arizona tries to distance herself from Eliza.
284
15
"Civil War"
Nicole Rubio
Elizabeth J.B. Klaviter
March 9, 2017
Richard, Jackson, April, and Catherine tackle a grueling trauma case intensified by hospital politics, Amelia finally faces her feelings about Owen, and Meredith gets caught between Nathan and Alex over a patient.
285
16
"Who Is He (And What Is He To You)?"
Elisabeth R. Finch
Kevin McKidd
March 16, 2017
Jackson and April travel to Montana in order to perform a complicated surgery on a young patient, but Jackson's mind is elsewhere, and April is forced to step up and get him back on track.
286
17
"Till I Hear It From You"
Kevin McKidd
Austin Guzman
March 23, 2017
Diane Pierce returns to Grey Sloan, but Maggie is still in the dark as to why she's really there. Owen and Amelia hash out their problems as they work a trauma case together, and Bailey tries to mend her relationship with Richard.
287
18
"Be Still, My Soul"
Ellen Pompeo
Meg Marinis
March 30, 2017
When Maggie's mom's health deteriorates, the doctors are at odds over how to treat her. Meanwhile, Richard comes to grips with Bailey's betrayal over the Residency Program.
288
19
"What's Inside"
Nzingha Stewart
Tia Napolitano
April 6, 2017
When Maggie takes on a big case, many of the doctors are worried she's not the right one for the job while Stephanie makes a mistake, treating one of Grey Sloan's own.
289
20
"In the Air Tonight"
Chandra Wilson
Stacy McKee
April 13, 2017
Meredith and Nathan have to confront their feelings when they are stuck sitting next to each other on a plane.
290
21
"Don't Stop Me Now"
Louis Venosta
Andy Reaser
April 27, 2017
Bailey and April work to fix things between Richard and Catherine. Meanwhile, Eliza continues to pursue Arizona, and one of Alex's previous patients returns to Grey Sloan.
291
22
"Leave It Inside"
Zetna Fuentes
Elisabeth R. Finch
May 4, 2017
April and Andrew consult with a fiery patient who has a giant, inoperable heart tumor. Meanwhile, Alex and Eliza are at odds over the treatment of a young patient, and Stephanie and Ben make decisions that could affect their careers.
292
23
"True Colors"
Kevin McKidd
William Harper
May 11, 2017
The doctors of Grey Sloan encounter a difficult case involving a dangerous patient. Meanwhile, Owen receives life-changing news that pushes Amelia to step up to support him, and Alex attends a medical conference after making a shocking discovery.
293
24
"Ring of Fire"
Debbie Allen
Stacy McKee
May 18, 2017
The doctors' lives are at risk after a dangerous patient escapes the hospital room. Alex must make a difficult decision in his relationship with Jo. Meredith has big news for Nathan that brings things to a turning point.
Reception
[
]
DVD Release
[
]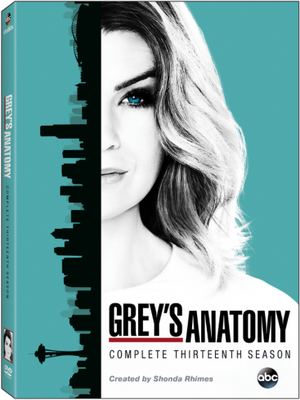 The "Grey's Anatomy: Complete Thirteenth Season" boxset was released on August 29, 2017 in region 1. In region 2, the boxset was released in October 23, 2017.
Set Details
[
]
The boxset contains the 24 episodes of the season. The DVD box includes 6 discs. Other set details are:
English (Dolby Digital 5.1 Surround)
Runtime: approximately 1,008 minutes
Special Features
[
]
In addition to the episodes, the season 13 DVD set also contains a couple of special features:
Deleted Scenes – Back From the Dead, These Scenes Have a New Life on DVD
In Stitches – Check Out the Cast Cutting Up, Both In and Out of the OR
Gallery
[
]
Cast Promotional Photos
[
]
Posters
[
]