'Grey's Anatomy' Season 15 Trailer
Play Sound

The fifteenth season of Grey's Anatomy premiered September 27, 2018 with a two-hour premiere. It was broadcast on Thursday nights at 8 PM on ABC. It consists of 25 episodes.
Summary
[
]
Romance is brewing in ways you did not see coming as doctor Teddy Altman is back in an explosive love triangle. And the drama continues as a windstorm blows through Seattle, causing the power to go out at Grey Sloan, leaving the doctors scrambling to save their patients' lives, including Meredith, who desperately needs to get to her patient for her heart transplant.
Plots
[
]
After finding herself desiring love and passion, Meredith turns to matchmaker Cece Colvin to find her the perfect match. Cece sets up a string of dates, but eventually Meredith finds herself wooed by Andrew DeLuca and new ortho Chief Atticus Lincoln. After dates with both, she chooses for Andrew and lets the relationship slowly develop. She also starts working on a new research project about ingestible non-invasive diagnostic devices.
Newlywed Alex faces a professional challenge when Bailey appoints him as her interim Chief of Surgery. While initially struggling, he rises to the occasion and sometimes butts heads with Bailey. His mother visits for a while and she gently nudges her son and Jo towards having kids. Later, he has to stand by as Jo slips into a depression after finding out the circumstances of her conception and birth and refuses to talk to him.
Bailey continues her quest to eliminate stress from her life. After stepping down as Chief appears insufficient, she asks Ben for a break from their marriage. It deeply upsets him, but the two reconcile when she discovers her mental illness has been plaguing her due to imbalanced medications. Over time, it starts itching that she has given up her job, causing some friction with Alex.
Richard goes down a dark path after the death of his sponsor. While still abstaining from alcohol, he becomes a dry drunk displaying erratic and at times aggressive behavior. His bad spell is ended when Catherine is diagnosed with a chondrosarcoma on her spine. She undergoes surgery but the tumor can't be removed entirely. Richard stands by Catherine through her recovery and her acceptance of the fact that she has to live with cancer.
Owen continues to care for Leo and Betty with Amelia. The family is thrown for a loop when Teddy returns and reveals her pregnancy, but Owen decides to be with Amelia. However, their renewed happiness is short-lived when Betty reveals she has been lying about her identity the whole, causing Owen to lash out. His hurtful comments cause Amelia to end things. Owen legally adopts Leo and continues life as a single father. He prepares for his daughter's birth and goes to therapy, where he learns he self-sabotages happiness before life can destroy it for him and how to stop that cycle. During the birth of his daughter, he professes his love for Teddy, finally allowing himself to have happiness in his life without fear of screwing it up.
Jackson is saved from near-accident which sets off a spiritual quest for him. Eventually, he finds that he is happiest working miracles in the OR. His relationship with Maggie continues to develop and he leans on her throughout his mother's tough recovery process. He develops a project to heal burn wounds with fish skin and asks Maggie to move in with him.
Amelia continues to care Betty and Leo with Owen, but she breaks up with him when his anger on Betty's lying about her identity reveals his true feelings about addicts. She develops a sexual relationship with Link while away at a conference on alternative non-addictive pain relief, which also inspires her to start research on the topic, but it develops into a deeper relationship when he defends her against her sisters and mother at a tense family dinner.
Jo decides to stay in Seattle and convinces Bailey to create a special surgical innovation fellowship just for her. After she has her genome examined, she becomes curious about her birth parents. She finds out her mother's identity and visits her in Pittsburgh. She learns she was the product of rape and that her mother gave her up because she associated Jo with the rapist, which sends Jo into a depression. Meredith convinces her to seek treatment and she checks herself into the psychiatry ward.
Maggie supports Jackson throughout his mother's recovery process and continues her research on rechargeable hearts. When she operates on one of her fellow medical students, the patient publishes the story on a blog that gains traction in the medical community. This inspires Maggie to own her story and she accidentally reveals on a podcast that Richard and Ellis are her birth parents, which had been largely unknown in the medical community.
Andrew develops a relationship with Meredith after wooing her for months. His father and Carina return from Italy when the former has a innovative proposition to create external gestational sacks. Andrew initially supports him, ignoring Carina's warnings that their father is bipolar, but later realizes his mistake. A confrontation leads to the two of them going separate ways.
Pregnant Teddy begins a relationship with Tom Koracick as Owen chose Amelia. She convinces herself that she and Owen are meant to be just friends and her relationship develops to the point of them living together and preparing for the birth. However, with the birth approaching, Teddy realizes she wants the passionate love she feels for Owen instead of the safe feeling Tom gives her.
Teddy gives birth to Allison Hunt as Owen professes his love to her.
Cast
[
]
Main Cast
[
]
Special Guest Star
[
]
Recurring Guest Stars
[
]
Prominent Guest Stars
[
]
Recurring Co-Stars
[
]
Notes and Trivia
[
]
ABC officially renewed Grey's Anatomy for its fifteenth season on April 20, 2018.
This is the first season not to feature Jessica Capshaw, Sarah Drew, Jason George, and Martin Henderson as part of the main cast since season six, seven, and twelve, respectively.

This is also the first season since season 7 to not feature any departure of a main cast member.

This is the first season since season eight to feature Kim Raver as part of the main cast. She did recur on the previous season as a guest star.
Ellen Pompeo and Kelly McCreary are the only actors to appear in every episode of this season. However, Ellen is the only one with lines in every episode.
The crew started preparing the sound stage for production on July 16, 2018.
The table read for the premiere took place on July 26, 2018. Filming on set started on July 30 and wrapped on April 17, 2019.
Krista Vernoff described this season as "The Season of Love."
All voiceovers this season are narrated by Meredith Grey with the exception of Anybody Have a Map?, which is narrated by Richard Webber.
Ellen Pompeo did not direct an episode this season because of the extra time it requires her to be away from home. Jesse Williams directed another episode after making his directorial debut with Fight For Your Mind last season.
A 30-second ad during this season cost advertisers $204,792.
This season promo poster consists of two episode stills from the fourteenth season photoshopped together, with one still being from One Day Like This and the other from Who Lives, Who Dies, Who Tells Your Story.
It was announced in early January 2019 that three additional scripts had been ordered (on top of the original order of twenty-two), giving the season a total of twenty-five episodes. While the extra order hadn't been made official publicly, showrunner Krista Vernoff already knew at the beginning of the season that they would be doing 24 episodes. Thus, ABC only needed Krista to sign off on doing one extra episode.

That one extra (previously unplanned) episode turned into a stand-alone episode focusing on Amelia. Krista had had the idea for it in her head, but it wasn't until the extra episode was ordered that she decided it would be included in this season.
Episodes
[
]
No. in series
No. in season
Title
Directed by
Written by
Original air date
318
1
"With a Wonder and a Wild Desire"
Debbie Allen
Krista Vernoff
September 27, 2018
The doctors at Grey Sloan Memorial vie for a new position. Meredith is seemingly distracted and struggles to stay focused, and Maggie finds herself the keeper of a big secret while Amelia and Owen try to figure out their relationship. Meanwhile, Jo and Alex's honeymoon doesn't go exactly as planned.
319
2
"Broken Together"
Kevin McKidd
Meg Marinis
September 27, 2018
New doctors continue to shake up the hospital in typical Grey Sloan manner. Meredith bonds with a patient while Jackson struggles with the meaning behind recent experiences, and after making a life-changing decision, Jo forms an unexpected alliance.
320
3
"Gut Feeling"
Michael Watkins
Mark Driscoll
October 4, 2018
Meredith works on a patient who happens to specialize in matchmaking, and a seemingly drunk patient pushes Richard's buttons and gives him a medical mystery to solve. Meanwhile, Maggie tries to reach Teddy after bearing the burden of her secret becomes overwhelming as she struggles with issues in her own personal life.
321
4
"Momma Knows Best"
Cecilie Mosli
William Harper
October 11, 2018
Meredith turns heads when she shows up to work done up and ready for her blind date later that day, while Alex makes a questionable decision in order to save a patient. Meanwhile, the burden of knowing Teddy's secret keeps Maggie up at night, ultimately making her decide she has to tell someone.

---

Part one of a crossover that continues on Station 19's Under the Surface.
322
5
"Everyday Angel"
Chandra Wilson
Julie Wong
October 18, 2018
Meredith reaches out to Teddy and helps her talk through some of her personal struggles. Owen and Amelia hide out near Betty's school after she becomes a flight risk. Meanwhile, Jo wants to get to work on the fellowship, but Bailey's attention is elsewhere.
323
6
"Flowers Grow Out of My Grave"
Nicole Rubio
Kiley Donovan
November 1, 2018
Meredith has a patient whose family is celebrating Day of the Dead, making the doctors remember loved ones they have lost. Richard shares unexpected news with Meredith about her father, Thatcher. Meanwhile, Teddy tries to tell Owen that she is pregnant but they get sidetracked, and Jo encourages Link to pursue one of the doctors.
324
7
"Anybody Have a Map?"
Krista Vernoff
Elisabeth R. Finch
November 8, 2018
Catherine is in Los Angeles getting the new foundation ready and summons Meredith and Koracick to visit for a highly confidential consult. Meanwhile, one of the nurses is 28 weeks pregnant and collapses at the hospital while talking to Richard.
325
8
"Blowin' in the Wind"
Kevin McKidd
Meg Marinis
November 15, 2018
Seattle is hit by a huge windstorm and Grey Sloan becomes inundated with patients. Alex and Jo are stuck at home and decide to make the best of it by having a second honeymoon, Meredith confronts Richard about getting his life back on track.
326
9
"Shelter from the Storm"
Jann Turner
William Harper
January 17, 2019
The windstorm continues to blow through Seattle and after the power goes out at Grey Sloan, the doctors are left scrambling to save their patients' lives, including Meredith who desperately needs to get to Cece for her heart transplant. Meanwhile, Owen, Amelia and Teddy confront their complicated situation.
327
10
"Help, I'm Alive"
Daniel Willis
Jalysa Conway & Jason Ganzel
January 24, 2019
Meredith questions Link's laid-back approach over a patient's treatment. Maggie worries that Richard, Jackson and Catherine haven't come to terms with Catherine's diagnosis. Meanwhile, DeLuca steps up in the O.R. when Owen faces a setback.
328
11
"The Winner Takes It All"
Allison Liddi-Brown
Elisabeth R. Finch
January 31, 2019
Amelia and Koracick tackle a daunting surgery on Catherine, while Richard and Jackson hope for the best. Meanwhile, Richard urges Meredith to visit her father, Thatcher, before his time is up.
329
12
"Girlfriend in a Coma"
Debbie Allen
Kiley Donovan
February 7, 2019
A patient gives Meredith some clarity on her dating situation around the holidays. The strain on Bailey and Ben's marriage comes to a head. Meanwhile, Betty drops a bomb on Owen and Amelia.
330
13
"I Walk the Line"
Kevin McKidd
Tameson Duffy
February 14, 2019
A sea of patients flood the hospital after gunfire goes off at a parade. A blast from the past throws Maggie off her game on the same day that Meredith tries to talk to her about dating DeLuca. Meanwhile, Owen and Amelia get some potentially life-altering news about Betty.
331
14
"I Want a New Drug"
Jeannot Szwarc
Zoanne Clack
February 21, 2019
While Meredith breaks a hospital record, the rest of the doctors are sent scrambling in the wake of a massive overdose within the community. Meanwhile, Jackson wants to take a reluctant Maggie camping, and Levi and Nico's relationship continues to develop.
332
15
"We Didn't Start the Fire"
Chandra Wilson
Andy Reaser
February 28, 2019
When Jackson throws a party to celebrate Catherine's surgery and those who worked to save her, literally nothing goes as planned. Meanwhile, Helen pays Alex and Jo a surprise visit.
333
16
"Blood and Water"
Pete Chatmon
Kiley Donovan
March 7, 2019
Meredith finds herself having to side with either Alex or DeLuca during a difficult situation, but she doesn't want to betray either of them. Meanwhile, Maggie reveals details about her personal life that cause a public stir, and Levi struggles with whether or not to tell his family about Nico.
334
17
"And Dream of Sheep"
Sydney Freeland
William Harper
March 14, 2019
Ties are strained as Andrew and Carina confront an unforgiving family history. Meanwhile, Teddy and Owen work together on a married couple who is expecting, and Amelia attends a conference for alternative pain relief.
335
18
"Add It Up"
Michael Watkins
Alex Manugian
March 21, 2019
Maggie introduces mood rooms as an alternative approach to medicine. Alex and DeLuca butt heads over an 11-year-old patient who tries to sabotage her own surgery. Jackson and Richard deal with a gender non-binary patient. Meanwhile, Teddy has a pregnancy scare that brings Owen and Koracick to odds.
336
19
"Silent All These Years"
Debbie Allen
Elisabeth R. Finch
March 28, 2019
When a trauma patient arrives at Grey Sloan, it forces Jo to confront her past. Bailey and Ben have to talk to Tuck about dating.
337
20
"The Whole Package"
Geary McLeod
Meg Marinis
April 4, 2019
Owen and Teddy have to deal with the surprise arrival of Megan Hunt, who knows nothing about their situation. Catherine preps for her first surgery back on a war veteran who's not emotionally prepared for his procedure. Meredith worries about DeLuca operating alone with Richard.
338
21
"Good Shepherd"
Bill D'Elia
Julie Wong
April 11, 2018
Amelia and Link travel to New York to operate on a patient with a severe spinal deformity, but they're in for more than they bargained for when Nancy Shepherd invites them to dinner at her home.
339
22
"Head Over High Heels"
Allison Liddi-Brown
Bridgette N. Burgess
April 18, 2019
Meredith debates how to handle an unexpected situation in her personal life, while Richard has an untimely reunion with an old friend. Jo has a hard time at work, and Owen tries therapy.
340
23
"What I Did for Love"
Jesse Williams
Mark Driscoll
May 2, 2019
Maggie treats one of Station 19's own, and Jo learns a hard lesson. Meanwhile, when working with a family seeking asylum, Meredith makes a call that could jeopardize her career.

---

Part one of a crossover that continues on Station 19's Always Ready.
341
24
"Drawn to the Blood"
Kevin McKidd
Andy Reaser
May 9, 2019
Alex tries desperately to save his patient Gus while he waits for a severely agoraphobic blood donor to arrive from London. Jo reveals to Meredith why she's been so down, while Catherine and Bailey hold a meeting to get down to the bottom of an insurance issue. Meanwhile, Maggie and Jackson go camping.
342
25
"Jump Into the Fog"
Debbie Allen
Krista Vernoff
May 16, 2019
As fog begins to cover Seattle, the doctors must navigate through personal complications. Meredith and Alex attempt to save Gus, while Levi talks some sense into a struggling Nico.
Reception
[
]
DVD Release
[
]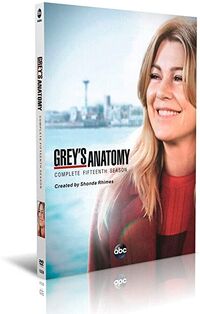 The "Grey's Anatomy: Complete Fifteenth Season" boxset was released on November 7, 2019 in region 2.
Set Details
[
]
The boxset contains the 25 episodes of the season. The DVD box includes 7 discs. Other set details are:
English (Dolby Digital Surround 5.1)
Runtime: approximately 1,029 minutes
Special Features
[
]
The season 15 DVD set does not include any special features.
Gallery
[
]
Posters
[
]
Entertainment Weekly Covers
[
]
Entertainment Weekly celebrated the show's fifteenth season with six different covers for their September 28, 2018 issue.
References
[
]