Wiki Targeted (Entertainment)
Play Sound
The sixteenth season of Grey's Anatomy premiered September 26, 2019. The first part of the season was broadcast on Thursday nights at 8 PM on ABC. After the mid-season break, it began to air at 9 PM after Station 19. The season was scheduled to consist of 25 episodes but the coronavirus outbreak forced production to shut down after filming on episode 21 wrapped, which led to it becoming the season finale as it was decided production would not resume.
Summary
[
]
Plots
[
]
Showrunner Krista Vernoff confirmed the season would chronicle following storylines:
The ramifications of Meredith, Richard, and Alex's being fired and Meredith going to jail.
The continuing love triangle between Owen, Teddy, and Tom as well as Teddy's struggles with motherhood
Amelia taking time to figure out who she is.
Jo's emergence from her psychiatric treatment.
Storylines regarding the United States' immigration policies and "broken" medical care system.
Meredith defends her medical license.
Cast
[
]
Main Cast
[
]
Recurring Guest Stars
[
]
Prominent Guest Stars
[
]
Recurring Co-Stars
[
]
Notes and Trivia
[
]
The renewal for the show's sixteenth season was first somewhat confirmed on February 5, 2019. Karey Burke, President of ABC Entertainment, stated at a TCA session that the show was implicitly renewed for its sixteenth season when Ellen signed on for seasons 15 and 16. At the same time, she confirmed that they were in early conversations to keep Grey's going even beyond the sixteenth season. This renewal was made official on May 10, 2019.
Production for this season started on July 15, 2019.
The table read for the season premiere took place on July 25, 2019.
A kick-off party for cast and crew took place on July 28, 2019.
Ellen Pompeo and Giacomo Gianniotti filmed their first scene on July 29, 2019.
This is the first season since season 10 for which ABC released promotional photos for every member of the cast.
The season heavily features crossovers with Station 19's third season.
On March 12, 2020, it was announced that due to concerns about the coronavirus pandemic, production had been shut down. This hiatus in filming came after the completion of episode 16.21 and was expected to last at least two weeks.

On March 27, 2020, ABC announced that it would not resume production on season 16 and the finished 21st episode would act as the season's final episode.
This decision makes season sixteen the fourth shortest season of the series, only behind season one with 9 episodes, season four with 17 episodes and season seventeen with 17 episodes.
It also makes this the only season not to end in May.

During the COVID-19 pandemic, Krista Vernoff tweeted what each of a few characters would say in response.
Meredith Grey narrates all the voice overs this season with the exception for Love of My Life, which was narrated by Richard Webber.
Episodes
[
]
No. in series
No. in season
Title
Directed by
Written by
Original air date
343
1
"Nothing Left to Cling To"
Debbie Allen
Krista Vernoff
September 26, 2019
Meredith, Richard, and Alex must deal with the consequences after Bailey fires them from Grey Sloan for insurance fraud. After disappearing into the fog, Jackson helps a man in a dangerous situation, as his relationship with Maggie comes to a new crossroad. Meanwhile, Tom gets new responsibilities at the hospital that throw the doctors for a loop.
344
2
"Back in the Saddle"
Kevin McKidd
Meg Marinis
October 3, 2019
The Grey Sloan doctors operate on a man who crashed into Maggie's car as Owen, back from paternity leave, struggles with Tom's new position. Outside the hospital, Meredith's recent firing doesn't stop her from diagnosing those around her. Plus, Richard and Alex start anew and it's not easy. All the while, Jo readies herself to return to work, and Amelia has a new revelation in her relationship with Link.
345
3
"Reunited"
Michael Medico
Andy Reaser
October 10, 2019
With new restrictions, Meredith tiptoes the line of protocol as she helps Jo with a difficult procedure from afar and Koracick makes things challenging for Owen at Grey Sloan. Meanwhile, a patient at the hospital is brain-dead after falling into a construction site, and her two sisters must decide whether or not to keep her alive.
346
4
"It's Raining Men"
Michael Watkins
Mark Driscoll
October 17, 2019
After Meredith inadvertently stirs up negative press for Grey Sloan, she tries to make things right with her former colleagues, jeopardizing her community service hours. Station 19's Ben and Vic bring a young woman into the hospital, and Jackson stands up to Koracick when he goes too far with a patient's family. Meanwhile, Bailey receives unexpected news and Owen finds himself at Pac-Gen North, which Alex sees as a recruiting opportunity.
347
5
"Breathe Again"
Chandra Wilson
Elisabeth R. Finch
October 24, 2019
Meredith has a court hearing after skipping out on community service, while Bailey and Jo have a patient that Jo realizes is from the treatment facility. Richard and Gemma grab breakfast together and things go awry.
348
6
"Whistlin' Past the Graveyard"
Pete Chatmon
Julie Wong
October 31, 2019
Alex is hoping to impress investors at Pac-North Gen, but when he hears disturbing news about skeletons on the construction site grounds, he enlists Richard to help with distraction tactics. Teddy feels the pressure to be super-mom after tasking herself with creating original Halloween costumes for Allison and Leo, while Meredith fears she won't make it home in time for trick-or-treating with her kids. Elsewhere, Jackson tends to a pediatric patient who is upset she is spending her Halloween in a hospital.
349
7
"Papa Don't Preach"
Daniel Willis
Jalysa Conway
November 7, 2019
Catherine is back in town and has no idea what's been going on between Jackson and Maggie, while her relationship with Richard has become distant. Owen and Amelia treat a woman who fell in the basement and quickly realize that there is more to the story and Maggie is shocked to learn about some of Richard's relatives who are seeking help.
350
8
"My Shot"
Debbie Allen
Meg Marinis
November 14, 2019
Meredith faces the medical board as her future as a doctor remains uncertain, and she's forced to reckon with her past in some challenging ways. Meanwhile, the interns are put to the test as they are each vying to be the most successful on their respective cases in the absence of some of the attendings.
351
9
"Let's All Go to the Bar"
Kevin McKidd
Kiley Donovan
November 21, 2019
Jo becomes a safe haven volunteer and gets a call that a baby has been dropped off at Station 19. Meanwhile, Meredith moves forward with her life after facing the medical board. Jackson takes a big step in his budding romance with Vic, while Bailey and Amelia swap pregnancy updates.
352
10
"Help Me Through the Night"
Allison Liddi-Brown
Lynne E. Litt
January 23, 2020
Following the car crash at Joe's bar and the subsequent rescue efforts led by the Station 19 firefighters, Grey Sloan doctors work through the night to save the lives of their colleagues. Meanwhile, Amelia worries about sharing her pregnancy revelation with Link. Owen and Teddy take a big step, and Bailey deals with grief over her recent loss.

---

Second part of a cross-over that started out on Station 19's third season premiere.

353
11
"A Hard Pill to Swallow"
Michael Medico
Adrian Wenner
January 30, 2020
Richard finds out Maggie quit Grey Sloan and is concerned about how she's handling the death of her patient who was her estranged cousin. Bailey returns to work after taking some personal time off, although Koracick doesn't make her first day as easy as she'd like. Meanwhile, Meredith thinks she might miss DeLuca, and Amelia has an update for Link on her pregnancy.
354
12
"The Last Supper"
Nicole Rubio
Jason Ganzel
February 6, 2020
Jackson creates an uncomfortable situation when he invites new girlfriend, Vic, to what he thinks is Richard and Catherine's anniversary celebration, only to discover the dinner was called for different reasons. Elsewhere, Levi brings Nico on a trip to visit an ailing family member.
355
13
"Save the Last Dance for Me"
Jesse Williams
Tameson Duffy
February 13, 2020
DeLuca can't figure out what's going on with his incurable patient Suzanne and he turns to a diagnostics genius, Dr. Riley from UCSF, for help. Bailey checks in on Joey, a foster kid that Ben brought into Grey Sloan. Meanwhile, Amelia is getting the results of her paternity test and Jo confronts her about how she is treating Link.
356
14
"A Diagnosis"
Greg Evans
Julie Wong
February 20, 2020
DeLuca is irritated after Meredith takes over his patient Suzanne whose symptoms continue to stump the doctors at Grey Sloan. Elsewhere in the hospital, Jackson, Owen and Jo work on a couple injured in a bear attack and Levi is hurt when Nico doesn't want him to meet his parents.
357
15
"Snowblind"
Linda Klein
Meg Marinis
February 27, 2020
Meredith and Carina question DeLuca's uncharacteristic behavior when he volunteers to perform a life-threatening task during a blizzard. Meanwhile, Bailey tries to help Joey with his future, while Richard trains a new intern at the hospital.
358
16
"Leave a Light On"
Debbie Allen
Elisabeth Finch
March 5, 2020
Bailey and Ben face a huge, life-altering decision. Meredith and several of the doctors reflect on the past.
359
17
"Life on Mars?"
Michael Watkins
Jase Miles-Perez
March 12, 2020
A wealthy inventor arrives at Grey Sloan and asks Koracick for help, while Meredith struggles to save a woman with diabetes who has been rationing her insulin. Jo and Link fight to save a young man who fell onto train tracks, and Jackson and Vic's relationship hits a snag.
360
18
"Give a Little Bit"
Kevin McKidd
Zoanne Clack
March 19, 2020
Meredith heads up a pro bono surgery day, but the overwhelming patient response causes her to struggle to keep things in order. DeLuca treats a teenage patient whom he suspects is in danger and desperately tries to get Bailey to support his theory.
361
19
"Love of My Life"
Allison Liddi-Brown
Kiley Donovan
Andy Reaser
March 26, 2020
Richard preps to present his PATH pen at the LA Surgical Innovation Conference but becomes distracted by his issues with Catherine. Maggie and Teddy run into people from their past at the same conference, while Hayes relives moments from when he met his late wife.
362
20
"Sing It Again"
Michael Watkins
Jess Righthand
April 2, 2020
Owen and Link treat an older woman who wakes up from surgery and can't stop singing, while Teddy helps Koracick stay afloat after an estranged loved one from his past comes to the hospital looking for help. Meredith, Bailey and Maggie focus their efforts on a difficult patient with a tricky diagnosis.
363
21
"Put on a Happy Face"
Deborah M. Pratt
Mark Driscoll
Tameson Duffy
April 9, 2020
Link tries to convince Amelia to take it easy during the final stage of her pregnancy. Hayes asks Meredith a surprising question. Owen makes a shocking discovery.
Reception
[
]
DVD Release
[
]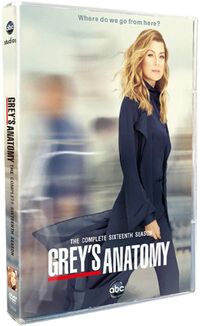 The "Grey's Anatomy: The Complete Sixteenth Season" boxset was released in 2020 in region 2.
Set Details
The boxset contains the 21 episodes of the season. The DVD box includes 6 discs. Other set details are:
English (Dolby Digital Surround 5.1)
Runtime: approximately 860 minutes
Special Features
The season 16 DVD set does not include any special features.
Gallery
[
]
Cast Promotional Photos
[
]
Posters
[
]
References
[
]