The first season of Grey's Anatomy premiered March 27, 2005 and ended May 22, 2005. It was broadcast on Sunday nights at 10 PM on ABC. The season consists of 9 episodes, although it was originally planned to contain 14 episodes, but was shortened by ABC to end the series together with Desperate Housewives. The episode Bring the Pain was planned as the original season finale.
Meredith Grey, the daughter of the once-renowned surgeon Ellis Grey, becomes an intern at the Seattle Grace Hospital. She meets fellow interns Cristina Yang, Isobel "Izzie" Stevens, George O'Malley and Alex Karev who become her closest friends during the intern program. She finds herself working with renowned surgeons such as the heart surgeon Preston Burke and Richard Webber, chief of surgery and old friend of her mother. She finds herself working under her one night stand and famous neurosurgeon Derek Shepherd and working with her resident Dr. Miranda Bailey also known as The Nazi.
The season chronicles the first few months of the internship program and the day-to-day life of a surgical intern.
Meredith's battle to keep her mother's Alzheimer's disease a secret.
The attraction of Meredith to Derek Shepherd.
George's infatuation with Meredith
Izzie dealing with the criticism of being a former model
Cristina's relationship with Burke and her ectopic pregnancy.
A power struggle between Dr. Burke and Dr. Shepherd in the hospital.
Dr. Webber realizes he has a brain tumor, which is pressing against the optic nerve, compromising his sight
The season's end introduces Kate Walsh as Dr. Addison Montgomery-Shepherd, Derek's estranged wife, although for other areas where the season was aired, Meredith waiting (Season 2, Episode 5) was the season finale instead.
Main Cast
Edit
Recurring Guest Stars
Edit
Prominent Guest Stars
Edit
Recurring Co-Stars
Edit
Notes and Trivia
Edit
This season served as a mid-season replacement for Boston Legal.
All voice overs of this season are narrated by Meredith Grey, making it the only season in which she narrates them all.
This is the only season not to premiere in September, due to it being a mid-season replacement.
A common mistake in the first season is that the attending surgeons often do procedures that are not part of their field of specialty, such as general surgeons operating on lungs.
Season one wrapped on March 28, 2005, the day after the series premiered on television.
All main characters appear in every episode, except for Richard Webber, who's absent for three episodes.
Reception
Edit
DVD Release
Edit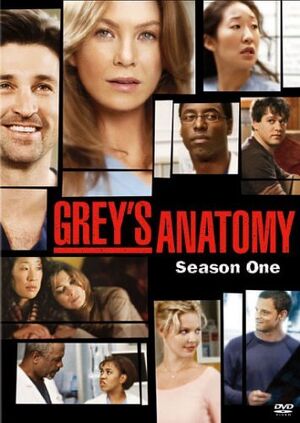 The "Grey's Anatomy: Season One" boxset was released in region 1 on February 14, 2006. On October 11 and April 26, 2006, the DVD was released in regions 2 and 4 respectively.
Set Details
Edit
The boxset contains the 9 episodes of the season, with one extended. The DVD box contains 2 discs. Other set details are:
English (Dolby Digital 5.1 Surround)
Audio Commentaries
In the UK, the DVD set also contained the first 5 episodes of the second season, as it was originally planned for those episodes to be part of season 1.
Special Features
Edit
Additional to the episodes, the season 1 DVD set also contains a couple of special features:
Extended Episode
Under the Knife: Behind the Scenes of Grey's Anatomy
Anatomy of a Pilot
Dissecting Grey's Anatomy

Pilot – Shonda Rhimes and Peter Horton
Pilot – Sandra Oh, Katherine Heigl and T.R. Knight

Alternate Title Track
Avant-garde Trailer
Cast Promotional Photos
Edit