Wiki Targeted (Entertainment)
Play Sound

The first season of Grey's Anatomy premiered March 27, 2005 and ended May 22, 2005. It was broadcast on Sunday nights at 10 PM on ABC. The season consists of 9 episodes, although it was originally planned to contain 14 episodes, but was shortened by ABC to end the series together with Desperate Housewives. The episode Bring the Pain was planned as the original season finale.
Summary
[
]
Meredith Grey, the daughter of the once-renowned surgeon Ellis Grey, becomes an intern at the Seattle Grace Hospital. She meets fellow interns Cristina Yang, Isobel "Izzie" Stevens, George O'Malley and Alex Karev who become her closest friends during the intern program. She finds herself working with renowned surgeons such as the heart surgeon Preston Burke and Richard Webber, chief of surgery and old friend of her mother. She finds herself working under her one night stand and famous neurosurgeon Derek Shepherd and working with her resident Dr. Miranda Bailey also known as The Nazi.
Plots
[
]
The season chronicles the first few months of the internship program and the day-to-day life of a surgical intern.
Meredith's battle to keep her mother's Alzheimer's disease a secret.
The attraction of Meredith to Derek Shepherd.
George's infatuation with Meredith
Izzie dealing with the criticism of being a former model
Cristina's relationship with Burke.
A power struggle between Dr. Burke and Dr. Shepherd in the hospital.
Dr. Webber realizes he has a brain tumor, which is pressing against the optic nerve, compromising his sight
The season's end introduces Kate Walsh as Dr. Addison Montgomery-Shepherd, Derek's estranged wife, although for other areas where the season was aired, Meredith waiting (Season 2, Episode 5) was the season finale instead.
Cast
[
]
Main Cast
[
]
Recurring Guest Stars
[
]
Prominent Guest Stars
[
]
Recurring Co-Stars
[
]
Notes and Trivia
[
]
This season served as a mid-season replacement for Boston Legal.
All voice overs of this season are narrated by Meredith Grey, making it the only season in which she narrates them all.
This is the only season not to premiere in September, due to it being a mid-season replacement.
A common mistake in the first season is that the attending surgeons often do procedures that are not part of their field of specialty, such as general surgeons operating on lungs.
Season one wrapped on March 28, 2005, the day after the series premiered on television.
All main characters appear in every episode, except for Richard Webber, who's absent for three episodes.
Episodes
[
]
No. in series
No. in season
Title
Directed by
Written by
Original air date
1
1
"A Hard Day's Night"
Peter Horton
Shonda Rhimes
March 27, 2005
Meredith Grey, Izzie Stevens, George O'Malley, Cristina Yang, and Alex Karev become interns at Seattle Grace Hospital. Meredith discovers that her one night stand was actually with one of her bosses and she and her new friends discover that being a surgeon isn't as easy or fun as they thought it would be.
2
2
"The First Cut Is the Deepest"
Peter Horton
Shonda Rhimes
April 3, 2005
George and Izzie move in with Meredith. Burke works harder to become the next Chief and takes Webber's advice to start going the extra mile for patients. Derek helps a rape victim while Meredith carries around the rapist's penis. Alex Karev becomes one of Bailey's interns and shadows Cristina for the day.
3
3
"Winning a Battle, Losing the War"
Tony Goldwyn
Shonda Rhimes
April 10, 2005
A bike race injures several people, one of whom is left brain dead. Cristina and Izzie want to use his organs for organ donation, but they find the organ harvesting process an emotional one. Meanwhile, George deals with an over-flirtatious patient, and Meredith has to deal with Izzie and George moving in, Alex showing off, and keeping Derek at arm's length.
4
4
"No Man's Land"
Adam Davidson
James Parriott
April 17, 2005
Cristina's encounter with Ellis Grey's former scrub nurse, who is now a patient at Seattle Grace, changes her forever. George becomes infuriated when he realizes that Izzie and Meredith treat him like their sister. An old part of Izzie's life will be revealed which makes her the subject of hospital gossip and Derek, Meredith, George and Alex have a patient with nails in his head.
5
5
"Shake Your Groove Thing"
John David Coles
Ann Hamilton
April 24, 2005
Meredith realizes she could be sued for making a mistake on a surgery. Her life gets more hectic hiding her mother's secret. George finds a towel in a patient, Izzie throws a party and Bailey catches Meredith having sex with Derek.
6
6
"If Tomorrow Never Comes"
Scott Brazil
Krista Vernoff
May 1, 2005
All of the interns are in awe when a woman comes in with a record breaking tumor, but it is so far advanced that the woman's prognosis is not good. Now that Bailey knows about Meredith and Derek's affair, their jobs are in jeopardy, and she strongly advises Meredith to end it. Meanwhile, Cristina and Burke's secret relationship gets more complicated, and when no one else can be reached, Izzie has to perform a major procedure on her own.
7
7
"The Self-Destruct Button"
Darnell Martin
Kip Koenig
May 8, 2005
Cristina discovers she is pregnant. George finds out the anesthesiologist has been drinking on the job, but when he tells Shepherd he is thrown out of surgery. George and Izzie catch Derek leaving the house in the morning after he sleeps with Meredith, and when asked who it was, Meredith says it's no one they know. Izzie and George think Meredith is trying to get Derek to favor her, and try to ice her out.
8
8
"Save Me"
Sarah Pia Anderson
Mimi Schmir
May 15, 2005
Meredith and Derek grow closer, Alex and Burke argue and perform a risky procedure, Izzie treats a psychic while Cristina treats a pregnant patient.
9
9
"Who's Zoomin' Who?"
Wendey Stanzler
Harry Werksman & Gabrielle Stanton
May 22, 2005
Burke operates on his friend. George gets syphilis from Olivia, Izzie and Cristina become body snatchers, Meredith finds it harder to look after her mother and Derek operates on Richard's brain while someone from his past crops up.
Reception
[
]
DVD Release
[
]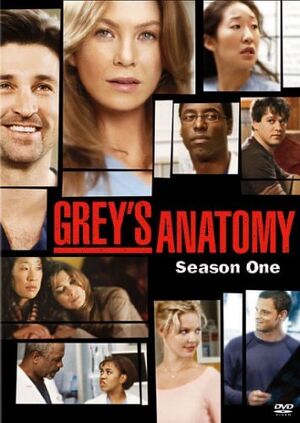 The "Grey's Anatomy: Season One" boxset was released in region 1 on February 14, 2006. On October 11 and April 26, 2006, the DVD was released in regions 2 and 4 respectively.
Set Details
[
]
The boxset contains the 9 episodes of the season, with one extended. The DVD box contains 2 discs. Other set details are:
English (Dolby Digital 5.1 Surround)
Audio Commentaries
In the UK, the DVD set also contained the first 5 episodes of the second season, as it was originally planned for those episodes to be part of season 1.
Special Features
[
]
Additional to the episodes, the season 1 DVD set also contains a couple of special features:
Extended Episode
Under the Knife: Behind the Scenes of Grey's Anatomy
Anatomy of a Pilot
Dissecting Grey's Anatomy

Pilot – Shonda Rhimes and Peter Horton
Pilot – Sandra Oh, Katherine Heigl and T.R. Knight

Alternate Title Track
Avant-garde Trailer
Gallery
[
]
Cast Promotional Photos
[
]
Posters
[
]