Wiki Targeted (Entertainment)
Play Sound

The first season of Private Practice premiered September 26, 2007 and ended December 5, 2007. It was broadcast on Wednesday nights at 9 PM on ABC. The season consists out of 9 episodes. ABC originally ordered 9 episodes and after monitoring the ratings, ordered another 13 episodes, pushing the total episode count for the season to 22 episodes. However, due to the 2007–2008 Writer's Guild of America strike, only 9 episodes were produced and aired.
The episodes of the first season were preceded by the backdoor pilot episodes The Other Side of This Life, Part 1 and Part 2 on Grey's Anatomy.
Summary
[
]
Seattle fades into grey as renowned surgeon Dr. Addison Montgomery (Kate Walsh) aims to reinvent herself. The promise of a simpler golden state of mind has her working alongside medical school friends at California's Oceanside Wellness Group. But is the new life prescription her cure? Join Addison, newly-divorced-but-professionally-bound, Naomi and Sam Bennett, the kissable Pete Wilder, pediatrician Cooper Freedman, Charlotte King, the Chief of Staff at local hospital St. Ambrose, and Violet Turner - a psychiatrist with her own issues - as affairs of the heart bring on symptoms of love, lust, and high drama in a journey worth taking.
Plots
[
]
Cast
[
]
Main Cast
[
]
Special Guest Star
[
]
Recurring Guest Stars
[
]
Prominent Guest Stars
[
]
Recurring Co-Stars
[
]
Notes and Trivia
[
]
All episodes titles start with "In Which..." from the original Winnie the Pooh stories, a similarity to Grey's Anatomy episode titles which come from song names. It only lasted for one season and was scrapped for Season 2.
During the Writer's Strike, the current cast of Grey's Anatomy and Private Practice performed in a charity event, Good Medicine, for the Solidarity Fund set up by the Writer's Guild of America for all those who had been put out of work because of the strike.
For this season, advertisers paid $208,000 for 30 seconds of ad time and it was the most expensive new show of the season.
Episodes
[
]
No. in series
No. in season
Title
Directed by
Written by
Original air date
1
1
"In Which We Meet Addison, a Nice Girl From Somewhere Else"
Mark Tinker
Shonda Rhimes
September 26, 2007
At the invitation of her friend, fertility specialist Naomi Bennett, Addison leaves her job in Seattle and heads to Los Angeles to start a new job at Oceanside Wellness Group and to begin a new life. Not expecting Addison's arrival are Naomi's business partners at the co-op wellness center, her ex-husband, internist Sam Bennett, psychiatrist Violet Turner, pediatrician Cooper Freedman and alternative medicine guru Pete Wilder (who is convinced Addison is there because of their recent kiss). On her first day, Addison is presented a case that could make or break her acceptance among the Oceanside staff.
2
2
"In Which Sam Receives an Unexpected Visitor"
Tony Goldwyn
Michael Ostrowski
October 3, 2007
Cooper hires an "entertainer" named Ginger for Sam as a way to jump start his new life as a single person, causing not only Naomi to become jealous, but Addison as well, after Ginger seeks Pete's help with a medical condition. The Oceanside Wellness Group doctors and Saint Ambrose Hospital Chief of Staff Dr. Charlotte King work together to find the cause of a baby's illness.
3
3
"In Which Addison Finds the Magic"
Mark Tinker
Shonda Rhimes & Marti Noxon
October 10, 2007
Addison must turn to Pete for help in treating a newlywed couple who can't consummate their marriage (no matter how much they try), while Violet tries to convince her patient to leave his wife, despite her own inability to move on from her ex, while Cooper investigates why his patients - four sisters - are all suffering from a mysterious illness.
4
4
"In Which Addison Has a Very Casual Get Together"
Arvin Brown
Andrea Newman
October 17, 2007
Addison invites her fellow Oceanside Wellness co-workers to her house for a get-together, but no one RSVPs, the wife of Violet's ex-boyfriend visits the wellness center for medical treatment - and Violet is none too happy about it. Cooper counsels a young patient who is lovesick, and Sam appears on his first talk show promoting his self-help book.
5
5
"In Which Addison Finds a Showerhead"
Julie Anne Robinson
Shonda Rhimes & Marti Noxon
October 24, 2007
Addison can't stop thinking of Pete, despite the encouragement of her friends to channel her energy elsewhere. Allan, Violet's ex, pays a visit to the clinic, and Cooper is not happy to see him, and Naomi and Sam's daughter, Maya, secretly seeks Addison's medical advice.
6
6
"In Which Charlotte Goes Down the Rabbit Hole"
David Solomon
Jenna Bans
October 31, 2007
Charlotte seeks Pete's help in treating her insomnia, Naomi goes on her first date since college, Cooper suspects that his patient's injuries aren't an accident, and a patient asks Addison and Naomi to conceal her fertility from her husband.
7
7
"In Which Sam Gets Taken for a Ride"
Jeff Melman
Emily Halpern
November 14, 2007
While Sam finds himself in the midst of a dangerous house call, love - or at least sex - is in the air at Oceanside Wellness Center, as Pete and Addison decide to take their relationship to the next level, and Violet enters a "friends with benefits" pact with Cooper.
8
8
"In Which Cooper Finds a Port in His Storm"
Mark Tinker
Lauren Schmidt
November 21, 2007
Cooper returns to the online dating game with surprising results, Addison goes out on a date with one of Violet's patients, Naomi and Sam make a house call at a convent, Dell gives a tour of Oceanside Wellness to his midwifery classmates, and Addison and Pete participate in a "Safe Surrender" program, coming to the aid of a teenaged new mother.
9
9
"In Which Dell Finds His Fight"
Wendey Stanzler
Ayanna A. Floyd
December 5, 2007
The Oceanside Wellness Center takes on the fertility of one of their previous couples and starts a "Dads-to-be" class, much to Charlotte's displeasure. Sam and Naomi struggle to figure out where their relationship is going. Addison is conflicted about her status in the dating world, and Cooper begins a secret affair with one of his colleagues.
Reception
[
]
DVD Release
[
]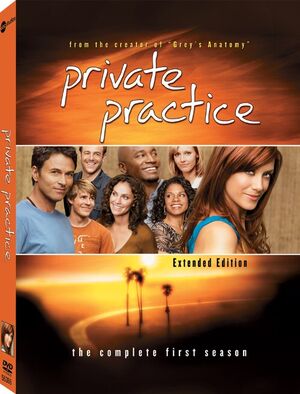 The "Private Practice: The Complete First Season – Extended Edition" boxset was released in region 1 on September 16, 2008 by Buena Vista Home Entertainment. On March 16, 2009 and December 3, 2008, the DVD was released in regions 2 and 4 respectively. The run time of the DVD is 394 minutes.
Set Details
[
]
The boxset contains the 9 episodes of the season, with two extended. The DVD box contains 3 discs. Other set details are:
English (Dolby Digital 5.1 Surround)
1.78:1 aspect ratio
Subtitles: English, French, and Spanish
Special Features
[
]
Additional to the episodes, the season 1 DVD set also contains a couple of special features:
Kate Walsh - Practice Makes Perfect; S

pend some quality time with Kate Walsh and get a taste of her life beyond the confines of the Private Practice Set.

Alternative Ensemble: Behind the Scenes of Private Practice
Two Extended Episodes
Deleted Scenes
Outtakes
Audio Commentaries
Gallery
[
]
Cast Promotional Photos
[
]
Posters
[
]