We're Getting Mutants in the MCU - The Loop
Play Sound

The second season of Grey's Anatomy premiered September 25, 2005 and ended May 15, 2006. It was broadcast on ABC on Sunday nights at 10 PM, except for the two final episodes, which aired Monday, May 15, 2006, at 9 and 10 PM respectively. The first season had originally contained 14 episodes, but ABC decided to end the season early after 9 episodes. The 5 remaining episodes of season 1 were added to the 22 episodes ABC ordered for the second season, bringing season 2 to the total of 27 episodes, ending with a three-hour finale.
Summary
[
]
Life gets even more intense for the doctors and interns of Seattle Grace Hospital in year two as Meredith and Derek's relationship goes from odd to downright insane with the arrival of Derek's wife, and Alex lets his Izzie obsession out of the bag.
Plots
[
]
Cristina's ectopic pregnancy.
The love triangle with Meredith, Derek, and Addison.
Miranda Bailey's pregnancy.
Meredith sleeping with George.
George's relationship with Callie Torres.
Izzie and Alex's relationship.
Denny Duquette's crush on Izzie.
Cristina and Burke's relationship.
Cast
[
]
Main Cast
[
]
Special Guest Stars
[
]
Recurring Guest Stars
[
]
Prominent Guest Stars
[
]
Recurring Co-Stars
[
]
Notes and Trivia
[
]
The first season was supposed to be 13 episodes, but ABC wanted the Grey's finale to air along with the Desperate Housewives finale. Rather than condensing or throwing out plot lines, the first season ended with the ninth episode the remaining four episode were saved the for the second season. Enough is Enough was created as the first new episode of the season, but aired as the second episode of the season. Bring the Pain, which aired as the series' 14th episode, has been cited in series creator Shonda Rhimes' blog as having been originally intended as the first season finale.
The series' opening credit sequence was also dropped by the last half of the second season, replaced by a title card displayed at the end of the first act and credits displayed over the opening of the second act of each episode.
With 27 episodes, this is the longest season of the series.
Most of the episode voice overs are narrated by Meredith Grey, but there are three exceptions:
Chandra Wilson was pregnant with her son during part of the season, like her character.
All main characters of the season appear in every episode, except for Miranda Bailey, who's absent for one episode.
Episodes
[
]
No. in series
No. in season
Title
Directed by
Written by
Original air date
10
1
"Raindrops Keep Falling On My Head"
Peter Horton
Stacy McKee
September 25, 2005
Cristina tells Meredith about her pregnancy, Meredith deals with the sudden appearance of Derek's wife Addison, George avoids Alex fearfully, and Joe the bartender is admitted for surgery.
11
2
"Enough is Enough"
Peter Horton
James Parriott
October 2, 2005
While the Chief is still a patient, Dr. Burke continues to run the surgical floor, in the midst of a car crash bringing in a family with a less than stable home life. Meanwhile, Addison is still roaming the halls of Seattle Grace, prompting Derek to bring in Richard's wife.
12
3
"Make Me Lose Control"
Adam Davidson
Krista Vernoff
October 9, 2005
Secrets are let loose as Meredith's mother is admitted to Seattle Grace and Cristina's pregnancy becomes public when she collapses in the OR.
13
4
"Deny, Deny, Deny"
Wendey Stanzler
Zoanne Clack
October 16, 2005
Cristina struggles to stay in bed when she could be performing surgeries. Alex discovers that he needs to re-take a test to stay at SGH, Derek must choose between Addison or Meredith and Meredith's mother continues to bother the staff of Seattle Grace.
14
5
"Bring the Pain"
Mark Tinker
Shonda Rhimes
October 23, 2005
Cristina tells a pornographic story. Burke asks Cristina if they're in a relationship. Meredith decides she is out of Derek's life. Derek and Meredith search for a shaman. When Alex chokes, George performs open heart surgery in an elevator, and Izzie has a patient who has had a heart attack on the same day for the past seven years.
15
6
"Into You Like a Train"
Jeff Melman
Krista Vernoff
October 30, 2005
A train crash brings in many patients to Seattle Grace, including Meredith, who is too drunk to work; while the rest of the interns face their own professional crashes as Cristina searches the entire hospital in search of a foot for the Chief; Izzie is unsure how to react around Addison and Meredith, George, Bailey, Derek, and Burke treat two strangers impaled on a pole, all the while, Meredith awaits Derek's decision.
16
7
"Something to Talk About"
Adam Davidson
Stacy McKee
November 6, 2005
The hospital staff invade the privacy of a man with male hysterical pregnancy and Meredith is the only person who sympathizes with him, while Alex reveals his own privacy to a patient with a sheltered life.
17
8
"Let It Be"
Lesli Linka Glatter
Mimi Schmir
November 13, 2005
Derek and Addison's personal and professional lives collide as friends visit from Manhattan for more than just a visit as they want radical pre-emptive surgery to prevent cancer, while Cristina and Burke attempt a "normal" date, with surgical consequences and George is left puzzled about a man who fell five stories.
18
9
"Thanks for the Memories"
Michael Dinner
Shonda Rhimes
November 20, 2005
None of the doctors can resist cutting as Izzie tries embrace the season by making a perfect thanksgiving dinner but doesn't know how, however Burke saves the day and helps her, while Cristina, Meredith, and Alex hide at work instead of helping Izzie; and George has to embrace his own O'Malley tradition by shooting a turkey.
19
10
"Much too Much"
Wendey Stanzler
Gabrielle Stanton & Harry Werksman
November 27, 2005
It's a high profile day for Seattle Grace, high profile names become staff and high profile cases arrive, specifically the arrival of Dr. Addison Forbes Montgomery-Shepherd and the mother of quintuplets, in which three of the five are surgical cases. Meanwhile, the rest of the interns face their own low profile dilemmas, as Meredith's one night stand shows up at the hospital more than pleased to see her, Cristina gets keyed and Alex makes a major mistake, both professionally and romantically.
20
11
"Owner of a Lonely Heart"
Dan Minahan
Mark Wilding
December 4, 2005
A prisoner swallows razor blades to get out of solitary confinement, annoying Cristina in the process. While watching over the quintuplets, Addison teaches a lesson to Izzie using an old technique that Richard taught her long ago.
21
12
"Grandma Got Run Over By a Reindeer"
Peter Horton
Krista Vernoff
December 11, 2005
Tis the season to be jolly, as Burke and Cristina's religious differences are highlighted when they treat a boy who is refusing a heart transplant, while Derek has little religious problems with his patients of mixed Jewish and Christian family beginning for Chrismukkah while he feels less than festive, while Alex has problems with his own faith in himself as the rest of the interns try to help him study for his exam.
22
13
"Begin the Begin"
Jessica Yu
Kip Koenig
January 15, 2006
The Chief enforces the 80 hour work limit with an iron fist so Meredith has free-time, and so does Cristina, but she chooses to go to Palm Springs with Bailey for a heart retrieval while the Chief asks Derek for a favor regarding Ellis Grey. George has a teenager who is actually different while Alex treats a man who has a bezoar and Izzie works on Denny Duquette.
23
14
"Tell Me Sweet Little Lies"
Adam Davidson
Tony Phelan & Joan Rater
January 22, 2006
George is stuck with an elderly lady who refuses to leave, or even refer to him as Dr. O'Malley; while Alex has to wrestle with a Japanese competitive eater to stay in the hospital, all the while being too nervous to open his board results. Cristina is blunt to a guitarist whose fingers need replantation, while lying to Burke about moving in; as Meredith has a euphoric patient she thinks is lying. Bailey's pregnancy is now far enough to cause more problems than fun for her.
24
15
"Break on Through"
David Paymer
Zoanne Clack
January 29, 2006
The nurses's strike causes chaos in the hospital, as Meredith accidentally intubated a DNR patient, and then must let her die; Izzie treats a young pregnant patient with much more in common than the patient realizes. George joins the picket line, while the rest of the interns meet their new resident, the anti-Nazi, which Cristina immediately clashes with over her choice of medical care.
25
16
"It's the End of the World"
Peter Horton
Shonda Rhimes
February 5, 2006
Meredith has an overwhelming feeling she's going to die today - until Cristina forcibly kicks her out of bed. Bailey returns to deliver her baby as her husband ends up on Derek's operating table. Meredith's feelings prove true, as a bomb in a body cavity enters the ER.
26
17
"As We Know It"
Peter Horton
Shonda Rhimes
February 12, 2006
Danger looms at Seattle Grace as the Code Black is in full effect. Derek refuses to vacate the OR as Tucker's head is still open on the table, endangering both their lives; Bailey refuses to push as she endangers her life and her baby's life and Meredith still has her hand in the body, with Cristina refusing to leave her. Away from the bombs, the stress gets to Richard, causing him to have a suspected heart attack.
27
18
"Yesterday"
Rob Corn
Krista Vernoff (teleplay)
Mimi Schmir (story)
February 19, 2006
An unwanted figure appears at Seattle Grace, as Mark Sloan tries to do surgery on a boy with facial tumors, which Derek deems too risky. Izzie deals with a patient with spontaneous orgasms, while Meredith visits her father.
28
19
"What Have I Done to Deserve This?"
Wendey Stanzler
Stacy McKee
February 26, 2006
The morning after the night before and the repercussions of George and Meredith unravel, while another doctor has eyes for George. Although on maternity leave, Bailey still works when Addison asks her for a personal consult.
29
20
"Band-Aid Covers the Bullet Hole"
Julie Anne Robinson
Gabrielle Stanton & Harry Werksman
March 12, 2006
Cristina is left holding Bailey's baby when she is unable to get anyone else to get anyone to watch him, while Meredith confides in Derek, while Derek performs a risky surgery for a supposed inoperable aneurysm. A patient's husband gives Addison attention and George and Callie give each other their full attention while treating a stubborn hockey player.
30
21
"Superstition"
Tricia Brock
James Parriott
March 19, 2006
Surgical fatalities occurs in threes and sevens, at least that's the rumor on the surgical floor. With four fatalities in the morning alone, superstition rules the roost at Seattle Grace, so Addison jujus Meredith for good luck. Burke has George retrieve a scrub cap Cristina is holding hostage, Meredith and Bailey try to convince a friendly stalker to operate and Cristina is annoyed endlessly by her OCD patient while Richard's past arrives in Seattle Grace.
31
22
"The Name of the Game"
Seith Mann
Blythe Robe
April 2, 2006
In light of recent events, Bailey is being mommy-tracked, so she becomes Derek's intern to get some OR time. George discovers many secrets during the day, not least that Meredith has a sister, one of Addison's patients, and Callie is living in the hospital. Meredith begins knitting with Izzie, while the Chief and Cristina battle it out during a skills class.
32
23
"Blues for Sister Someone"
Jeff Melman
Elizabeth Klaviter
April 30, 2006
Burke has to operate on his idol, Eugene Foote, causing him to conflict his views between potentially killing his idol or risk letting Foote find somebody else. Bailey continues to be mommy-tracked, while Alex has to deal with a strict Catholic family where the mother wants a tubal ligation without her husband knowing. Meanwhile, a divorce attorney is reading Derek like a book about his marriage as Izzie grills George about his living arrangements.
33
24
"Damage Case"
Tony Goldwyn
Mimi Schmir
May 7, 2006
Anger is in the air, as Derek is angry at Meredith for seeing McVet, Burke is angry at Cristina for falling asleep before he finished, Alex is still angry at She-Shepherd pulling him off surgery, Callie is angry at George for not defending her and the patients of a car crash are angry at the doctor responsible for the crash.
34
25
"17 Seconds"
Dan Minahan
Mark Wilding
May 14, 2006
Derek ignores Meredith, Addison gets suspicious, Meredith worries about Doc, everyone gets busy treating gunshot wounds, Burke fights to get Denny a new heart and Izzie goes to drastic measures to make sure he gets it.
35
26
"Deterioration of the Fight or Flight Response"
Rob Corn
Joan Rater & Tony Phelan
May 15, 2006
Cristina gets assigned to a trauma all by herself. Izzie and George wait for Burke to arrive and help Denny get the heart, but they do not realize that Burke has been shot and has to undergo surgery. Meanwhile, the Chief's niece Camille has been admitted to the hospital.
36
27
"Losing My Religion"
Mark Tinker
Shonda Rhimes
May 15, 2006
The interns are pulled into the Chief's Office, where he demands to know who cut the LVAD as Denny recovers from a successful transplant. Unfortunately for Richard, the interns have their own pressing issues, so he punishes them by having them organize a prom for his niece. Everyone has a choice, Meredith between two men, Izzie to tell the truth, and Derek and Meredith to choose to put Doc down.
Reception
[
]
DVD Release
[
]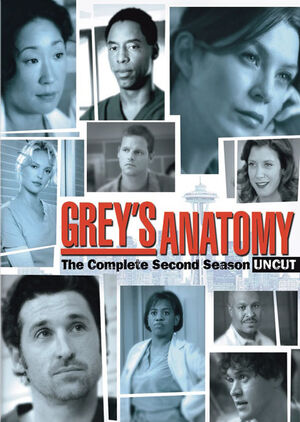 The "Grey's Anatomy: The Complete Second Season – Uncut" boxset was released in region 1 on September 12, 2006. On May 28 and January 10, 2007, the DVD was released in regions 2 and 4 respectively.
Set Details
[
]
The region 1 boxset contains the 27 episodes of the season, with four extended. The DVD box contains 6 discs. Other set details are:
English (Dolby Digital 5.1 Surround)
1.78:1 aspect ratio
Subtitles: English, French, and Spanish
In the UK, the DVD set only contains the last 22 episodes of the season, as the first 5 were included in the season 1 DVD set.
Special Features
[
]
Additional to the episodes, the season 2 DVD set also contains a couple of special features:
Four Extended Episodes: Expanded and Uncut
The Softer Side of Dr. Bailey – Up-Close Interview with Chandra Wilson
The Doctors Are In – Stars Answer Fan's Most Burning Questions
Deleted Scenes
Exclusive Set Tour
Creating "Pink Mist" – Anatomy Of A Special Effect
Grey's Anatomy on Jimmy Kimmel Live!
Gallery
[
]
Cast Promotional Photos
[
]
Posters
[
]