We're Getting Mutants in the MCU - The Loop
Play Sound

The third season of Grey's Anatomy premiered September 21, 2006 and ended May 17, 2007. Unlike the previous seasons, it was broadcast on Thursday nights at 9 PM on ABC. The season consists of 25 episodes.
Summary
[
]
They are doctors, lovers, and friends. Join the staff of Seattle Grace Hospital as they learn there are no easy cures for life's challenges and that each choice comes in shades of gray.
Plots
[
]
Izzie mourns over Denny, and is surprised when she discovers that he left her 8.7 million dollars.
Cristina helps Burke cover up for the fact that his hand tremors from the gunshot wound he received in 17 Seconds.
There is a ferry crash catastrophe.
Alex starts a relationship with Ava/Rebecca Pope, a patient from the ferry crash. 
The attendings compete for the position of Chief of Surgery.
Ellis Grey dies.
George's father dies.
George marries Callie in Vegas, and they deal with the resulting reactions from people in the hospital.
George cheats on Callie with Izzie.
Susan Grey dies.
Adele has a miscarriage.
Addison leaves Grey's Anatomy to start the spin-off series Private Practice.
Cristina and Burke have a wedding, which was where Burke leaves Cristina at the altar.
Cast
[
]
Main Cast
[
]
Special Guest Stars
[
]
Recurring Guest Stars
[
]
Prominent Guest Stars
[
]
Recurring Co-Stars
[
]
Notes and Trivia
[
]
ABC announced on July 18, 2006 that the third season would premiere on September 21, 2006.
On May 16, 2006, ABC announced plans for a third season of Grey's Anatomy to anchor the network's Thursday evening programming set to air at 9 PM ET. This time slot was tested before with encores of It's the End of the World and As We Know It at 9:30 PM, positioning the show against CBS' CSI: Crime Scene Investigation and Without a Trace, Fox Network's The OC and NBC's long-running medical drama, ER. The solid performance of the repeat airings, maintaining a second-place finish, may have been influential in the fall scheduling decision.
The move to Thursdays was viewed as a vote of confidence in the series from ABC, as well as a bid to attract more advertising dollars, since movie studios heavily advertise movies on Thursday evenings for that weekend's box office. The move was cited as one factor for competing network NBC's decision to move its own Studio 60 on the Sunset Strip, originally intended to air Thursdays at 9 P.M. ET.
The series assumed its new Thursday slot on July 6, 2006, as part of a two-hour event featuring a repeat of the pilot episode, "A Hard Day's Night." Throughout July and August, the series aired twice weekly — once in the new Thursday time period, and once in its previous Sunday time period. Grey's Anatomy performed strongly in the show's new timeslot in its season premiere.
Meredith Grey narrates the voice overs for all episodes, except for:
All main characters appear in every episode of the season, except for Mark Sloan. He doesn't appear in two episodes in the season, but he was only absent for one episode after he was added to the main cast.
This is the first season since his birth to not feature William George Bailey Jones.
Episodes
[
]
No. in series
No. in season
Title
Directed by
Written by
Original air date
37
1
"Time Has Come Today"
Dan Minahan
Shonda Rhimes
September 21, 2006
Addison and Alex treat an abandoned baby, George and Derek are sealed off from the rest of the hospital (possibly with plague), Izzie mourns for Denny, Meredith tries to choose between Derek and Finn, Callie and Cristina try to help Izzie, Bailey helps a distressed patient and many of the doctors have flashbacks from their past.
38
2
"I Am a Tree"
Jeff Melman
Krista Vernoff
September 28, 2006
The staff deal with a boy, who literally has become a tree; a patient who vocalizes all his thoughts aloud, no matter how rude; and a lung cancer patient, who ends up having sex with Alex in Joe's restrooms. Meanwhile, the Nazi is back with a vengeance from recent events, Burke's mother catches Cristina offering a new hospital service, Callie covers for Meredith, Izzie starts baking out of grief and Derek and Addison find their marriage is over.
39
3
"Sometimes a Fantasy"
Adam Arkin
Debora Cahn
October 5, 2006
Meredith begins dating, so Derek and Finn compete against each other, Derek managing to win her over with delicious surgeries for her, while Finn musters homemade ice cream. George annoys Callie by scaring her patient away, Mark annoys Addison by missing his flight, and Cristina is annoyed by Burke becoming depressed. Alex deals with a young superhero (or CIPA patient) while Izzie tries to return to the hospital, but can't get past the front door.
40
4
"What I Am"
Dan Lerner
Allan Heinberg
October 12, 2006
Dr. Mark Sloan joins the staff as the new head of Plastic surgery and instantly rubs up against everyone. Addison is distracted and her medical judgment compromised by Mark's arrival, and similarly, Derek is also distracted, but clears Burke for surgery. Izzie meets with Denny's father, who is also named Denny and who reveals a bombshell for Izzie. Meredith's policy on dating two men is getting to her, and the interns and Bailey suspect she's pregnant. However, it turns out to be appendicitis. Meredith is put on morphine for the pain, and hilarity ensues, but not for everyone around her.
41
5
"Oh, the Guilt"
Jeff Melman
Zoanne Clack, Tony Phelan & Joan Rater
October 19, 2006
Derek and Addison finalize the divorce, Burke abstains from surgeries as Bailey comes under fire at the M&M. Meredith tries to decide whether to tell Derek she broke up with Finn and Callie reveals a secret to Meredith.
42
6
"Let the Angels Commit"
Jessica Yu
Stacy McKee
November 2, 2006
Derek's sister Nancy comes to visit. Izzie gets used to life as a surgeon again except with restrictions. Cristina goes to more extreme measures to hide Burke's secret.
43
7
"Where the Boys Are"
Mark Wilding
Dan Minahan
November 9, 2006
Derek gets annoyed when all the boys go on a camping trip, instead of just Preston and himself. Back at the hospital, Addison and Callie bond over a patient while Mark continues to annoy everyone as Bailey punishes Cristina, but Cristina claims ignorance as to why. Izzie is peer counseled by an unlikely person and Meredith is a shocked when Sloan assigns her to a sex change.
44
8
"Staring at the Sun"
Jeff Melman
Gabrielle Stanton & Harry Werksman
November 16, 2006
Meredith tries optimism, and vows to be "bright and shiny." Addison and Derek try "peacefully coexisting", and confront Dr. Webber about his depression and problems with his marriage. George continues to be skeptical about Burke's ability to operate, after seeing Cristina perform a complicated surgery and refuse the credit. George's father is admitted to the hospital. Izzie shadows Alex, who is on Sloan's service.
45
9
"From a Whisper to a Scream"
Julie Ann Robinson
Kip Koenig
November 23, 2006
A traumatic car accident at the local market brings in multiple patients to the ER. Erica Hahn is brought in after George loses confidence in Dr. Burke, while his mother is embarrassing him in front of his peers. Cristina also has a crisis of confidence and confesses to the Chief about the cover-up between her and Burke.
46
10
"Don't Stand So Close to Me"
Seith Mann
Carolina Paiz
November 30, 2006
Miranda tries to make sure that Burke and Cristina are punished, but Richard feels otherwise. Meredith is spooked when her half-sister is admitted and George gets too involved in his father's case as the rest of the staff attempt to separate adult conjoined twins.
47
11
"Six Days, Part 1"
Greg Yaitanes
Krista Vernoff
January 11, 2007
The staff all have anxiety today, Izzie refuses to deposit the $8.7 million check, making everyone anxious, especially George as his father's surgery is soon. Meredith is also anxious around her father and his other family. Callie wants Derek to consult on an angry VATER patient but is unsure how to ask him. Cristina and Burke are not talking, while Mark won't allow Addison to talk down to him.
48
12
"Six Days, Part 2"
Greg Yaitanes
Krista Vernoff
January 18, 2007
The O'Malleys wait for a response from the surgery, Addison and Alex feel awkward after their almost moment and Cristina and Burke still are not talking, while Meredith's snoring is still annoying Derek.
49
13
"Great Expectations"
Michael Grossman
Eric Buchman
January 25, 2007
George's grief begins to prove too much for Callie and even Izzie, who starts baking, but only a little. Cristina and Burke's continued silence proves for an interesting dinner party with Derek and Meredith and the Chief makes an announcement that sends the attendings running for answers; meanwhile, Bailey wants to start her own project, and uses the attendings current state in her favor. Two staff members at the hospital get proposals.
50
14
"Wishin' and Hopin'"
Julie Anne Robinson
Tony Phelan & Joan Rater
February 1, 2007
The attendings are still fighting for the Chief's nomination from the board, while Ellis Grey has awoken lucid. George and Callie have an announcement, while Izzie worries about the newly opened Denny Duquette Memorial Clinic, while a cancer patient poses a hazard for all hospital staff.
51
15
"Walk on Water"
Rob Corn
Shonda Rhimes
February 8, 2007
A catastrophic mass casualty incident has the interns (sans Cristina) sent into the field with Bailey to do damage control. Back at the hospital, the Chief has dyed his hair and Addison is the only person who defends him. Cristina wants to tell Meredith about her engagement, and wants Meredith to hear it from her first - not easy when word begins to spread among the attendings.
52
16
"Drowning on Dry Land"
Rob Corn
Shonda Rhimes
February 15, 2007
The mass casualty incident continues to swamp Seattle Grace. Alex cares for Jane Doe while trying to find her husband, as well as please the hopeful, yet angry crowd in the clinic trying to get information. George crosses a professional line, and begins to regret it. Izzie tries her hand at a burr hole, not an easy feat for her as she doesn't have surgical equipment, nor much recent hands-on OR time, and Derek is sent into the field to manage some of the trauma, specifically neuro, coming in, but finds something else.
53
17
"Some Kind of Miracle"
Adam Arkin
Shonda Rhimes & Marti Noxon
February 22, 2007
Meredith fights to stay alive, as Derek fights to hold himself together. Cristina is unable to handle the reality of the situation and leaves.
54
18
"Scars and Souvenirs"
James Frawley
Debora Cahn
March 15, 2007
Izzie objects to Alex taking George's room, while Cristina objects to an old flame and old professor turning up as the new candidate for chief of surgery. Meredith hides when her father and his wife turn at the hospital. Izzie treats an old Korean War veteran who was shot, he claims friendly fire and wants the bullet to prove it was. Derek and George treat an old friend of Derek's from New York, but Derek showboats when he has a guest in surgery.
55
19
"My Favorite Mistake"
Tamra Davis
Chris Van Dusen
March 22, 2007
Izzie seems to be the only one with a memory of her and George in the previous night, Derek gets over-protective when Meredith gets a surgery, and one of Callie's relatives comes to town.
56
20
"Time After Time"
Christopher Misiano
Stacy McKee
April 19, 2007
Meredith deals with an overbearing step-mother. Cristina finds herself caught between Burke and Marlow. Derek fights for the job of Chief. Alex continues the search for Jane Doe's identity. And Izzie's past comes looking for her.
57
21
"Desire"
Tom Verica
Mark Wilding
April 26, 2007
The Chairman of Seattle Grace's board of directors is admitted and all the attendings vie for his favor, Izzie and George keep getting confronted by the results of infidelity, and Preston presses Cristina for a decision.
58
22
"The Other Side of This Life, Part 1"
Michael Grossman
Shonda Rhimes
May 3, 2007
Addison leaves for warmer climes and to figure things out, Susan visits the clinic, and Cristina's perfect wedding is changed when her and Burke's mothers hit town.

---

Part one of the backdoor pilot introducing characters from Private Practice.
59
23
"The Other Side of This Life, Part 2"
Michael Grossman
Shonda Rhimes
May 3, 2007
Addison is pulled into the case of a high-risk surrogate mother, Susan develops a complication, Izzie struggles with George's decision, and Ava has surgery that may restore her memory.

---

Part two of the backdoor pilot introducing characters from Private Practice.
60
24
"Testing 1-2-3"
Christopher Misiano
Allan Heinberg
May 10, 2007
The interns take the biggest test of their careers, their first-year medical exams, as the residents attend to three injured mountain climbers. Meanwhile, Callie's suspicions of George and Izzie grow, and Cristina struggles to write her wedding vows.
61
25
"Didn't We Almost Have It All?"
Rob Corn
Tony Phelan & Joan Rater
May 17, 2007
The wedding day arrives, and Cristina desperately needs something to take her mind off it, the fourth climber is found and his condition doesn't match the other climbers' stories, and Adele's condition brings a change for Richard.
Reception
[
]
Nielsen Ranking (2006-07 U.S. TV season; based on average total viewers per episode): #4 (22.3 million viewers).
It was able to snatch away the No. 1 position from CSI: Crime Scene Investigation during the 9 p.m. hour, bringing in an impressive 25.14 million viewers throughout the hour and a strong 10.9 rating in the vital 18-49 demographic. In comparison, CSI's season premiere earned a competitive 22.04 million total viewership and a 7.5 rating in the 18-49 demographic.
DVD Release
[
]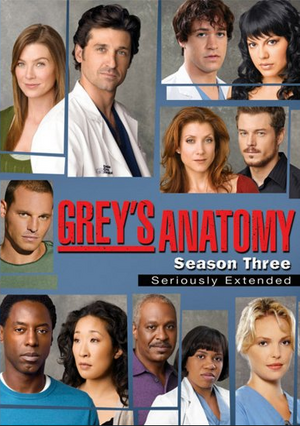 The "Grey's Anatomy: Season Three – Seriously Extended" boxset was released in region 1 on September 11, 2007. On September 15, 2008 and October 31, 2007, the DVD was released in regions 2 and 4 respectively.
Set Details
The boxset contains the 25 episodes of the season, with four extended. The DVD box contains 7 discs. Other set details are:
Special Features
Additional to the episodes, the season 3 DVD set also contains a couple of special features:
Extended Episodes:
Making Rounds With Patrick Dempsey  – Spend Some Private Time With Patrick Dempsey At The Track
Prescription For Success: Make Jane Doe a Star
Shades of Grey: One on One with Ellen Pompeo
In Stitches: Season 3 Outtakes
Dissecting Grey's Anatomy – Unaired Scenes
Good Medicine: Favorite Scenes
Gallery
[
]
Cast Promotional Photos
[
]
Posters
[
]