Wiki Targeted (Entertainment)
Play Sound

The third season of Private Practice premiered on October 1, 2009 and concluded on May 13, 2010. It was broadcast on Thursday nights at 10 PM on ABC, although the twentieth episode occasionally aired at 9 PM. The season consists of 23 episodes.
Summary
[
]
The challenges that Dr. Addison Montgomery and her co-workers at the Oceanside Wellness Group face every day have bonded them into a tight knit family, but big changes may be just around the corner. They are tested at every turn by the moral and ethical dilemmas that accompany their clinic's unique medical cases. Addison learns a huge secret about her past while dealing with new feelings for a friend, Sam and Naomi receive a life-changing announcement from their daughter, Cooper's personal life is affected when Charlotte joins the practice, Dell struggles to raise a daughter on his own, and Violet realizes she has an important decision to make regarding the well-being of her baby. With a prescription for a healthy dose of romance, drama, and heartwarming moments, "Private Practice" makes perfect.
Plots
[
]
Addison and Naomi manage to save Violet and her baby, but their friendship has taken a serious hit upon Naomi leaving the practice. Naomi has yet to find her place in the new practice.
Addison deals with the loose ends of her crush on Noah when his wife pays her a visit.
Violet suffers from PTSD following the attack and decides that leaving her baby with Pete is best for the boy.
Charlotte joins the practice as a sexologist, all the while maintaining her job at St. Ambrose.
Sam decides to work as a cardiothoracic surgeon again.
Maya reveals she's pregnant. She and her boyfriend get married, with Sam and Violet planning the wedding for her. Naomi finds herself unable to deal with the situation and avoids her daughter.
Addison and Pete end up together and she helps him to take care of his son.
Violet decides to leave town for a while and after returning, she is ready to take care of Lucas. She and Pete end up in a custody battle.
Amelia Shepherd arrives in Los Angeles and decides to stick around.
Cast
[
]
Main Cast
[
]
Also Starring
[
]
Special Guest Stars
[
]
Recurring Guest Stars
[
]
Prominent Guest Stars
[
]
Recurring Co-Stars
[
]
Notes and Trivia
[
]
ABC officially renewed Private Practice for a third season on April 23, 2009.
With 23 episodes, this is the longest season of Private Practice.
Episodes
[
]
No. in series
No. in season
Title
Directed by
Written by
Original air date
32
1
"A Death in the Family"
Mark Tinker
Shonda Rhimes, Jon Cowan & Robert Rovner
October 1, 2009
After Pete discovers Violet dying on the floor of her home, having barely survived a violent attack from her patient, Katie, he rushes her to the hospital where Addison and Naomi fight to save her life. Meanwhile, the whereabouts and condition of Violet's stolen baby are unknown.
33
2
"The Way We Were"
Donna Deitch
Lara Olsen & Patti Carr
October 8, 2009
Violet is physically recovering from her violent attack at home, but the emotional trauma she suffers from isn't going away, despite the best efforts of Pete and her other friends to help. Meanwhile, Addison and Naomi try to mend their tension-filled relationship, as Sam and Cooper treat a father, who has allegedly attacked his family, after he is stabbed by his wife.
34
3
"Right Here, Right Now"
Rob Corn
Dana Baratta
October 15, 2009
Miranda Bailey brings a kidney transplant patient to Los Angeles, and Addison isn't the only Oceanside Wellness doctor pleased to see her. Meanwhile the consequences of Addison's emotional affair with Noah catch up with her, and Sheldon and Pete finally discover who the father of Violet's baby is.

---

Part two of a crossover that began on Grey's Anatomy's Invasion.
35
4
"Pushing the Limits"
Allison Liddi-Brown
Ayanna A. Floyd
October 22, 2009
Addison, Sam and Cooper treat the sick child of a homeless teen mother they met while volunteering. Meanwhile Violet has trouble relating to her baby when her feelings about her attack resurface during counseling of a rape victim who is now pregnant, and Cooper's financial woes catch up with him when he's asked to help buy out Naomi's share of the practice.
36
5
"Strange Bedfellows"
Steve Gomer
Kathy McCormick
October 29, 2009
Addison must deal with the return of Naomi's former patients, Zoe and Amelia, whose embryos were accidentally switched, and a serious complication that may end up jeopardizing both fetuses. Meanwhile the time has come for Katie's trial, as Violet struggles with whether or not she can face her attacker in court, and Charlotte is determined to convince Addison, Sam and Cooper to let her join Oceanside Wellness Group.
37
6
"Slip Slidin' Away"
Helen Shaver
Fred Einesman
November 5, 2009
The doctors venture into controversial territory when an unexpected new hire at Pacific Wellcare causes Naomi to struggle with the idea of genetically designing babies and Violet makes a sudden decision to try electric shock therapy on a patient. Meanwhile Addison somehow finds herself alone and with a cat.
38
7
"The Hard Part"
Mark Tinker
Steve Blackman
November 12, 2009
Addison and Sam go for a hike in Malibu, and must perform urgent field care when they stumble upon an expecting couple, trapped in their car after an accident. Meanwhile at Oceanside Wellness, Charlotte, Cooper and Violet treat a newlywed who, out of nervousness for his wedding night, has taken too much Viagra, and Pete and Sheldon hit the bar scene together but fall for the same girl.
39
8
"Sins of the Father"
Tom Verica
Elizabeth J.B. Klaviter
November 19, 2009
Addison is shaken by the unwelcome arrival of her father to Los Angeles, Cooper is arrested when he refuses to cooperate in a case involving a longtime patient, and Pete fights to keep a terminally ill patient alive long enough for him to meet his new daughter.
40
9
"The Parent Trap"
Donna Deitch
Craig Turk
December 3, 2009
Addison performs a complex in utero surgery, proving not only her talents to her father but also finally giving them some common ground. Meanwhile, Sam and Naomi deal with their own family crisis when they discover their daughter is growing up way too fast, and Violet does the unthinkable.
41
10
"Blowups"
Mark Tinker
Sonay Washington
December 3, 2009
A terrible explosion at Dell's house lands Betsey and Heather in the hospital, and everyone is pushed to the limit trying to save their lives. Tensions rise even higher between Addison and The Captain when her mother, Bizzy, shows up and a shocking family secret is revealed.
42
11
"Another Second Chance"
Michael Zinberg
Krista Vernoff & Kathy McCormick
January 14, 2010
Desperate to help his pregnant daughter, Mark follows Addison back to Oceanside Wellness, Dell and Naomi struggle to raise their children under the same roof, and Violet and Cooper heatedly disagree on how to treat a patient.

---

Part two of a crossover that began on Grey's Anatomy's Blink.
43
12
"Best Laid Plans"
Bethany Rooney
Patti Carr & Lara Olsen
January 21, 2010
Sam and Naomi are stunned by Maya's shocking announcement, and Naomi's irrational response leaves Sam to pick up the pieces, as Pete challenges Fife on a patient with a cutting edge bionic arm.
44
13
"Shotgun"
Karen Gaviola
Jon Cowan & Robert Rovner
February 4, 2010
Addison and Cooper counsel a couple who must make an unthinkable choice, to decide which one of their ailing daughters to save with their newborn's core blood. Sam is dealt another blow when he finds out Dink's intent to marry Maya, and the rest of the gang runs an intervention on a still distant Naomi.
45
14
"Love Bites"
Matthew Penn
Dana Baratta
February 11, 2010
Sam convinces Violet to help plan Maya's wedding when Naomi refuses to take part, tensions between Addison and Sam rise even as they work together to treat a suicidal patient, and Cooper and Pete treat a teenage girl with a mysterious bite mark on her neck.
46
15
"'Til Death Do Us Part"
Kenny Leon
Craig Turk
February 18, 2010
As Violet continues to help Sam with Maya's wedding, Naomi refuses to take part as she works with Addison and Pete to save the life of a 25-week-old premature baby. Meanwhile, Cooper suspects that Charlotte's new boyfriend is abusing pills.
47
16
"Fear of Flying"
Mark Tinker
Ayanna A. Floyd
March 4, 2010
Things get too close for comfort when Addison, Pete, and Sam must come together on a complicated case involving a dad-to-be who comes down with tuberculosis and threatens the future of his new family. Meanwhile, with Violet still gone on her Costa Rican escape, Sheldon takes over helping one of her patients, Natasha, to get over her crippling fear of flying, and Naomi finds herself in a bit of a love triangle of her own.
48
17
"Triangles"
Tom Verica
Steve Blackman
March 11, 2010
When Addison's patient and the life of the three unborn babies she is carrying as a surrogate hang in the balance, Sam's new girlfriend, Vanessa, and Addison are sharply divided on the course of treatment. Meanwhile Cooper seeks Sheldon's help with a young patient, but their personal quarrels over Charlotte get in the way, and Naomi has a dilemma of her own between William and an unexpectedly charming Dr. Fife.
49
18
"Pulling the Plug"
Ann Kindberg
Kathy McCormick
March 25, 2010
A husband's decision to pull the plug on his pregnant wife is overruled by a judge, forcing the hospital to keep her on life support until the fetuses she is carrying as a surrogate are able to survive. Meanwhile, Naomi feels betrayed after learning of Sam and Addison's feelings for one another, and she turns to Dr. Fife for support while William is away on business. And unable to cope with the tension, Addison takes the day off with Pete and Lucas.
50
19
"Eyes Wide Open"
Eric Stoltz
Jesse Zigelstein
April 1, 2010
When famed neurosurgeon Dr. Ginsberg and her team pay a visit to St. Ambrose to save the life of Kayla, Addison is shocked to see Amelia Shepherd - Derek's younger sister on the team. But Amelia's presence causes strife between Addison, Sam and Pete when she claims she can save Kayla's life after Dr. Ginsberg declares nothing can be done. Meanwhile, Charlotte seeks from Cooper's with a sex education seminar for the elderly that only leads to more tension between the two, as they try to figure out how to work together.
51
20
"Second Choices"
Jeff Bleckner
Patti Carr & Lara Olsen
April 22, 2010
After her open-ended escape to Costa Rica, Violet has finally returned home and to the practice. Everyone treads a little lightly around her, especially Pete and Addison who have mixed feelings about Violet's desire to reconnect with Lucas. Meanwhile, Amelia butts into Sam's personal life, pointing out that he can mend hearts in the OR but can't seem to do that for himself, and Sheldon encourages Charlotte to reconcile with Cooper, while Cooper deals with a young patient who eats everything in sight.
52
21
"War"
Elizabeth J.B. Klaviter & Sonay Washington
Eric Stoltz
April 29, 2010
After Violet files for joint custody of Lucas, an embittered Pete voraciously fights back by hiring a tough attorney for the trial, forcing their fellow friends and co-workers to choose sides and have their personal lives dragged onto the stand and into the public eye.
53
22
"In the Name of Love"
Mark Tinker
Fred Einesman
May 6, 2010
Naomi puts Fife in a conflicted position when she begs him to help William's advanced ALS with his still experimental treatment. Meanwhile Violet and Amelia treat a woman with a brain tumor who has to choose between life or quality of life, and Sheldon decides to officially throw his hat into the ring for Charlotte's affections.
54
23
"The End of a Beautiful Friendship"
Jeannot Szwarc
Debora Cahn
May 13, 2010
Maya and her unborn baby are fighting for their lives on the operating table, and Addison, Amelia, and Fife try everything humanly possible to save them. Meanwhile, Sam operates on an incoming crash victim and later makes a grim discovery. Cooper makes an ill-timed but valiant effort with Charlotte, and the staff's world gets rocked by an unexpected death.
DVD Release
[
]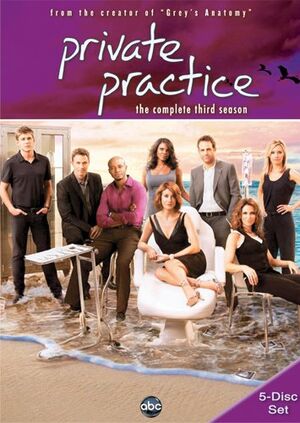 The "Private Practice: The Complete Third Season" boxset was released in region 1 on September 14, 2010 by ABC Studios. On March 21, 2011 and November 3, 2010, the DVD was released in regions 2 and 4 respectively. The run time of the DVD is 989 minutes.
Set Details
[
]
The boxset contains the 23 episodes of the season. The DVD box contains 5 discs. Other set details are:
English (Dolby Digital 5.1 Surround)
1.78:1 aspect ratio
Subtitles: English, French, and Spanish
Special Features
[
]
Additional to the episodes, the season 3 DVD set also contains a couple of special features:
Bloopers
Deleted Scenes
Kate's Top Eight: Kate Walsh shares her favorite moments from season three
Audio Commentaries
Gallery
[
]
Cast Promotional Photos
[
]
Posters
[
]