The third season of Private Practice premiered on October 1, 2009 and concluded on May 13, 2010. It was broadcast on Thursday nights at 10 PM on ABC, although the twentieth episode occasionally aired at 9 PM. The season consists of 23 episodes.
The challenges that Dr. Addison Montgomery and her co-workers at the Oceanside Wellness Group face every day have bonded them into a tight knit family, but big changes may be just around the corner. They are tested at every turn by the moral and ethical dilemmas that accompany their clinic's unique medical cases. Addison learns a huge secret about her past while dealing with new feelings for a friend, Sam and Naomi receive a life-changing announcement from their daughter, Cooper's personal life is affected when Charlotte joins the practice, Dell struggles to raise a daughter on his own, and Violet realizes she has an important decision to make regarding the well-being of her baby. With a prescription for a healthy dose of romance, drama, and heartwarming moments, "Private Practice" makes perfect.
Addison and Naomi manage to save Violet and her baby, but their friendship has taken a serious hit upon Naomi leaving the practice. Naomi has yet to find her place in the new practice.
Addison deals with the loose ends of her crush on Noah when his wife pays her a visit.
Violet suffers from PTSD following the attack and decides that leaving her baby with Pete is best for the boy.
Charlotte joins the practice as a sexologist, all the while maintaining her job at St. Ambrose.
Sam decides to work as a cardiothoracic surgeon again.
Maya reveals she's pregnant. She and her boyfriend get married, with Sam and Violet planning the wedding for her. Naomi finds herself unable to deal with the situation and avoids her daughter.
Addison and Pete end up together and she helps him to take care of his son.
Violet decides to leave town for a while and after returning, she is ready to take care of Lucas. She and Pete end up in a custody battle.
Amelia Shepherd arrives in Los Angeles and decides to stick around.
Main Cast
Edit
Also Starring
Edit
Special Guest Stars
Edit
Recurring Guest Stars
Edit
Prominent Guest Stars
Edit
Recurring Co-Stars
Edit
Notes and Trivia
Edit
ABC officially renewed Private Practice for a third season on April 23, 2009.
With 23 episodes, this is the longest season of Private Practice.
DVD Release
Edit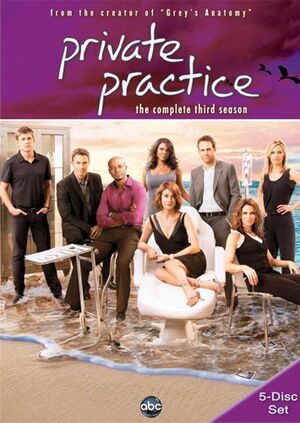 The "
Private Practice: The Complete Third Season
" boxset was released in region 1 on September 14, 2010 by ABC Studios. On March 21, 2011 and November 3, 2010, the DVD was released in regions 2 and 4 respectively. The run time of the DVD is 989 minutes.
Set Details
Edit
The boxset contains the 23 episodes of the season. The DVD box contains 5 discs. Other set details are:
English (Dolby Digital 5.1 Surround)
1.78:1 aspect ratio
Subtitles: English, French, and Spanish
Special Features
Edit
Additional to the episodes, the season 3 DVD set also contains a couple of special features:
Bloopers
Deleted Scenes
Kate's Top Eight: Kate Walsh shares her favorite moments from season three
Audio Commentaries
Cast Promotional Photos
Edit