Wiki Targeted (Entertainment)
Play Sound

The fourth season of Grey's Anatomy premiered September 27, 2007 and ended May 22, 2008. It was broadcast on Thursday nights at 9 PM on ABC. The season consists of 17 episodes instead of the ordered 23, cut short by the 2007–08 Writers Guild of America strike, and ending with a two-hour finale.
Summary
[
]
Enter a world of change in the irresistible and unforgettable fourth season of Grey's Anatomy. Love, lies, and family ties are revealed as the surgeons of Seattle Grace discover that their choices have major unintended consequences. And coupled with the arrival of some very eager new interns, life at the hospital sizzles with more emotion, excitement, and heartbreak than ever before.
Plots
[
]
Meredith, Cristina, Izzie, and Alex are new residents and have their own interns, including George, who failed his intern exam, and Lexie Grey, Meredith's half-sister.
Meredith and Derek break up but continue having breakup sex.
Erica Hahn is hired as Chief of Cardiothoracic Surgery, replacing Preston Burke. Cristina struggles with working on Hahn's service.
Meredith and Derek performed clinical trials on patients with brain tumors. They lost all of their patients except for one whose boyfriend died just before her life-saving surgery.
Derek starts a relationship with nurse Rose.
Rebecca Pope returns to see Alex, bringing big news. Their relationship grows. Rebecca becomes unstable and hurts herself, so she has to be transferred to a psychiatric facility.
Addison returns to help out on a case and to see what's changed ever since she left.
Callie develops romantic feelings towards Erica.
After finally succeeding, Meredith took a risk and reunited with Derek.
Derek goes to his trailer in search of Meredith, only to find her waiting on his land with candles dividing each room of their could-be "home". They kiss, and Derek leaves her long enough to break up with Rose.
Cast
[
]
Main Cast
[
]
Special Guest Stars
[
]
Recurring Guest Stars
[
]
Prominent Guest Stars
[
]
Recurring Co-Stars
[
]
Notes and Trivia
[
]
For the first time in the show's history, two of the series regulars were not returning. Kate Walsh's character was transferred to the Grey's Anatomy spin-off, Private Practice. On June 7, 2007, it was announced that Isaiah Washington's contract had not been renewed.
On June 11, 2007, it was announced that Chyler Leigh, who guest starred in the final two episodes of the third season as Lexie Grey, was promoted to series regular, instead of a 13 episode story arc as previously planned.
Brooke Smith joined the main cast, reprising her role of Erica Hahn in the season's fifth episode.
All main characters appear in every episode, except Erica Hahn, who's absent for the first four episodes as she's only a main character as of the fifth episode.
Originally, 23 episodes were planned for this season, but it resulted in a 17 episode season due to the Writer's Strike.
During the Writer's Strike, the current casts of Grey's Anatomy and Private Practice performed in a charity event, Good Medicine, for the Solidarity Fund set up by the Writer's Guild of America for all those who had been put out of work because of the strike.
On February 20, 2008, it was confirmed that Grey's Anatomy would return on April 24, 2008 for five new episodes. Where the Wild Things Are was the first episode shown after the incubation resulted from WGA strike.
Kate Walsh reprised her role of Addison Forbes Montgomery in Piece of My Heart. Her appearance played a pivotal role in the burgeoning romance between Erica Hahn and Callie Torres, as she was the first one to suggest that perhaps they were an item.
Dawson's Creek alumnus Joshua Jackson was scheduled to make his return to television in a multi-episode arc as a doctor with his first appearance in the season's eleventh episode. Jackson's appearance was canceled due to the 2007–2008 Writers Guild of America strike.
It was once reported that a new male character would be introduced in season four. This character would somehow be in "competition" with Derek Shepherd. This idea was obviously not put into fruition until the next season, with the arrival of Owen Hunt.
Almost all the cast had a kiss, including Meredith and Derek, George and Lexie, Richard and Adele, Alex and Izzie, and Erica and Callie. To prepare for the lesbian storyline, which continued in season five, Grey's consulted with GLAAD. 
All voice overs this season are narrated by Meredith Grey, excluding the voice overs from:
For this season, advertisers paid $419,000 for 30 seconds of ad time. During that time, it was the most expensive show for ad time.
Episodes
[
]
No. in series
No. in season
Title
Directed by
Written by
Original air date
62
1
"A Change is Gonna Come"
Rob Corn
Shonda Rhimes
September 27, 2007
Meredith, Cristina, Izzie, and Alex get their own interns while George repeats his internship along with Lexie Grey, Meredith's half-sister. Izzie saves a deer. Bailey struggles as the number 2 girl, jealous of Callie for being chief resident.
63
2
"Love/Addiction"
James Frawley
Debora Cahn
October 4, 2007
Lexie tries to befriend an unwilling Meredith and while Bailey is looking for a way to show off her skills, Callie struggles with her Chief Resident Duties. Mama Burke returns to collect her son's belongings, while Cristina trades the wedding presents for surgeries and favors. Alex investigates a case involving the victims of a massive explosion.
64
3
"Let the Truth Sting"
Dan Minahan
Mark Wilding
October 11, 2007
Callie hides in her office, frustrating Bailey who's itching to teach someone. Elsewhere, age becomes the theme as Izzie tries to convince 'Really Old Guy' he shouldn't die, Webber and Sloan set out to prove they're not too old to learn a new technique, and Karev is saddled with an intern who's past his prime.
65
4
"The Heart of the Matter"
Randy Zisk
Allan Heinberg
October 18, 2007
Meredith and her intern lose a patient after they give her the wrong diagnosis, Callie confronts Izzie, and McDreamy bonds with the other Grey.
66
5
"Haunt You Every Day"
Bethany Rooney
Krista Vernoff
October 25, 2007
Meredith feels she's being haunted by her Mother's ashes, and Cristina is denied a surgery for a surprising reason.
67
6
"Kung Fu Fighting"
Tom Verica
Stacy McKee
November 1, 2007
A man survives a parachute accident without serious injury, two women refuse treatment because of a wedding contest, and Cristina and Izzie jockey for inclusion in Hahn's surgeries.
68
7
"Physical Attraction... Chemical Reaction"
Jeff Melman
Tony Phelan & Joan Rater
November 8, 2007
Hahn bans Cristina from her service, Bailey covers more and more of Torres' duties, and Izzie and George go to extreme lengths to recapture the magic of their first encounter.
69
8
"Forever Young"
Rob Corn
Mark Wilding
November 15, 2007
Bailey crosses the line when the guy she had a crush on in high school shows up in the ER during an onslaught of high school students involved in a bus crash. Problems arise between Meredith and Lexie when their father shows up drunk, while Derek tries to get back into the dating scene with another doctor and Cristina tries her best to get back into Hahn's good graces.
70
9
"Crash Into Me, Part 1"
Michael Grossman
Shonda Rhimes & Krista Vernoff
November 22, 2007
An accident involving two ambulances causes chaos at Seattle Grace. Cristina and Izzie compete for cardio, Richard and Meredith treat two paramedics stuck in an ambulance, Derek and George help a paramedic with seizures, Rebecca "Ava" Pope returns and sneaks into a surgery and Lexie finds herself in a sticky situation with a patient.
71
10
"Crash Into Me, Part 2"
Jessica Yu
Shonda Rhimes & Krista Vernoff
December 6, 2007
Tragedy abounds for everyone at Seattle Grace as they all continue in efforts to get the paramedic out of the overturned ambulance, stop the bleeding of a man who won't quit, and a bigot with a Nazi tattoo on his stomach. On the personal side, Rebecca returns to spend time with Alex, Miranda's husband finds it harder to wait for her while she's in surgery, and Cristina still tries to get on Hahn's good side, even though Bailey has put her elsewhere.
72
11
"Lay Your Hands on Me"
John Terlesky
Allan Heinberg
January 10, 2008
Izzie stops pursuing cardio, George's mother visits causing awkwardness with Callie, Izzie and especially George! Bailey's world is turned upside down when her personal and professional lives collide. Meredith hears about Rose and Derek's kiss. Erica assigns Alex to a patient that claims to heal people.
73
12
"Where the Wild Things Are"
Rob Corn
Zoanne Clack
April 24, 2008
Bailey starts up a surgical competition, Lexie begins to steal things, Mark tries to break Derek and Rose up, Izzie goes too far when treating a patient and the other residents help out after a bear attack.
74
13
"Piece of My Heart"
Mark Tinker
Stacy McKee
May 1, 2008
Addison returns to Seattle Grace for a surgery and discovers a lot has changed since she departed for her new life in L.A. Derek and Meredith's clinical trial has an uneasy start and Callie becomes defensive when Addison suggests there may be more than friendship between her and Erica.
75
14
"The Becoming"
Julie Anne Robinson
Tony Phelan & Joan Rater
May 8, 2008
Preston Burke receives the Harper Avery, a prestigious award, which causes Cristina to put to rest her old feelings. Meredith continues with therapy as she tries to get over Derek, with whom she is a partner in a clinical trial, and who is dating Nurse Rose. The nurse's union files a formal complaint against the actions of Mark Sloan, causing the hospital employees to document their sexual histories. Alex tries to reconcile himself to the fact that he might be a father. Callie and Mark have sex multiple times.
76
15
"Losing My Mind"
James Frawley
Debora Cahn
May 15, 2008
The Chief's mentor comes to town for more than just a visit, at Erica's excitement and eventually her dismay as she may threaten her career. Meredith tries to quit therapy, Cristina is acting out of character after learning about Burke's achievement and George becomes the Chief's intern. Mark and Izzie suspect something is wrong with Rebecca, and Izzie confronts her, leading to Rebecca breaking down.
77
16
"Freedom, Part 1"
Rob Corn
Shonda Rhimes
May 22, 2008
A surgical team battles the clock as they try to save a boy encased in cement, Alex's situation with an ever-disintegrating Ava brings back painful memories that interfere with his judgment, Derek and Meredith have one last chance at their clinical trial.
78
17
"Freedom, Part 2"
Rob Corn
Shonda Rhimes
May 22, 2008
Derek and Meredith's clinical trial is a success as their very last patient pulls through, despite some rule bending to do so. Bailey hands the clinic over to Izzie, feeling she has too much on her plate, Cristina gets her mojo back in the form of the sparkle pager and Lexie makes a shocking discovery about George. Alex deals with Rebecca trying to kill herself, bringing up poignant memories for Meredith. Callie kisses Erica, the Chief returns to Adele and Derek and Meredith decide to get back together.
Reception
[
]
Nielsen Ranking (2007–08 U.S. TV season; based on average total viewers per episode): #8 (15.9 million viewers).
DVD Release
[
]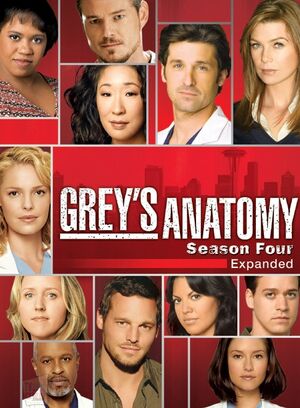 The "Grey's Anatomy: Season Four – Expanded" boxset was released in region 1 on September 9, 2008. On November 23, 2009 and November 5, 2008, the DVD was released in regions 2 and 4 respectively.
Set Details
[
]
The boxset contains the 17 episodes of the season, with one extended. The DVD box contains 5 discs. Other set details are:
English (Dolby Digital 5.1 Surround)
1.78:1 aspect ratio
Subtitles: English, French, and Spanish
Audio Commentaries
Special Features
[
]
Additional to the episodes, the season 4 DVD set also contains a couple of special features:
Gallery
[
]
Cast Promotional Photos
[
]
Posters
[
]