We're Getting Mutants in the MCU - The Loop
Play Sound

The fourth season of Private Practice premiered on September 23, 2010 and concluded on May 19, 2011. It was broadcast on Thursday nights at 10 PM on ABC. The season consists of 22 episodes.
Summary
[
]
Experience every complex romance, medical crisis and moral dilemma of ABC's "Private Practice". Join the Oceanside Wellness Group family as they try to balance work, friendship and love while they lean on each other for the help and support they need. As Pete and Violet prepare for their wedding day, disagreements at the clinic put a strain on Addison and Sam's relationship. Meanwhile, Charlotte and Cooper struggle in the aftermath of a traumatic personal event, and Derek's sister, Amelia, returns from Seattle with a destructive secret. It's a season of change and new hope for Dr. Addison Montgomery and her colleagues.
Plots 
[
]
Addison
[
]
Addison and Sam continue their relationship and all seems to be well until Addison's mother, Bizzy, commits suicide forcing Addison to re-evaluate her life. She loves Sam but is currently broken up by the fact that she wants children but he doesn't. Normally Addison would talk to her best friend Naomi but their friendship is not the same anymore so she feels all alone. With no one to turn to her biggest challenge is to find someone she can be completely open with.
Naomi
[
]
Naomi inherits millions from her boyfriend William White following his death. On top of having to deal with his death, Naomi also has to deal with the fact that her best friend and ex-husband are in a real relationship now. She is easing well into her new role as a grandmother, even though she was less than thrilled to find out her 16-year-old daughter Maya was pregnant. Naomi eventually admits that she isn't happy with where her life is at the moment and makes a decision to find her purpose elsewhere.
Sam
[
]
Sam and Addison are still dating but are at different points in their lives. Addison wants a child, but Sam has a child and a grandchild so he would rather just enjoy their time together and put off having kids indefinitely. Sam's biggest challenge is that he is in a relationship with Addison but she is pulling away, so he ends up kissing Naomi which leads him to believe that maybe there is still a chance for a romantic relationship between them. Naomi's head is elsewhere so neither women (Addison or Naomi) is actually on the same page as him
Charlotte & Cooper
[
]
Charlotte and Cooper deal with the aftermath of Charlotte's rape and actually go to couples therapy in order to work on the lost intimacy in their relationship. Eventually, they decide to just be honest with each other and both lay out their secrets on the table. Once these are all revealed, tension arises between the couple, but they have been through so much already that these secrets only make them stronger.
Pete & Violet
[
]
Following Pete's proposal these two finally get married and start to raise their child together. Violet gets a book deal, the details of which offend her friends and colleagues. Pete's past catches up with her when his brother comes to him telling him that their mother (who is in prison) needs his help. Violet pushes Pete to help his mother and through Pete's interaction with his mother details of his childhood are revealed.
Sheldon
[
]
Sheldon continues to be the resident "therapist" to all his friends and colleagues. Everyone comes to him for advice so he is like their guardian angel who calmly pushes them all in the right direction. He starts an affair with a writer who gave Violet's new book a bad review despite the warning from Cooper that the affair is going to jeopardize his friendship with Violet.
Amelia
[
]
It is revealed that Amelia is a recovering substance abuser and that the reason she started in the first place was due to her father getting shot, which left her feeling empty and so she turned to drugs. She finally mends her relationship with her brother Derek Shepherd following his survival of a gunshot wound. She is currently helping her friend deal with a fatal disease.
Cast
[
]
Main Cast
[
]
Special Guest Stars
[
]
Recurring Guest Stars
[
]
Prominent Guest Stars
[
]
Recurring Co-Stars
[
]
Notes and Trivia
[
]
Episodes
[
]
No. in series
No. in season
Title
Directed by
Written by
Original air date
55
1
"Take Two"
Mark Tinker
Craig Turk & Steve Blackman
September 23, 2010
Pete and Violet anxiously prepare for their wedding day, but Cooper may have to intervene when emotions and fear of the future run high. Things have taken a surprise turn with Addison and Sam, and Naomi juggles the burden of caring for her daughter and newborn granddaughter and worries about Dink's ability to parent. Despite disagreements and deeply-rooted conflicts, the doctors come together to mourn the loss of their friend, Dell.
56
2
"Short Cuts"
Mark Tinker
Sonay Washington
September 30, 2010
Violet and Cooper make amendments to their friendship in order to please their significant others. Pete and Cooper get in an argument involving marijuana use by a patient. Addison is conflicted about going public with her new romance, and Sheldon's decision to deny approval for a patient's sex change backfires.
57
3
"Playing God"
Donna Deitch
Sheila Lawrence
October 7, 2010
The man responsible for endangering Maya's life and killing Dell shows up at Oceanside Wellness with a heart condition, and Sam struggles with his responsibility to help. Contrary to Violet's warnings, Pete volunteers at a friend's home medical clinic and ultimately puts a patient's life at risk and news of Addison's new romance doesn't go over well.
58
4
"A Better Place to Be"
Tom Verica
Barbie Kligman
October 14, 2010
The arrival of Dell's young orphaned daughter, Betsey, stirs up the emotions of everyone in the practice. Pete and Amelia disagree over a risky surgery to treat a woman who has been experiencing chronic and insufferable pain throughout her pregnancy.
59
5
"In or Out"
Ed Ornelas
Ayanna A. Floyd
October 21, 2010
Much to her displeasure, Addison is teamed with a new oncologist, Dr. Rodriguez, to treat a newborn baby with a malignant tumor. When Violet and Sheldon visit a prison in order to interview inmates who are up for parole, Pete is highly uncomfortable as Violet tries to help a parolee and Addison and Violet suggest Sheldon could be the solution for Amelia's needs.
60
6
"All in the Family"
Ann Kindberg
Sanford Golden & Karen Wyscarver
October 28, 2010
Addison and Sam's relationship is strained when they disagree over the treatment and safety of a comatose patient who has become pregnant, while Pete and Charlotte are faced with the ethical dilemma of revealing the HIV status of a patient who has been in a serious auto accident. Violet crosses some boundaries with Pete's family as she gets caught up in the fray of Lucas's first Halloween.
61
7
"Did You Hear What Happened to Charlotte King?"
Allison Liddi-Brown
Shonda Rhimes
November 4, 2010
After Pete discovers Charlotte in the halls of the hospital bloodied and bruised, he and their fellow doctors come to her aid, but only Addison learns the truth from Charlotte that she was sexually assaulted.
62
8
"What Happens Next"
Michael Zinberg
Jennifer Cecil
November 11, 2010
Charlotte chooses to suffer in silence as she tries to deal with the emotional aftermath of the attack, as Addison struggles to keep the events of that night a secret, while Cooper and the doctors of Oceanside Wellness fight their own demons arising from the assault.
63
9
"Can't Find My Way Back Home"
Mark Tinker
Fred Einesman
November 18, 2010
Despite how Charlotte is choosing to deal with the aftermath of her sexual assault, her fellow doctors think they know what's best, teaming up to pursue criminal charges against her attacker. Pete gets a surprise visitor, his estranged brother, who has come to ask Pete to help release their sick mother from prison.
64
10
"Just Lose It"
Stephen Cragg
Elizabeth J.B. Klaviter
December 2, 2010
When the District Attorney's office delivers bad news to Charlotte and Cooper about her sexual assault case, Cooper is outraged and Charlotte seems numb, as a case involving a pregnant drug addict hits hard with Addison, who wants a child of her own with Sam.
65
11
"If You Don't Know Me By Now"
Eric Stoltz
Zahir McGhee
January 6, 2011
Addison's mother, Bizzy, aggressively demands her daughter do whatever it takes to save her partner from dying - including working with Dr. Rodriguez once again. Meanwhile Amelia and Pete's medical consultation is complicated when a patient's wife and his mistress disagree on the course of treatment, Charlotte and Cooper try to be intimate with each other again, and Violet considers publishing a personally-revealing book she's written.
66
12
"Heaven Can Wait"
Kenny Leon
Barbie Kligman
February 3, 2011
Addison plans Bizzy and Susan's wedding while trying to keep her distance from the overly flirtatious Dr. Rodriguez. Sam is concerned about the care his longtime patient is receiving, and Sheldon refers Charlotte to his mentor and friend for psychiatric help.
67
13
"Blind Love"
Bethany Rooney
Craig Turk & Steve Blackman
February 10, 2011
Charlotte's attacker, Lee McHenry, arrives at St. Ambrose Hospital, injured by his girlfriend and in need of urgent care, and Sam and Charlotte must decide whether or not to save his life. Meanwhile, Susan's health takes a turn for the worse, and Addison's mother, Bizzy, begs her daughter to do everything in her power to help.
68
14
"Home Again"
Mark Tinker
Krista Vernoff
February 17, 2011
After tragedy strikes the Montgomery family, Addison goes home to Connecticut and Sam and her friends decide to join her. Meanwhile, Sheldon and Violet clash when Sheldon's death row patient confesses to a crime that his wife, one of Violet's patients, believes he didn't commit.
69
15
"Two Steps Back"
Jeff Bleckner
Ayanna A. Floyd
February 24, 2011
Charlotte and Cooper look to forgive each another after revealing secrets during couples therapy. Violet seeks the forgiveness and approval of her fellow doctors after they learn her novel-in-progress will make all of their personal lives public. Sheldon treats a patient who claims to have multiple personality disorder and Sam and Naomi team up on a case involving a pregnant teen with Down's Syndrome.
70
16
"Love and Lies"
Ann Kindberg
Moira McMahon
March 17, 2011
The doctors of Oceanside clash when an expectant mother and her husband, desperate to have children, come to them in order to harvest the eggs of their unborn, ill-fated baby. Meanwhile, Amelia tries to help a friend who threatens suicide if her tests for Huntington's Disease are positive, and Fife returns to tell Naomi how he feels about her.
71
17
"A Step Too Far"
Scott Printz
Fred Einesman
March 24, 2011
At the launch party for Violet's book, Sheldon falls for the smart, beautiful Dr. Marla Thomkins, even though she's the critic who panned Violet's tome. Meanwhile, Addison's and Pete's patient is caught in a love triangle with her brother-in-law and sister, for whom she is a surrogate, and Cooper and Sam try to convince a family to make their son's health a priority over his successful wrestling career.
72
18
"The Hardest Part"
Paul Adelstein
Jennifer Cecil
March 31, 2011
When Pete's brother, Adam, brings their sick mother for a consult, Pete discovers her illness may be his brother's fault. Meanwhile, in the wake of her book's success, Violets walks in on Sheldon just as he's about to take her archenemy on a date, and Cooper treats a young musical prodigy whose brain tumor could prevent him from ever playing the piano again.
73
19
"What We Have Here..."
Karen Gaviola
Christopher Fife
April 28, 2011
Katie threatens to take legal action against Violet for "breach of confidentiality," and although Violet feels that she hasn't done anything wrong, she soon realizes she'll have to defend her actions to more people than just Katie. Meanwhile, Cooper suspects that Charlotte may be hiding some lingering feelings for ex-husband Billy, only to find out that Billy has been hiding some feelings of his own.
74
20
"Something Old, Something New"
Mark Tinker
Sanford Golden & Karen Wyscarver
May 5, 2011
The day has arrived for Cooper and Charlotte to marry, but not everyone is in a celebratory mood, leading the couple to second-guess their wedding plans. Meanwhile, the doctors of Oceanside Wellness are torn between the future of their practice and protecting one of their own, as an investigator is sent to question them about Violet's breach of confidentiality case.
75
21
"God Bless the Child"
Jeannot Szwarc
Jennifer Cecil & Barbie Kligman
May 12, 2011
A second trip to the ER sparks concern for Betsey's well-being and prompts the doctors to launch an investigation into her new foster family -- risking sending the little girl back into the system. Meanwhile, Naomi makes a life changing decision for her family, and a struggling Amelia slips further away from sobriety.
76
22
"...To Change the Things I Can"
Mark Tinker
Craig Turk, Steve Blackman & Debora Cahn
May 19, 2011
The doctors of Oceanside Wellness are faced with a tough decision -- to point out all areas of vulnerability within the practice and risk the termination of some of their own, or to dissolve the practice and each go their separate way. Addison has a new admirer in town who offers her a very tempting proposition. Meanwhile, Charlotte is assigned to a case that hits very close to home.
DVD Release
[
]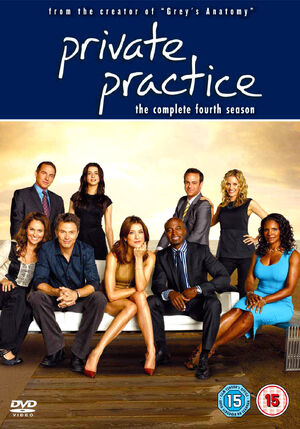 The "Private Practice: The Complete Fourth Season" boxset was released in region 1 on September 13, 2011 by ABC Studios. On April 2, 2012 and October 12, 2011, the DVD was released in regions 2 and 4 respectively. The run time of the DVD is 986 minutes.
Set Details
[
]
The boxset contains the 22 episodes of the season. The DVD box contains 5 discs. Other set details are:
English (Dolby Digital 5.1 Surround)
1.78:1 aspect ratio
Subtitles: English, French, Chinese, and Spanish
Special Features
[
]
Additional to the episodes, the season 4 DVD set also contains a couple of special features:
Gallery
[
]
Cast Promotional Photos
[
]
Posters
[
]
References
[
]
↑ The DVD lists this scene as being meant for Blind Love, but what happens and the order on the DVD suggests it was actually meant for the season premiere.
↑ The DVD lists this scene as being meant for Blind Love, but what happens and the order on the DVD suggests it was actually meant for the season premiere.