We're Getting Mutants in the MCU - The Loop
Play Sound

The fifth season of Grey's Anatomy premiered September 25, 2008 and ended May 14, 2009. It was broadcast on Thursday nights at 9 PM on ABC. The season consists of 24 episodes, both starting and ending with two-part episodes.
Summary
[
]
Live for the moment. Dive deeper into the lives and loves of "Grey's Anatomy"! The doctors struggle and thrive as they enter uncharted territories of life. Discover what happens in the on-again, off-again world of Derek and Meredith, and witness the budding relationship between Cristina and Owen, Seattle Grace's newest doctor.
Plots
[
]
Cristina deals with the new trauma surgeon, Dr. Owen Hunt with whom she has a hot and cold relationship.
Meredith and Derek move forward in their relationship.
The residents receive their first solo surgeries.
Callie starts to explore her sexuality.
Bailey takes an interest in peds.
Izzie gets worried when Denny starts appearing to her.
Richard deals with the hospital only being 12th best.
Derek's discovery of Meredith's mother's journals from when she was a resident and Meredith's reaction to the journals.
Lexie and her fellow interns perform procedures on each other (from injections to surgeries) in an attempt to learn things they believe they are not learning from their residents.
Sadie, Meredith's old friend, is back into Meredith's life and Cristina reacts to this.
There is intensity rising between the residents as an opportunity for a solo surgery comes into play.
As the Chief announced to Dr. Bailey he had made the request to promote her as an attending in General Surgery, one of Dr. Dixon's comments about the way she cared about kids made her change her mind, choosing Pediatric Surgery as a specialty instead. Convinced by Dr. Robbins, she made an application for a Pediatric Surgery fellowship, which leaves the Chief displeased.
Cristina had to deal with the reappearance of Dr. Hunt's old fiancée, with whom he had briefly broke up without telling her he was coming back from war. However, he showed her he would stick with her after a case they shared with an older surgeon who was asked to retire, saying he hoped to still be there for Cristina during the years to come.
The romances between Mark Sloan and Lexie Grey and between Callie Torres and new pediatric surgeon Arizona Robbins were newly-founded.
Mark and Lexie kept their relationship secret for a moment, Lexie being even covered by Sadie after Mark's "injury", but Lexie asked him to go public with her. During the last episode of the crossover between Grey's Anatomy and Private Practice, Mark told Derek about his new love, but the latter didn't quite appreciate it, especially after the rough day he had had and they had a physical fight because of it.
However, Callie's lack of experience with homosexual relationships seemed to make Arizona hesitate in the following episodes, stating she didn't want to deal also with "babies" in her personal life.
After learning of her disease, Izzie lets the interns diagnose a "Patient X", unaware that it is her. The interns diagnose her with a malignant melanoma that has spread to the brain, skin and liver, giving her only a 5% survival rate.
Alex and Izzie get married.
The season ends with a cliffhanger. Izzie codes and George is rushed into a dangerous surgery. While the doctors work to save their lives, Izzie exits an elevator in a dream of some sort and sees George.
Cast
[
]
Main Cast
[
]
Special Guest Stars
[
]
Recurring Guest Stars
[
]
Prominent Guest Stars
[
]
Recurring Co-Stars
[
]
Notes and Trivia
[
]
On November 3, 2008 it was announced that Brooke Smith (Erica Hahn) had been written out of the show. Before the announcement of Smith's departure, it was announced that Mary McDonnell would appear as Virginia Dixon, a cardiothoracic surgeon with Asperger's Syndrome.
Though she was originally supposed to only appear in a couple of episodes, Jessica Capshaw made a deal with ABC, giving her the opportunity to be featured as Dr. Robbins on the remaining episodes of the season as well as the option to become a series regular for season six.
For this season, no promotional photos were made, except for Kevin McKidd, who joined that cast this season. For the other characters, the photos from season 4 were reused. The group photo was photoshopped, with Brooke Smith being replaced by Kevin McKidd.
Kevin McKidd had a voice coach during this season to help him switch from his Scottish to his American accent.
Chyler Leigh became pregnant with her third child and was visibly showing towards the end of production. As her character, Lexie, was not pregnant, shots of Leigh tended to be from above the chest, or her belly obscured by a chart, desk or lab coat. In the episode where Thatcher apologizes to Lexie and Meredith, Ellen Pompeo kept her hands in her lab coat to make herself look bigger to distract from Leigh's pregnancy. According to Ask Ausiello, Shonda Rhimes also had Lexie comfort eating over her anxiety as a in-joke for her pregnancy.
A planned parody of Charles Dickens' "A Christmas Carol" involving Denny Duquette's ghost was written for the season but never filmed.
This season is the last one in which Richard Webber is Chief of Surgery for the entire season.
There are three episodes where Meredith Grey does not narrate the voice over:
Episodes
[
]
No. in series
No. in season
Title
Directed by
Written by
Original air date
79
1
"Dream a Little Dream of Me, Part 1"
Rob Corn
Shonda Rhimes
September 25, 2008
It's snowing. Meredith has dreams of Derek dying. Derek moves in with Meredith, while Lexie develops an interest in George but realizes it may be futile. The chief is enraged by his number 12 status in a top hospitals list and begins to make the staff work harder. Meanwhile, Erica and Callie avoid each other but eventually decide to be awkward about being together. Cristina gets stabbed but is okay and kisses an Army Trauma Surgeon named Owen Hunt.
80
2
"Dream a Little Dream of Me, Part 2"
Rob Corn
Shonda Rhimes
September 25, 2008
The icicle is removed from Cristina's chest. Owen Hunt kisses her and leaves. The chief becomes fierce and tells everyone that the protocol is changing. Rose transfers to peds and Callie and Erica decide to give their relationship a shot. Meredith and Derek remain on track.
81
3
"Here Comes the Flood"
Michael Pressman
Krista Vernoff
October 9, 2008
George attempts to re-take his exam, Lexie discovers she has feelings for George and the hospital suffers severe flooding.
82
4
"Brave New World"
Eric Stoltz
Debora Cahn
October 16, 2008
Alex and Izzie fight over a patient. Cristina discovers the less challenging, Dermatology. George receives the results of his exam and Lexie fails to be noticed by him.
83
5
"There's No 'I' in Team"
Randy Zisk
Jenna Bans
October 23, 2008
Bailey orchestrates a massive 12-person simultaneous "domino" surgery with six separate kidney transplants. Alex and Izzie share a kiss, Callie sleeps with Mark and a rift comes between Meredith and Derek when their clinical trial is published and called the Shepherd method with no inclusion of Meredith.
84
6
"Life During Wartime"
James Frawley
Mark Wilding
October 30, 2008
Dr. Owen Hunt returns to Seattle Grace, being named as the new Head of Trauma Surgery - all part of the Chief's effort to raise the #12 ranking, and it works, raising Seattle Grace back to a Level I Trauma Center. Hunt uses his unorthodox treatment and teaching methods, rubbing Izzie, Derek, Mark, and Cristina the wrong way. In keeping with his spirit of raising the #12 rank, the Chief has Bailey and Hahn perform tumor resection deemed impossible by many other hospitals. Callie tries to find out who she really is.
85
7
"Rise Up"
Joanna Kerns
William Harper
November 6, 2008
George attempts to save Stan the dummy. Mark tries to sleep with Cristina, Lexie realizes that she needs to take matters into her own hands if she wants to become an educated doctor and Izzie realizes a connection between a patient at the hospital and herself. Erica leaves Seattle Grace.
86
8
"These Ties That Bind"
Eric Stoltz
Stacy McKee
November 13, 2008
An old friend of Meredith by the name of Sadie appears and causes some tension with Cristina. Bailey attempts to woo a cardiothoracic surgeon Virginia Dixon, Callie breaks down crying. Izzie confides in a patient about Denny and Cristina become suspicious about some of the interns.
87
9
"In the Midnight Hour"
Tom Verica
Joan Rater & Tony Phelan
November 20, 2008
Cristina and Meredith come to Lexie's aid after a routine surgery goes wrong, Izzie is distressed over the appearance of Denny, Derek and Mark take a case which reminds them of their childhood as all the doctors admit they need somebody.
88
10
"All By Myself"
Arlene Sanford
Peter Nowalk
December 4, 2008
After a long period of waiting, the solo-surgery winner is finally chosen, Cristina. But as punishment for recent events, she is not allowed to perform it and must choose one of her fellow residents to replace her instead. To make matters worse, the Chief is demanding she continue to woo Dr. Dixon. Mark and Bailey attempt to reconstruct a larynx while Lexie and Mark flirt under Bailey's radar and the ER has two teenage sisters involved in a car crash with devastating consequences for one of them
89
11
"Wish You Were Here"
Rob Corn
Debora Cahn
January 8, 2009
Izzie celebrates her birthday. Both Callie and Mark try to avoid Sadie and Lexie. Bailey is introduced to Arizona Robbins, a perky pediatric surgeon, and Meredith and Cristina continue to fight while they treat a criminal.
90
12
"Sympathy for the Devil"
Jeannot Szwarc
Jenna Bans
January 15, 2009
Derek's mother comes to visit, and Lexie and Sloan still try to keep their relationship a secret. Bailey and Arizona clash while Derek, Cristina and Meredith treat a prisoner.
91
13
"Stairway to Heaven"
Allison Liddi-Brown
Mark Wilding
January 22, 2009
Meredith and Miranda each cross a line, William Dunn regrets his decision and Izzie finally confronts what Denny's appearance means.
92
14
"Beat Your Heart Out"
Julie Anne Robinson
William Harper
February 5, 2009
Izzie has the interns do a barrage of tests on her to find out what's wrong with her. While the Chief tries to get Bailey to stay in general surgery, Dr. Dixon and Dr. Robbins both tell her that she is really meant for peds. Lexie decides she wants to go public with Mark, withholding everything from him until he does, and Arizona kisses Callie. Knowing that Meredith is ready for marriage, Derek gets ready to propose, but his plans for a grand gesture are interrupted.
93
15
"Before and After"
Dan Attias
Tony Phelan & Joan Rater
February 12, 2009
Addison needs Derek to operate on Archer, but after consultation, Derek cannot do it. Following a push from Sam, Derek changes his mind, even going as far as calling Archer a coward to let him do it. Cristina finds out Owen was previously engaged, and finds out more about Owen's past. Izzie arranges a game for the interns, in an attempt to remind them how much they enjoy medicine.

---

Part one of a crossover that continues on Private Practice's Ex-Life.
94
16
"An Honest Mistake"
Randy Zisk
Peter Nowalk
February 19, 2009
Derek's confidence is shaken like never before as he faces off with Addison over what treatment is best for their dying pregnant patient, Jen. Cristina calls the abilities of a renowned surgeon into question after she botches a standard procedure. Bailey, who has decided to pursue a fellowship in Pediatrics, is appalled by the Chief's less-than-stellar recommendation letter. Izzie gets some bad news and Callie asks Arizona out on a date.
95
17
"I Will Follow You Into the Dark"
James Frawley
Jenna Bans
March 12, 2009
After learning at a deposition that more of his patients have died than survived, Derek leaves both the hospital and the house, even as Meredith refuses to give up on him. Meanwhile Bailey and the Chief continue to bicker over her peds fellowship until his wife, Adele, is called in, thoroughly annoyed at the both of them. The interns make a disturbing breakthrough on "Patient X," unaware that the charts they're looking at are actually Izzie's, prompting Izzie to confide in the most unlikely of people.
96
18
"Stand By Me"
Jessica Yu
Zoanne Clack
March 19, 2009
The OR board is a mess and the Chief is falling apart without Derek. Bailey tries to help, but inadvertently ends up losing two doctors to Shepherd. George and Meredith face their first "Intern Drama" while Sloan performs an extremely rare facial transplant and Lexie is being judged by her peers. Following Izzie's confession, Cristina cannot focus and to add to the chaos, she is awarded her first solo surgery.
97
19
"Elevator Love Letter"
Edward Ornelas
Stacy McKee
March 26, 2009
The pressure is on for Derek as his first surgery back is part of Izzie's treatment, while Alex and George individually try to cope with their feelings for Izzie, as her boyfriend and her best friend, and her diagnosis. Izzie knits, as is alone for the day because nobody comes to visit her. Owen's PTSD hurts Cristina again, this time more violently to the concern of Callie and Meredith. Mark, Karev and Lexie try to keep a patient alive although her family are fed up of her being "almost dead" every month. Derek and Meredith get a happy ending as Cristina loses her own happy ending.
98
20
"Sweet Surrender"
Sonay Washington
Tony Phelan
April 23, 2009
On her day off, Bailey cares for a dying child. Izzie gets sicker. Lexie doesn't stop eating from the stress of Derek and Mark not being friends, Meredith tries on dresses, George and Alex bicker, Owen takes an interest in George, Cristina avoids Owen and Callie's dad comes to visit.
99
21
"No Good at Saying Sorry (One More Chance)"
Tom Verica
Krista Vernoff
April 30, 2009
Thatcher comes to Seattle Grace to make amends, at the same time Izzie's mother comes to visit. Owen ignores Cristina all day, tension rises between Richard and Meredith and the hospital gets busy treating a man who was shot by his six year old daughter.
100
22
"What a Difference a Day Makes"
Rob Corn
Shonda Rhimes
May 7, 2009
The 100th episode! Meredith and Derek prepare for their wedding for later that day. Izzie starts to see Denny again, Arizona and Callie have relationship issues and Owen refuses to give up on George as a few graduation students are admitted.
101
23
"Here's to Future Days"
Bill D'Elia
Allan Heinberg
May 14, 2009
Izzie spends some time with a fellow cancer patient while contemplating whether or not to undergo a risky surgery, as Mark is ready to take his relationship with Lexie to the next level and a patient makes Owen reassess his place at Seattle Grace.
102
24
"Now or Never"
Rob Corn
Debora Cahn
May 14, 2009
George delivers stunning news to Bailey, sending shockwaves throughout the hospital, and Izzie's friends anxiously await her recovery from surgery. Meanwhile Bailey is surprisingly displeased after being accepted into the pediatric fellowship program, and the victim of a near-fatal traffic accident brings the talents of Seattle Grace's doctors together.
Reception
[
]
DVD Release
[
]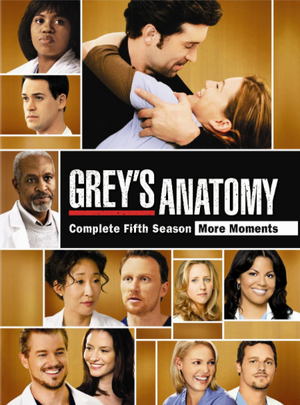 The "Grey's Anatomy: Complete Fifth Season – More Moments" boxset was released in region 1 on September 15, 2009. On August 23, 2010 and November 4, 2009, the DVD was released in regions 2 and 4 respectively.
Set Details
[
]
The boxset contains the 24 episodes of the season, with one extended. The DVD box contains 7 discs. Other set details are:
English (Dolby Digital 5.1 Surround)
Audio Commentaries
Special Features
[
]
Additional to the episodes, the season 5 DVD set also contains a couple of special features:
Extended Episode — "Stairway to Heaven"
Dissecting Grey's Anatomy – Unaired Scenes
In Stitches: Season Five Outtakes
100th Episodes: Tales From The O.R. – A Behind-The-Scenes Look At The Inner Workings Of Your Favorite Show
Heaven Sent – Actor Jeffrey Dean Morgan Talks About The Popularity Of His Character Denny Duquette
Gallery
[
]
Cast Promotional Photos
[
]
Posters
[
]