We're Getting Mutants in the MCU - The Loop
Play Sound

The sixth season of Grey's Anatomy premiered September 24, 2009 and ended May 20, 2010. It was broadcast on Thursday nights at 9 PM on ABC. The season consists of 24 episodes, both starting and ending with two-part episodes.
Summary
[
]
Expect more competition, more doctors, and much more drama as Seattle Grace merges with a competing hospital. Meredith, Derek, Izzie, and the rest of the doctors face a brand new challenge with the arrival of doctors from Mercy West. Battle lines are drawn and rivalries reach new heights in an unforgettable year at Seattle Grace.
Plots
[
]
Cast
[
]
Main Cast
[
]
Special Guest Star
[
]
Recurring Guest Stars
[
]
Prominent Guest Stars
[
]
Recurring Co-Stars
[
]
Notes and Trivia
[
]
Episodes
[
]
No. in series
No. in season
Title
Directed by
Written by
Original air date
103
1
"Good Mourning"
Edward Ornelas
Krista Vernoff
September 24, 2009
The hospital staff is left to deal with the aftermath of George's passing. Hitting the staff hard, they all find unique ways to get through the various stages of grief. George's mom returns, faced with the difficult task of deciding what to do with his organs.
104
2
"Goodbye"
Bill D'Elia
Krista Vernoff
September 24, 2009
Time has passed... Everyone is struggling after losing one of their own and are turning to any distraction they can find. Meredith and Derek seem to be consummating their marriage anywhere and everywhere, while Cristina and Owen have been instructed to abstain from sex by Dr. Wyatt.
105
3
"I Always Feel Like Somebody's Watchin' Me"
Michael Pressman
Tony Phelan & Joan Rater
October 1, 2009
Several weeks after her near-death experience, a recovering Izzie returns to work. Meanwhile, nervous that there will be layoffs in the hospital in the wake of an announcement from the Chief, the Seattle Grace residents compete to survive the cuts, including Cristina, who attempts to work alongside Arizona in pediatrics. And Bailey and Alex's patient's already complex case is further complicated by her schizophrenic son.
106
4
"Tainted Obligation"
Tom Verica
Jenna Bans
October 8, 2009
When Meredith and Lexie's father, Thatcher, returns to the hospital with a failed liver, it's up to Meredith to save his life as Lexie is not a match for him. Meanwhile, Izzie empathizes with a patient riddled with tumors, as Mark, annoyed with Cristina's competitive zeal, tricks her into assisting on an unusual surgery.
107
5
"Invasion"
Tony Phelan
Mark Wilding
October 15, 2009
The residents of Seattle Grace and Mercy West vie for surgeries and their careers as day one of the hospital merger begins. Meanwhile, Arizona stands by an enraged Callie when her father, Mr. Torres, employs a priest to help convince her to date men, and Izzie experiences the brunt of her new surgical competition.

---

Part one of a crossover that continues on Private Practice's Right Here, Right Now.
108
6
"I Saw What I Saw"
Allison Liddi-Brown
William Harper
October 22, 2009
After a burn victim unexpectedly dies in the midst of a chaotic ER, the Chief and board member Jennings interrogate the residents to find the culprit, as all the Mercy West and Seattle Grace residents defend their actions in an effort to save their jobs.
109
7
"Give Peace a Chance"
Chandra Wilson
Peter Nowalk
October 29, 2009
When Isaac, the hospital lab tech, has an inoperable tumor wrapped around his spinal cord, he turns to Dr. Derek Shepherd to do the impossible, and Derek tests the Chief's authority when Richard objects to moving forward with the risky surgery.
110
8
"Invest in Love"
Jessica Yu
Stacy McKee
November 5, 2009
A generous donation is offered to Seattle Grace by the parents of Arizona's 10-year-old patient. However, when his condition worsens, she finds herself in a conflict of interests. Meanwhile, Cristina tests her boundaries with Owen at the hospital, and adding insult to injury, Alex is left with all of Izzie's hospital bills to contend with.
111
9
"New History"
Rob Corn
Allan Heinberg
November 12, 2009
When Owen recruits his fellow Iraqi War vet, Dr. Teddy Altman, as the new cardiothoracic surgeon, Cristina questions Teddy's abilities in the OR and the nature of their past relationship. Meanwhile, Izzie returns to Seattle Grace with her high school mentor seeking treatment for his dementia, and the stress of Richard's responsibilities, post-merger, are taking their toll.
112
10
"Holidaze"
Robert Berlinger
Krista Vernoff
November 19, 2009
As Thanksgiving, Christmas, and New Year's pass, Miranda is visited by her father, William, who disapproves of her choices in life. Meanwhile, Mark and Lexie must cope with the shocking arrival of a woman from his past, and Thatcher Grey questions the Chief's recent behavior as Meredith comes to his defense.
113
11
"Blink"
Randy Zisk
Debora Cahn
January 14, 2010
Mark flies Addison to Seattle to help with a difficult procedure on his pregnant daughter, Sloan, Owen questions Teddy's motives when she assigns Cristina the lead on a complicated surgery, and Derek's suspicions are raised when the Chief recruits Meredith to assist with a high profile operation.

---

Part one of a crossover that continues on Private Practice's Another Second Chance.
114
12
"I Like You So Much Better When You're Naked"
Donna Deitch
Tony Phelan & Joan Rater
January 21, 2010
After learning of Richard's drinking problem, Derek confronts him for the sake of his friend and the hospital, Izzie returns, hoping to reconcile with Alex, and tensions run high between Teddy, Cristina, and Owen in the aftermath of Cristina's startling confession.
115
13
"State of Love and Trust"
Jeannot Szwarc
Stacy McKee
February 4, 2010
As Derek begins his role as interim chief, he faces a potential lawsuit when Bailey and Meredith's patient awakens from anesthesia mid-surgery. Meanwhile, Teddy refuses to place Cristina on her service, as Arizona tests Alex out in Pediatrics, and Mark refuses to speak to a heartbroken Lexie.
116
14
"Valentine's Day Massacre"
Stephen Cragg
William Harper
February 11, 2010
It's Valentine's Day, and the doctors must treat dozens of injured people after the roof collapses at a popular romantic restaurant. Derek tries to manage his busy schedule as Chief of Surgery. Meredith wrestles with her new duties as the Chief's wife and Mark and Callie team up to convince Sloan to do the right thing for her baby.
117
15
"The Time Warp"
Rob Corn
Zoanne Clack
February 18, 2010
In his new role as Chief, Derek restores the hospital lecture series, and Richard, Bailey and Callie present to the group pivotal surgical cases from their pasts - Bailey reflects on her first days as a shy resident, Callie looks back on a polio case, and Richard recalls a case in which he and Ellis worked on a patient diagnosed with GRID, a virus later called AIDS.
118
16
"Perfect Little Accident"
Bill D'Elia
Peter Nowalk
March 4, 2010
When famous surgeon Dr. Harper Avery is rushed to Seattle Grace Mercy West Hospital, the staff is surprised to discover that one of their own is related to this legend, and his unorthodox request for his surgery causes tensions between Derek and Richard. Meanwhile, Callie and Arizona try to help Teddy and Sloan move on from their pasts and find greener pastures.
119
17
"Push"
Chandra Wilson
Debora Cahn
March 11, 2010
A patient who needs an extremely difficult surgery comes to Seattle Grace, and it's Richard and Owen who vie for the opportunity to tackle it. But the decision lies in the hands of Derek, who deems that Owen should take on the surgery, leaving Richard bitter. Meanwhile, Bailey deals with her own personal struggles when she nervously prepares for another date with Ben.
120
18
"Suicide is Painless"
Jeannot Szwarc
Tony Phelan & Joan Rater
March 25, 2010
When Teddy's patient seeks to end treatment and her life, she turns to Hunt for help. The situation triggers Hunt's memories of his life at war and his past relationship with Teddy. Meanwhile, Callie and Arizona have a difference in opinion on what their future holds, and Richard tries to adjust to his role as a surgeon.
121
19
"Sympathy for the Parents"
Debbie Allen
Allan Heinberg
April 1, 2010
When Alex's younger brother, Aaron, shows up at Seattle Grace-Mercy West with a hernia, it's up to Alex to get Bailey's approval for his pro bono surgery. Matters are further complicated when Aaron discloses that his family has not heard from Alex since he arrived in Seattle, and parts of Alex's past long kept secret are revealed to his friends and fellow doctors.
122
20
"Hook, Line and Sinner"
Tony Phelan
Meg Marinis
April 29, 2010
Sloan returns to Mark's apartment, just as she's going into labor, and Teddy, Mark and the still-fighting Callie and Arizona are there to help with the birth and to get Mark through his grandson's pending adoption. Meanwhile Teddy sees Derek's invitation to illustrious cardiothoracic surgeon Tom Evans' as a threat to her future employment at the hospital, and the team work on a crab boat captain who has been stabbed with a giant shark hook.
123
21
"How Insensitive"
Tom Verica
William Harper
May 6, 2010
Bailey preps the team with a mandatory sensitivity training prior to admitting a 700-pound patient with compounded medical issues, and the case proves to be challenging in every sense of the word. Meanwhile, Derek has to come face to face with a former patient's husband in a wrongful death deposition, and spending time with a heart patient's daughter opens up some old wounds for Cristina.
124
22
"Shiny Happy People"
Edward Ornelas
Zoanne Clack & Peter Nowalk
May 13, 2010
An elderly patient admitted into the E.R. for a heart condition sees a familiar face, a long lost love who happens to be in the E.R. as well for a fractured arm, and the staff find themselves caught up in their love story. Meanwhile, Karev treats a troubled teenage patient whose parents brought her in for schizophrenia, and Meredith can't help but tell Cristina about her suspicions of Owen, which inevitably messes with Cristina's head.
125
23
"Sanctuary"
Stephen Cragg
Shonda Rhimes
May 20, 2010
Seattle Grace Hospital is hit with a crisis like no other in its history.
126
24
"Death and All His Friends"
Rob Corn
Shonda Rhimes
May 20, 2010
Cristina and Meredith's surgical skills are put to the ultimate test when Derek and Owen get shot.
Reception
[
]
DVD Release
[
]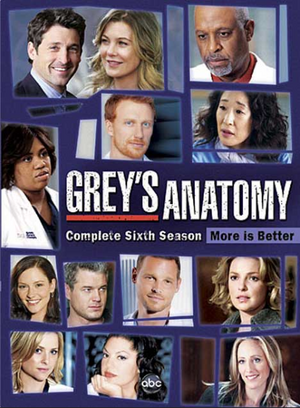 The "Grey's Anatomy: Complete Sixth Season – More is Better" boxset was released in region 1 on September 14, 2010. On December 5, 2011 and November 3, 2010, the DVD was released in regions 2 and 4 respectively.
Set Details
[
]
The boxset contains the 24 episodes of the season, with one extended. The DVD box contains 6 discs. Other set details are:
English (Dolby Digital 5.1 Surround)
Audio Commentaries
Special Features
[
]
Additional to the episodes, the season 6 DVD set also contains a couple of special features:
Gallery
[
]
Cast Promotional Photos
[
]
Posters
[
]