The seventh season of Grey's Anatomy premiered September 23, 2010 and ended May 19, 2011. It was broadcast on Thursday nights at 9 PM on ABC. The season consists of 22 episodes.
Summary
Let the healing begin. It's a year of new beginnings for the medical team of Seattle Grace Hospital as they slowly recover from the tragedy that hit too close to home. New relationships emerge and the strongest commitments are tested. From successes in the operating room to mistakes in the bedroom and all the thrilling drama in between the doctors find a way to survive as long as they lean on one another.
Plots
The staff tries to deal with physical and emotional trauma in the wake of the deadly rampage.
The 4th year residents learn that the post for Chief Resident is open for the running, and they all think of ways and means to get noticed.
Cristina and Owen finally get married.
Cristina fears the OR due to the shooting and tries to overcome it, though it's a long road back.
April Kepner and Jackson Avery move in with Meredith and Derek, making them part of their 'society'.
Meredith and Derek try to get pregnant again, even though chances aren't good.
Alex Karev, single again, has finally settled with the thought of becoming a pediatric surgeon.
Arizona went to Africa to be a doctor there, leaving Callie, but after a few months she misses Callie a lot and returns
Derek starts a clinical trial, trying to find a cure for Alzheimers, fearing that Meredith might have inherited her mothers condition.
Mark hasn't given up on Lexie, and is eagerly trying to get her back.
Teddy makes a hurried decision, and marries a patient, in order to get him medical insurance.
Callie and Arizona try to rebuild their relationship, but Callie can't forget the fact that Arizona left her without looking back
Callie gets pregnant with Mark's baby. Callie, Arizona, and Mark are co-parenting.
Callie suffers an accident
Callie gives birth to a girl and takes time to recover
Callie and Arizona get married
Meredith and Derek consider adoption, while Cristina finds out she's pregnant with Owen's baby. While Owen is delighted at the news, Cristina is not exactly all pleased with the fact that she's pregnant.
When Derek finds out what Meredith did, he leaves and that same day, Meredith gets the baby all by herself.
Cast
Main Cast
Special Guest Stars
Recurring Guest Stars
Prominent Guest Stars
Recurring Co-Stars
Notes and Trivia
Jessica Capshaw was pregnant during filming of early season seven episodes. As such, she was shot mostly from the chest up. In one episode, they used a body double for a full-body shot of Arizona Robbins.
All voice overs this season are narrated by Meredith Grey, with only two exceptions:
Episodes
Reception
DVD Release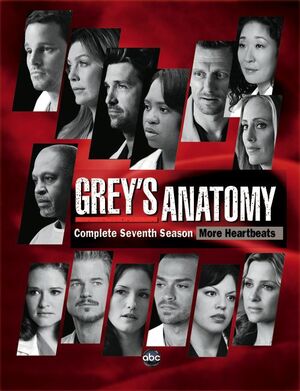 The "Grey's Anatomy: Complete Seventh Season – More Heartbeats" boxset was released in region 1 on September 13, 2011. On May 28, 2012 and November 2, 2011, the DVD was released in regions 2 and 4 respectively.
Set Details
The boxset contains the 22 episodes of the season, with one extended. The DVD box contains 6 discs. Other set details are:
English (Dolby Digital 5.1 Surround)
Audio Commentaries
Special Features
Additional to the episodes, the season 7 DVD set also contains a couple of special features:
Dissecting Grey's Anatomy – Unaired Scenes
In Stitches: Season Seven Outtakes
The Music Event: Behind the Scenes
Seattle Grace: Message of Hope – 6 Webisodes
Gallery
Cast Promotional Photos
Posters