We're Getting Mutants in the MCU - The Loop
Play Sound

The eighth season of Grey's Anatomy premiered September 22, 2011 and ended May 17, 2012. It was broadcast on Thursday nights at 9 PM on ABC. The season consists of 24 episodes, starting with a two-hour premiere.
Summary
[
]
No matter how hot it gets - in the operating room or in the bedroom - the doctors of Seattle Grace know they can always lean on one another. As fifth-year residents, it's do or die for the doctors, and things get bumpy when the chief makes a decision that rocks the entire staff. Outside the hospital, Meredith and Derek struggle to keep their relationship afloat while they try to adopt an orphaned baby girl, and Cristina wrestles with a difficult choice that threatens to ruin her marriage.
Plots
[
]
The fallout from Meredith's tampering of the Alzheimers trial.
April Kepner's struggles with being Chief Resident while the others deal with their fifth and final year as residents.
The Chief steps down so Meredith won't lose her job after tampering with the clinical trial, giving his position to Owen.
Meredith has to switch to general surgery because Derek can't stand to work with her anymore.
Henry's death and Teddy hating Owen for covering it up while she was operating.
Cristina and Owen fight following the abortion and try marriage counseling. Owen eventually cheats on her to take revenge on her.
Lexie and Jackson break up when she's unable to let go of her feelings for Mark.
The fifth-year residents take their oral boards.
April loses her virginity to Jackson the night before the boards.
As Adele's condition worsens, Richard realizes he can't keep her home and sends her to Roseridge. Romance ensues between Richard Webber and Catherine Avery.
The residents who pass their boards all decide to leave Seattle. 
Ben proposes to Bailey. He later gets accepted into the residency program at UCLA, meaning they have to try long distance.
A plane with Mark, Lexie, Derek, Meredith, Arizona, and Cristina crashes in the woods.
Teddy leaves for her dream job.
Cast
[
]
Main Cast
[
]
Special Guest Stars
[
]
Recurring Guest Stars
[
]
Prominent Guest Stars
[
]
Recurring Co-Stars
[
]
Notes and Trivia
[
]
Meredith Grey narrates all voice overs this season, except for What is It About Men's voice over. This voice over is narrated by Derek Shepherd, Richard Webber, Alex Karev, Mark Sloan, and Jackson Avery. Meredith also shares the Flight voice over with Richard Webber.
As of this season, Tony Phelan and Joan Rater take over from Shonda Rhimes as showrunners.
This season is the only one so far in which the main cast does not change compared to the previous season.
Jessica Capshaw became pregnant during the course of this season, most noticeable in the latest episode of the season. She gave birth to a daughter during the summer hiatus on June 20, 2012.
Lexie only makes scarce appearances in the first few episodes because Chyler Leigh asked for (and was allowed) an extended summer hiatus in order to spend more time with her family.
All the main characters appear in all episodes of the season except for Lexie Grey and Teddy Altman, who are absent in one episode each.
This is the final season where Meredith Grey, Cristina Yang, Jackson Avery, Alex Karev, and April Kepner are residents.
Episodes
[
]
No. in series
No. in season
Title
Directed by
Written by
Original air date
149
1
"Free Falling"
Rob Corn
Tony Phelan & Joan Rater
September 22, 2011
The fifth-year residents return for the first day of a year that will make or break their careers: Meredith faces the consequences of tampering with Derek's clinical trial and is terminated at the hospital. April tries to step up to the plate as Chief Resident in the wake of a giant sinkhole in the middle of Seattle and Cristina and Owen are still at odds over their drastically different feelings for their unborn child.
150
2
"She's Gone"
Tony Phelan
Debora Cahn
September 22, 2011
News of Meredith and Derek's unsteady relationship raises a red flag for Zola's adoption counselor. Alex quickly realizes that he has become the outcast of the group after ratting out Meredith and Cristina makes a tough decision regarding her unexpected pregnancy. Also, Chief Webber brings Henry in for a last minute surgery, alarming Teddy.
151
3
"Take the Lead"
Chandra Wilson
William Harper
September 29, 2011
The Chief makes a career-changing decision that shocks Seattle Grace Mercy West Hospital. Cristina and Owen try to find normalcy in their relationship. April continues to struggle in her new role and the 5th year residents are given their first solo surgeries, only to find out that even the most routine procedures aren't always easy.
152
4
"What is It About Men"
Tom Verica
Stacy McKee
October 6, 2011
The doctors of Seattle Grace are called upon to man up when a stampede at a comic book convention causes an influx of colorful characters in the ER-blurring the lines of fantasy and reality. Mark shows his softer side with baby Sofia when Arizona and Callie go out of town, but at work he continues to give Jackson a hard time. Ben returns to the ER, only to find that Nurse Eli has moved in on Bailey and the male doctors bond over their frustrations with women.
153
5
"Love, Loss and Legacy"
Stephen Cragg
Denise Hahn
October 13, 2011
The residents try their hardest to impress surgical great Catherine Avery-who also happens to be Jackson's mother-when she arrives at Seattle Grace to perform a groundbreaking transplant surgery. Arizona and Alex find their hands tied with a confidentiality issue when a familiar patient comes into the ER. Meanwhile, a love-struck Teddy throws a dinner party for the couples, and Bailey makes a decision regarding her love life.
154
6
"Poker Face"
Kevin McKidd
Peter Nowalk
October 20, 2011
After being blackballed by most of the surgeons, Meredith uses Lexie to spark Derek's interest in her patient's rare brain tumor case and, in secret, gives guidance to April with Bailey's clinical trial. Callie's wish for Arizona and Mark to form a friendship comes to fruition and she realizes it's more irritating than helpful. Alex and Teddy research alternative surgeries for a very superficial patient and Callie and Cristina struggle with a very difficult spinal surgery.
155
7
"Put Me In, Coach"
Debbie Allen
Jeannine Renshaw
October 27, 2011
Owen stresses teamwork and moves his leadership role over to the baseball field when he signs the doctors up for a baseball league, pitting them against their biggest competition, Seattle Presbyterian. Lexie tries to hide her jealous rage when she sees Mark with a new woman, but her emotions get the better of her. Alex fights to keep Zola at Seattle Grace after it is suggested that she be moved to another hospital due to a conflict of interest with Meredith and Derek. Richard scolds Meredith and Bailey for their feud.
156
8
"Heart-Shaped Box"
Jessica Yu
Austin Guzman
November 3, 2011
The doctors become nostalgic when George O'Malley's mother, Louise, returns to Seattle Grace for medical help after a botched surgery at a neighboring hospital. The residents are inspired by a medical miracle when they witness a harvested heart that continues to beat outside the body. A new pediatric fellow excites Arizona and makes Alex feel threatened. Jackson lets his suspicions about Mark and Lexie interfere with his work and Henry and Teddy have their first marital fight when he expresses interest in pursuing medical school.
157
9
"Dark Was the Night"
Allison Liddi-Brown
Debora Cahn
November 10, 2011
Teddy puts her husband's life in the hands of her peers when Henry is sent to the OR for surgery and she's called away on another case. Meredith and Derek receive the long-awaited news about Zola. Callie and Jackson come under fire when their patient experiences post-surgery complications and Meredith and Alex are involved in a life-threatening situation when they travel to a neighboring hospital to tend to a sick newborn.
158
10
"Suddenly"
Ron Underwood
Stacy McKee
January 5, 2012
A severe car crash involving an entire family results in an all-hands-on situation in the ER, as the eldest daughter is left to make the toughest decision of her life. Meanwhile, Teddy, still in the dark about Henry's death, calls upon Cristina to help with her patient in the O.R., and Lexie finds herself working alongside Mark's new girlfriend, Julia, during an eye surgery.
159
11
"This Magic Moment"
Steve Robin
Zoanne Clack
January 12, 2012
The doctors split into teams for a risky surgery involving conjoined twins. Bailey recruits Meredith to be a buffer between her and Ben when he puts pressure on moving their relationship to a more serious level. Richard teaches Alex a tough lesson in the OR. Meanwhile Teddy questions Cristina about what exactly happened to Henry during his surgery.
160
12
"Hope for the Hopeless"
Mark Jackson
Peter Nowalk
January 19, 2012
Richard performs his 10,000th surgery on a pair of bickering sisters who come into the hospital for a liver transplant. Derek and Lexie take on a neuroblastoma case that has been previously deemed inoperable. Teddy and Cristina cross the line when they go against Owen's orders and try to steal a case from Alex and Dr. McQueen. Ellis Grey's shadow looms as Meredith searches for a specialty. Meanwhile Adele is brought into the hospital after she is found wandering the streets.
161
13
"If/Then"
Jeannot Szwarc
William Harper
February 2, 2012
As Meredith puts Zola to bed and falls asleep, she begins to wonder -- what if her mother had never had Alzheimer's and she'd had loving, supportive parents? The reverberations of a happy Meredith Grey change the world of Seattle Grace as we know it. What if she had never met Derek in that bar and he had never separated from Addison? What if Callie and Owen had become a couple long before she met Arizona? And what if Bailey never evolved from the meek intern she once was?
162
14
"All You Need is Love"
Rob Corn
Jeannine Renshaw
February 9, 2012
In the spirit of Valentine's Day, Meredith and Derek try to have a night to themselves when Lexie offers to watch Zola. Callie hands babysitting duties over to Mark so that she can surprise Arizona with a romantic evening and Ben proves to Bailey that he knows her better than she thinks. Meanwhile, the ER fills with romantics, including a 10-year-old girl who has an allergic reaction to chocolates from her valentine and a man who is hit by a car while chasing down his frustrated girlfriend.
163
15
"Have You Seen Me Lately?"
Tony Phelan
Austin Guzman
February 16, 2012
In a final attempt to save Erica's life, Amelia arrives at Seattle Grace to beg Derek for help with the gliosarcoma case. Cristina and Owen engage in heated arguments during marriage counseling. Alex realizes that in order to be a good doctor, he'll need to improve his people skills and Meredith is given a chance to shine when a man enters the ER after getting his hand stuck in meat grinder. Meanwhile, the residents continue to study for their upcoming oral boards.

---

Part one of a crossover that continues on Private Practice's You Break My Heart.
164
16
"If Only You Were Lonely"
Susan Vaill
Matt Byrne
February 23, 2012
As Adele's condition continues to deteriorate, Richard considers altering their living situation. An explosion at a local coffee shop results in a busy day in the ER for the doctors. Callie takes Meredith under her wing by helping her study for her boards. Lexie joins Arizona and Alex in peds, as they continue to care for intern Morgan's premature son and when Jackson snaps at a patient, Mark encourages him to find ways to relieve his stress. Meanwhile, Cristina lets her suspicions get the best of her.
165
17
"One Step Too Far"
Edward Ornelas
William Harper
March 15, 2012
Derek encourages a hesitant Meredith to work with him again in neurology. Jackson's mother, Catherine Avery, returns to Seattle Grace with a urology fellow and develops an interest in Richard. Cristina becomes increasingly suspicious of Owen's every move. Meanwhile, Alex tries to deny the fact that Morgan may be falling for him.
166
18
"The Lion Sleeps Tonight"
Mark Jackson
Stacy McKee
April 5, 2012
A lion breaks loose in Seattle, leaving a couple's lives and relationship at risk. Lexie overhears Mark's discussion about moving in with Julia. Teddy begins to take steps towards coming to terms with Henry's death. Callie grills Arizona on her past lovers and Alex requests to be taken off Morgan's preemie case when she becomes too dependent on him. Meanwhile, Meredith tries to be a support for Cristina as the tension between her and Owen hits a boiling point.
167
19
"Support System"
Allison Liddi-Brown
Heather Mitchell
April 12, 2012
A devastated Cristina presses Owen to confess the intimate details of his affair. Mark takes his new authority very seriously when he steps in as chief for the day and butts heads with Richard over a patient's liver transplant and Callie deems Meredith ready for the boards, while the rest of the residents continue to stress about the exam. Meanwhile, Callie, Arizona, and Bailey plan a much needed ladies night for Teddy.
168
20
"The Girl with No Name"
Ron Underwood
Peter Nowalk
April 19, 2012
The hospital becomes the center of attention as a victim of a famous kidnapping case is brought into the hospital. The fifth years take their placement interviews. Adele Webber's memory continues to deteriorate.
169
21
"Moment of Truth"
Chandra Wilson
Zakiyyah Alexander
April 26, 2012
After five years of practice, the residents head to San Francisco for their oral boards. Sparks fly between Catherine and Richard when they bump into each other at the hotel. Bailey intervenes after Owen and Teddy get into a heated argument about their young car crash patient and Mark tries to recruit Lexie for one of his cases. Meanwhile, Alex feels guilty for being away from the hospital when Tommy's health begins to fail.
170
22
"Let the Bad Times Roll"
Kevin McKidd
Matt Byrne
May 3, 2012
The residents agonize over their oral boards, reliving every answer they gave during their exams. Arizona's close childhood friend comes to Seattle Grace for medical help. The doctors work on a patient who is missing one third of his skull, and Julia asks Mark to start a family with her. Meanwhile, Catherine tells Richard that one of his residents has failed.
171
23
"Migration"
Stephen Cragg
Mark Wilding & Jenna Bans
May 10, 2012
The residents determine their future as they make their final decisions regarding post residency positions. Mark admits to Derek that he is torn between his love for Lexie and the fact that Julia can give him everything he's ever wanted. Ben plans something extra special for Bailey, but she is preoccupied with her work and Arizona encourages her childhood friend, Nick, to have surgery. Meanwhile a couple on their third honeymoon come to the hospital complaining of mysterious symptoms.
172
24
"Flight"
Rob Corn
Shonda Rhimes
May 17, 2012
Faced with a life threatening situation, the doctors must fight to stay alive while trying to save the lives of their peers. Bailey and Ben make a decision regarding their relationship, and Teddy is presented with a tempting offer. Meanwhile, Richard plans a special dinner for the residents.
Reception
[
]
DVD Release
[
]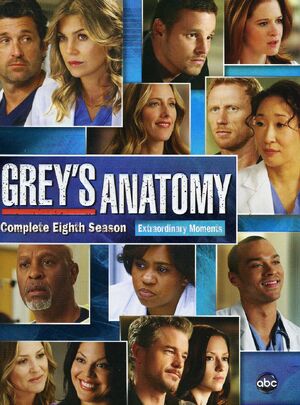 The "Grey's Anatomy: Complete Eighth Season – Extraordinary Moments" boxset was released in region 1 on September 4, 2012. On December 3, 2012 and October 17, 2012, the DVD was released in regions 2 and 4 respectively.
Set Details
[
]
The boxset contains the 24 episodes of the season, with one extended. The DVD box contains 6 discs. Other set details are:
English (Dolby Digital 5.1 Surround)
Audio Commentaries
Special Features
[
]
Additional to the episodes, the season 8 DVD set also contains a couple of special features:
A Journey Home With Kevin McKidd (13:48 min)
Extended Episode – "If/Then" (47:58 min)
Deleted Scenes:
In Stitches: Season Eight Outtakes (02:21 min)
Gallery
[
]
Cast Promotional Photos
[
]
Posters
[
]