The eighth season of Grey's Anatomy premiered September 22, 2011 and ended May 17, 2012. It was broadcast on Thursday nights at 9 PM on ABC. The season consists of 24 episodes, starting with a two-hour premiere.
No matter how hot it gets - in the operating room or in the bedroom - the doctors of Seattle Grace know they can always lean on one another. As fifth year residents, it's do or die for the doctors, and things get bumpy when the chief makes a decision that rocks the entire staff. Outside the hospital, Meredith and Derek struggle to keep their relationship afloat while they try to adopt an orphaned baby girl, and Cristina wrestles with a difficult choice that threatens to ruin her marriage.
The fallout from Meredith's tampering of the Alzheimers trial.
April Kepner's struggles with being Chief Resident while the others deal with their fifth and final year as residents.
The Chief steps down so Meredith won't lose her job after tampering with the clinical trial, giving his position to Owen.
Meredith has to switch to general surgery because Derek can't stand to work with her anymore.
Henry's death and Teddy hating Owen for covering it up while she was operating.
Cristina and Owen fight following the abortion and try marriage counseling. Owen eventually cheats on her to take revenge on her.
Lexie and Jackson break up when she's unable to let go of her feelings for Mark.
The fifth year residents take their oral boards.
April loses her virginity to Jackson the night before the boards.
As Adele's condition worsens, Richard realizes he can't keep her home and sends her to Roseridge. Romance ensues between Richard and Catherine Avery.
The residents who pass their boards all decide to leave Seattle. 
Ben proposes to Bailey. He later gets accepted into the residency program at UCLA, meaning they have to try long distance.
A plane with Mark, Lexie, Derek, Meredith, Arizona, and Cristina crashes in the woods.
Teddy leaves for her dream job.
Main Cast
Edit
Special Guest Stars
Edit
Recurring Guest Stars
Edit
Prominent Guest Stars
Edit
Recurring Co-Stars
Edit
Notes and Trivia
Edit
Meredith Grey narrates all voice overs this season, except for What is It About Men's voice over. This voice over is narrated by Derek Shepherd, Richard Webber, Alex Karev, Mark Sloan, and Jackson Avery. Meredith also shares the Flight voice over with Richard Webber.
As of this season, Tony Phelan and Joan Rater take over from Shonda Rhimes as showrunners.
This season is the only one so far in which the main cast does not change compared to the previous season.
Jessica Capshaw became pregnant during the course of this season, most noticeable in the latest episode of the season. She gave birth to a daughter during the summer hiatus on June 20, 2012.
Lexie only makes scarce appearances in the first few episodes because Chyler Leigh asked for (and was allowed) an extended summer hiatus in order to spend more time with her family.
All the main characters appear in all episodes of the season except for Lexie Grey and Teddy Altman, who are absent in one episode each.
This is the final season where Meredith Grey, Cristina Yang, Jackson Avery, Alex Karev, and April Kepner are residents.
Reception
Edit
DVD Release
Edit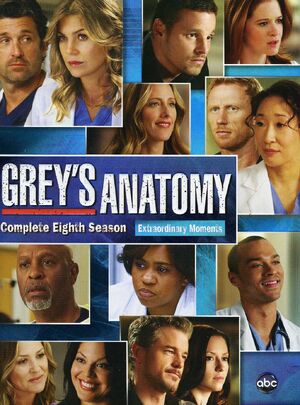 The "Grey's Anatomy: Complete Eighth Season – Extraordinary Moments" boxset was released in region 1 on September 4, 2012. On December 3, 2012 and October 17, 2012, the DVD was released in regions 2 and 4 respectively.
Set Details
Edit
The boxset contains the 24 episodes of the season, with one extended. The DVD box contains 6 discs. Other set details are:
English (Dolby Digital 5.1 Surround)
Audio Commentaries
Special Features
Edit
Additional to the episodes, the season 8 DVD set also contains a couple of special features:
A Journey Home With Kevin McKidd (13:48 min)
Extended Episode – "If/Then" (47:58 min)
Deleted Scenes:
In Stitches: Season Eight Outtakes (02:21 min)
Cast Promotional Photos
Edit