The eighth season of Grey's Anatomy premiered September 22, 2011 and ended May 17, 2012. It was broadcast on Thursday nights at 9 PM on ABC. The season consists of 24 episodes, starting with a two-hour premiere.
Summary
No matter how hot it gets - in the operating room or in the bedroom - the doctors of Seattle Grace know they can always lean on one another. As fifth year residents, it's do or die for the doctors, and things get bumpy when the chief makes a decision that rocks the entire staff. Outside the hospital, Meredith and Derek struggle to keep their relationship afloat while they try to adopt an orphaned baby girl, and Cristina wrestles with a difficult choice that threatens to ruin her marriage.
Plots
The fallout from Meredith's tampering of the Alzheimers trial.
April Kepner's struggles with being Chief Resident while the others deal with their fifth and final year as residents.
Ben's return to Seattle Grace.
Meredith is now working in General surgery since she can't talk about Neuro with Derek.
Lexie dies because of the injuries sustained in the plane crash.
Mark admits to Lexie that he loves her and that he wants a future with her and that they are meant to be moments before she dies.
Teddy deals with Henry's death.
Cast
Main Cast
Special Guest Stars
Recurring Guest Stars
Prominent Guest Stars
Recurring Co-Stars
Notes and Trivia
Episodes
Reception
DVD Release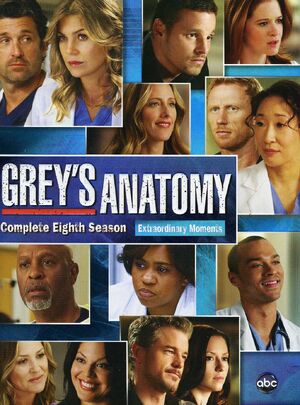 The "Grey's Anatomy: Complete Eighth Season – Extraordinary Moments" boxset was released in region 1 on September 4, 2012. On December 3, 2012 and October 17, 2012, the DVD was released in regions 2 and 4 respectively.
Set Details
The boxset contains the 24 episodes of the season, with one extended. The DVD box contains 6 discs. Other set details are:
English (Dolby Digital 5.1 Surround)
Audio Commentaries
Special Features
Additional to the episodes, the season 8 DVD set also contains a couple of special features:
A Journey Home With Kevin McKidd (13:48 min)
Extended Episode – "If/Then" (47:58 min)
Deleted Scenes:
In Stitches: Season Eight Outtakes (02:21 min)
Gallery
Cast Promotional Photos
Posters
Community content is available under
CC-BY-SA
unless otherwise noted.