Wiki Targeted (Entertainment)
Play Sound

The ninth season of Grey's Anatomy premiered September 27, 2012 and ended May 16, 2013. It was broadcast on Thursday nights at 9 PM on ABC. The season consists of 24 episodes.  
Summary
[
]
It's a year of bold new beginnings as your favorite doctors return to Seattle Grace for the biggest challenge of their lives. The plane crash that took the lives of Lexie Grey and Mark Sloan sent shockwaves throughout the hospital. But from the ashes, romance will rise, with each surgeon handling the loss in their own personal way. Meredith finds her groove in the operating room while Derek's hand injury forces him to focus on something other than surgery. And as Mark prepares to say goodbye, Alex falls for someone new, Cristina tries to rekindle the flame with Owen, and Bailey and Ben discover the perils of a long-distance relationship.
Plots
[
]
Mark Sloan dies after he's taken off of life support.
Meredith mourns Lexie and is supportive to Derek, who may never operate again.
Cristina flees from Seattle and takes a job in Minnesota.
Callie is supportive to Arizona who had to have her leg amputated, but Arizona is not happy that Callie made the call to amputate her leg.
Callie tries to come up with a plan to guarantee a full recovery for Derek's hand.
Cristina comes back to Seattle when her mentor in Minnesota dies.
April and Jackson are trying to figuring out their relationship, but eventually break up.
Bailey and Ben's wedding gets postponed when Bailey has to save Adele Webber, though Adele later dies.
Jackson starts a relationship with Stephanie Edwards, a surgical intern.
Alex and intern Jo Wilson befriend each other over their pasts.
The plane crash survivors and Callie (as Mark's proxy) are awarded 15 million dollars each. As the insurance company refuses to pay because of a loophole in the contract, the hospital has to pay.
As there isn't enough money to pay, the hospital goes bankrupt. Therefore, a physician advisor is hired to find way to save the hospital money. The ER closes as a saving measure.
Seeing the hospital can't be saved by saving money, it is decided that the only way it can be saved is by having it bought. Pegasus, a company interested in buying the hospital, turns out to completely ruin it. Callie convinces the other doctors from the plane crash to try to buy the hospital themselves.
Much to Alex's chagrin, Jo starts dating Jason Myers, on OB/GYN resident. April starts dating paramedic Matthew Taylor.
Meredith, Derek, Cristina, Arizona, and Callie stand together in order to ruin the hospital's deal with Pegasus.
When the plane crash survivors realize they don't have enough money to buy the hospital, they call in Richard and race against the clock to convince a billionaire to fund them before Pegasus, who's back in, closes in. Cristina tells Owen about their plan and he convinces the board not to make a deal with Pegasus. However, the billionaire decides not to go with their plan, and the interns and other doctors at SGMW plan for what they believe will be their imminent departure.
Catherine Avery surprises the doctors when she reveals the Harper Avery Foundation will fund the plane crash doctors to buy the hospital, but only if Jackson can sit on the board of directors as their representative.
Jackson, doing everything the Harper Avery Foundation wants him to, and Meredith, Derek, Cristina, Callie, and Arizona adjust to their new roles as members of the board of directors, while Owen quits when rumor spreads the Harper Avery Foundation would like to replace him.
Jackson decides the Foundation has to listen to the board and not vice versa. He reinstitutes Owen as Chief of Surgery and the board decides to rename the hospital to "Grey Sloan Memorial Hospital".
The brand new ER with modern equipment opens its doors.
Meredith and Derek find out they are pregnant, and it is later revealed that it's a boy.
Owen bonds with Ethan, a boy whose parents were injured in a car crash. His father is in a coma, and his mother dies because of a brain bleed shortly after Derek fixes the brain damage from the car crash.
Three of Bailey's patients come to the hospital with a post-op infection that ultimately kills all of them. The CDC is called in to investigate. Bailey gets angry when she overhears Richard saying to one of the patient's parents that she was responsible for the infection (he was actually trying to ease them).
Ethan's grandmother comes to Seattle for her grandson, only for her to confess that she can't take Ethan, worrying Owen.
Bailey refuses to operate anymore and shuts everyone out, except for her husband.
Lauren Boswell, a craniofacial specialist, arrives at the hospital to help out with a case and starts flirting with Arizona.
Jason hits Jo during a fight.
A super storm comes to Seattle, forcing the doctors to be creative in the dark when there's a power outage and the back-up generators don't work.
As Owen confesses to himself he'd like to take Ethan, Cristina manages to wake Ethan's father up from his coma.
Matthew proposes to April and she says yes.
Meredith takes a fall on the stairs.
Arizona gives in to Lauren's flirting and cheats on Callie. Callie later finds out about this and, after a big fight, it turns out Arizona still hasn't forgiven her for making the call to cut off her leg.
Cristina and Owen divorce because she knows she won't be enough for him as Owen really wants a child.
Alex confesses his love to Jo and they kiss.
April confesses to Jackson that she loves him and that she won't get married if he tells her not to.
Baby Derek Bailey Shepherd is delivered through a C-section in the dark and Bailey is forced to operate again when Meredith's spleen has to be taken out.
In the basement of the hospital, Richard gets electrocuted, ending the season with his life being in jeopardy.
Cast
[
]
Main Cast
[
]
Recurring Guest Stars
[
]
Prominent Guest Stars
[
]
Recurring Co-Stars
[
]
Notes and Trivia
[
]
Grey's Anatomy was officially renewed for a ninth season on May 11, 2012.
This is first season of either Private Practice or Grey's Anatomy in which Shonda Rhimes wasn't the credited writer for a single episode. She revealed in a blog post that this was because all of the writers have worked together since the first seasons, so they all write the episodes like Shonda would do it herself.
It's the first season of Grey's Anatomy in which Kate Walsh doesn't appear as Addison Montgomery.
This is the first season since her introduction in season three not to feature Chyler Leigh as Lexie Grey.
This is the first season since the premiere of Private Practice in which no characters from one have crossed over to the other, as Private Practice ended its final season with only 13 episodes.
It's the first and only season since her introduction not to feature Amelia Shepherd.
This is the first and only season of the show not to feature any surgeon still in his or her residency as part of the main cast.
All of the main characters appeared in every episode of the season, except for Mark Sloan, who died after two episodes, and Arizona Robbins, who did not appear in one episode.
The filming for this season was wrapped up at May 1, 2013.
Meredith Grey narrates all voice overs this season, except for two:
On the DVD cover, Meredith stills wears light blue scrubs. They normally should be navy blue, as she is an attending as of this season.
Jessica Capshaw's appearances are rather scarce in the first few episodes of the season due to her maternity leave.
Episodes
[
]
No. in series
No. in season
Title
Directed by
Written by
Original air date
173
1
"Going, Going, Gone"
Rob Corn
Stacy McKee
September 27, 2012
Months after the plane crash, the doctors at Seattle continue to try and find a new sense of normalcy. With a new set of interns to put through the wringer, the new fellows and attendings get used to their roles while Cristina adjusts to her new life in Minnesota. But Mark's life hangs in the balance and it's clear that Seattle Grace Mercy West Hospital is not the same.
174
2
"Remember the Time"
Tony Phelan
William Harper
October 4, 2012
In this flashback episode, return to the site of the plane crash and watch as each doctor tries to cope with the heartache and injuries caused by the crash. Meanwhile, back at Seattle Grace, everyone struggles to find a bit of normalcy amidst the chaos.
175
3
"Love the One You're With"
Debbie Allen
Zoanne Clack
October 18, 2012
The survivors from the crash are asked to make an almost impossible decision that will affect the rest of their lives. Meanwhile, tension grows between Jackson and April after they're forced to work together, and Alex tries to restrain himself with one of the interns.
176
4
"I Saw Her Standing There"
Kevin McKidd
Austin Guzman
October 25, 2012
Aware that Derek might never operate again, Meredith stops talking about the surgeries she's performing. Meanwhile, Richard calls on Dr. Catherine Avery to help him perform a complicated procedure, as things continue to heat up between Jackson and April; and Arizona's struggle to accept her fate forces Callie and Alex to face their guilt.
177
5
"Beautiful Doom"
Stephen Cragg
Jeannine Renshaw
November 8, 2012
In this Meredith & Cristina-centric episode, the two friends continue to cope with life after the plane crash and their ever-growing responsibilities at their respective hospitals. As Meredith juggles taking care of Zola with a case that hits close to home, Cristina assists Dr. Thomas on a challenging heart surgery.
178
6
"Second Opinion"
Chandra Wilson
William Harper
November 15, 2012
As the doctors continue with their lawsuit, they're forced to confront the realities of their injuries. Meanwhile, Bailey tricks Arizona into helping her with a pediatric case, and Cristina tries to find normalcy in her new environment.
179
7
"I Was Made for Lovin' You"
Laura Innes
Peter Nowalk
November 29, 2012
Cristina and Owen continue to figure out their relationship amidst the pending lawsuit; and Bailey argues with Ben over plans for their upcoming nuptials. Meanwhile, Callie recruits Jackson to help find a solution to Derek's hand, but he is preoccupied by a shocking situation with April.
180
8
"Love Turns You Upside Down"
Mark Jackson
Stacy McKee
December 6, 2012
The new batch of interns find themselves involved in all the drama at Seattle Grace: Meredith asks Heather to go above and beyond to help fix Derek's hand; Cristina starts a healthy competition between Stephanie and Leah, which inadvertently leads to a medical emergency for Cristina's patient; Alex sees Jo in a new light as they work to save a baby's life, and April teaches Shane a valuable lesson during "lumps and bumps" duty.
181
9
"Run, Baby, Run"
Rob Corn
Debora Cahn
December 13, 2012
As the rest of the doctors prepare for Bailey's wedding, Richard helps her through a bout of pre-wedding jitters. Meanwhile, Lizzie butts heads with Meredith, and Callie and Jackson try to convince Derek to participate in a risky surgery that could fix his hand.
182
10
"Things We Said Today"
Ron Underwood
Austin Guzman
January 10, 2013
Bailey puts her wedding day on hold and continues her efforts to save Adele's life, Cristina and Owen remain undecided about their pending divorce, while Arizona and Callie try to get their spark back. Meanwhile, the hospital becomes inundated with a group of bikers after a horrible accident.
183
11
"The End is the Beginning is the End"
Cherie Nowlan
Joan Rater
January 17, 2013
Meredith, Derek, Cristina, and Arizona receive big news regarding the plane crash lawsuit, Richard avoids Catherine's romantic advances and Jackson takes on one of Mark Sloan's old patients. Meanwhile, Derek begins recovery on his hand.
184
12
"Walking on a Dream"
Rob Hardy
Tia Napolitano
January 24, 2013
The Seattle Grace doctors are on edge when a new medical professional enters the hospital. Arizona struggles with the emotional and physical pain of a phantom limb and while battling pregnancy hormones, an overly-emotional Meredith is confronted with her worst fear.
185
13
"Bad Blood"
Steve Robin
Jeannine Renshaw
January 31, 2013
As Derek and April work around the clock to find a solution for the hospital, Cristina struggles to respect the wishes of a family whose son is dying. Meanwhile, Arizona empathizes with a teenager who faces problems similar to her own.
186
14
"The Face of Change"
Rob J. Greenlea
Stacy McKee
February 7, 2013
Competition heats up as several of the doctors fight to become the new face of Seattle Grace. April brings in an emergency case, and Jackson and Alex work with a transgender teen couple. Meanwhile, the hospital implements new policies which test the patience of the staff.
187
15
"Hard Bargain"
Tony Phelan
William Harper
February 14, 2013
As the hospital spirals closer to financial ruin, Owen must make some tough decisions, which includes foregoing an expensive surgery that could save the life of a child. Meanwhile, Alex and Jo work together to save the life of an infant, and April asks Jackson for dating advice.
188
16
"This is Why We Fight"
Jeannot Szwarc
Austin Guzman
February 21, 2013
As word of Seattle Grace's financial trouble spreads, Catherine encourages Jackson to move to Boston, and the interns fear they might lose their jobs. Meanwhile the doctors meet with a potential investor in a last-ditch effort to save the hospital, and Alex impresses Jo while caring for a patient.
189
17
"Transplant Wasteland"
Chandra Wilson
Zoanne Clack
March 14, 2013
Discord and chaos created by new management causes one doctor to question his future at Seattle Grace. The doctors and interns juggle multiple transplant surgeries simultaneously.
190
18
"Idle Hands"
David Greenspan
Gabriel Llanas
March 21, 2013
As the hospital continues to make positive changes under the new management, the doctors begin to realize that owning a hospital comes with its own set of problems and responsibilities. Meanwhile, Meredith worries about the wellbeing of her unborn baby, Callie and Arizona try to get the spark back in their relationship, and Alex gives Jo's new boyfriend a run for his money.
191
19
"Can't Fight This Feeling"
Mark Jackson
Meg Marinis
March 28, 2013
A gas tanker explodes on a Seattle highway, causing multiple injuries — including paramedic Matthew; Meredith and Jo help a frantic mother whose child is suffering from a mysterious illness; and Owen bonds with a young boy whose parents are in critical condition. Meanwhile, true colors are revealed when Alex is forced to work with Jo's boyfriend on an ailing patient.
192
20
"She's Killing Me"
Nicole Rubio
Debora Cahn
April 4, 2013
Upon receiving some unsettling news, Meredith and Derek take preventative steps for their children's future; a group of Syrian doctors arrive at Grey Sloan Memorial Hospital for a crash course in basic surgical skills that they plan to apply in the field; and April decides to come clean to Matthew regarding the truth about her virginity. Meanwhile, multiple post-op patients develop infections, causing one doctor to wonder if she is at fault.
193
21
"Sleeping Monster"
Bobby Roth
Bronwyn Garrity
April 25, 2013
Bailey finds herself at the center of a CDC investigation surrounding the death of several of her patients, as Jackson and the rest of the board members argue over how to address the crisis with the public. Meanwhile, Cristina teases Alex about his unspoken feelings for Jo, and Owen continues to take special care of Ethan as the condition of his parents remains uncertain.
194
22
"Do You Believe in Magic"
Kevin McKidd
Dan Bucatinsky
May 2, 2013
The doctors reach out to Bailey but she continues to shut everyone out. After an incident with Ethan's grandmother, Owen fears the child could end up in foster care and a new craniofacial specialist arrives at Grey Sloan Memorial Hospital to work on a young patient. Meanwhile, a magician's assistant is rushed into the ER after a magic trick goes terribly wrong.
195
23
"Readiness is All"
Tony Phelan
Bill Harper
May 9, 2013
The doctors of Grey Sloan Memorial Hospital prepare for a super storm heading towards Seattle. Owen's desire to be a parent gets stronger as he becomes closer to Ethan. One wrong move puts the lives of Meredith and her baby in jeopardy. Meanwhile, Jo looks to Alex for help in a moment of crisis, and one doctor gets the shock of her life.
196
24
"Perfect Storm"
Rob Corn
Stacy McKee
May 16, 2013
Grey Sloan Memorial Hospital enters crisis mode as the storm rages, resources become scarce, and patients flood in by the busload. Meanwhile, one of the doctors fights for their life.
Reception
[
]
DVD Release
[
]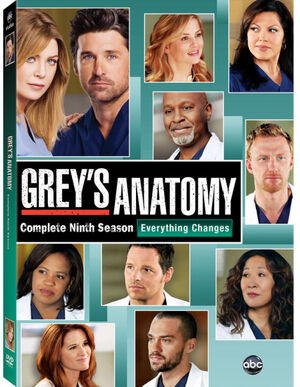 The "Grey's Anatomy: The Complete Ninth Season - Everything Changes" boxset was released on August 27, 2013 in region 1. On November 4, 2013 and October 2, 2013, the DVD will be released in regions 2 and 4 respectively.
Set Details
[
]
The boxset contains the 24 episodes of the seasons, with one extended. The DVD box contains 6 discs. Other set details are:
English (Dolby Digital 5.1 Surround)
Audio Commentaries
Special Features
[
]
Like the DVD sets of the previous seasons, this season's DVD set also contains a couple of special features:
Finale Extended Episode – The drama continues to unfold with unseen footage that completes the dramatic ninth season
Happy Trails with James Pickens, Jr. (13:05 min)
The Long Road Home: "Arizona Robbins" – From zipping down the halls in her roller shoes to learning how to walk again, viewers will receive a closer look at the hospital's bubbly pediatric surgeon Arizona Robbins (Jessica Capshaw) as she begins to cope with her new life. (15:20 min)
Deleted Scenes:
In Stitches: Season 9 Outtakes
Gallery
[
]
Cast Promotional Photos
[
]
Posters
[
]