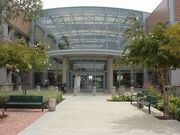 Seattle Grace Mercy West Hospital was a teaching hospital in Seattle, Washington. It was later renamed to Grey Sloan Memorial Hospital.
History
Seattle Grace Hospital and Mercy West Medical Center were originally two separate medical facilities, but in 2009, due to the economic climate, they merged to form one medical facility. Due to the merger and large amount of staff between the sites, many employees were fired due to "budgetary constraints" both before and after the merger (notably Dr. Isobel Stevens and Dr. April Kepner).
Seattle Grace Hospital was used as the location for the new Seattle Grace Mercy West Hospital.
Shooting
A grieving widower named Gary Clark once entered the hospital with a gun to avenge his wife's death. He wanted to kill the doctors that were on the case. After murdering 11 people, injuring 7 others, and threatening to shoot numerous others, he used his last bullet to commit suicide instead of murdering Richard Webber, the lead doctor on his wife's case.
Drs. Reed Adamson and Charles Percy, Nurse Vivian, 2 security guards, and 2 unknown doctors are amongst the deceased people, whereas Drs. Alex Karev, Derek Shepherd, and Owen Hunt were among the injured.
Purchasing the Hospital
After the hospital filed bankruptcy, it is eventually bought by the Harper Avery Foundation and as of Idle Hands, the hospital is officially renamed "Grey Sloan Memorial Hospital" as voted upon by the new board of directors.
Notable Staff
Board of Directors
Attendings
Fellows
Residents
Interns
Nursing Staff
Support Staff
Notable Former Staff
Terminated
Resigned
Deceased
Expired Contract
Hospital Privileges
There are medical doctors who have privileges at Seattle Grace Mercy West Hospital, despite not being on staff, which allows them access everything that medical/surgical staff at Seattle Grace Mercy West would be normally entitled to, such as use of ORs, access to patient files, administration of medications and use the pharmacy and clinical labs, access to treatment equipment, including treatment in the ER and trauma bays, and nursing assistance.
Privileges are usually extended to attending-level physicians and surgeons.
Current
Former
Notes and Trivia
After the merger with Seattle Grace Hospital, Seattle Grace Mercy West Hospital continued its long tradition for all new incoming interns called the Intern Appy.
Attending psychiatrists and attending radiologists are the only doctors shown to have their lab coats embroidered with their department on the second line.
The hospital is sometimes nicknamed Seattle Grace Mercy Death Hospital by its staff due to the large amount of accidents happening there or to its staff.
Even though the hospital is named Seattle Grace Mercy West Hospital, the hospital is often referred to as Seattle Grace.
The address of the hospital is 15000 Centennial Drive Seattle, Washington 98109.
The phone number for the hospital is (206) 555-6000.
According to Stephanie Edwards, Seattle Grace Mercy West's surgical program was the residency match to get when her class applied at the end of medical school.
See Also
Community content is available under
CC-BY-SA
unless otherwise noted.