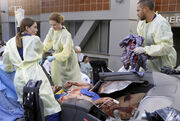 Trauma surgery (also known as Surgical critical care) is a surgical specialty involved in the invasive treatment of physical injuries, typically in an emergency setting. It addresses most injuries to the neck, chest, abdomen, and extremities.
Practitioners of trauma surgery are called trauma surgeons. The trauma surgeon is responsible for the initial resuscitation and stabilization of the patient, as well as ongoing evaluation and management. Trauma surgeons must be familiar with a large variety of general surgical, thoracic, and vascular procedures and must be able to make complex decisions, often with little time and incomplete information. Proficiency in all aspects of intensive care medicine/critical care is required.
Notable Trauma Surgeons
Edit
Notes and Trivia
Edit
Trauma surgery is typically practiced in hospital emergency rooms or trauma centers.
Trauma surgeons are sometimes disparagingly referred to as "meat-ballers".
Owen Hunt described trauma surgery as a team sport.
Before his death, George O'Malley displayed a talent in trauma surgery, and, according to Owen, he could have been one of the finest trauma surgeons.