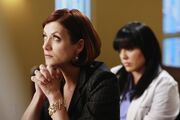 A White Anglo Saxon Protestant or WASP, is a derogatory term for a group of high status Americans with British Protestant ancestry.
Cristina Yang said that Meredith Grey is a WASP.
When her brother was in the hospital, Addison said she didn't know how to pray because she's a WASP and they only go to church on Christmas.