William George Bailey "Tuck" Jones
is the son of
Tucker Jones
and
Miranda Bailey
.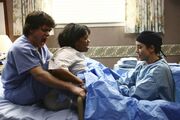 William George Bailey Jones was delivered by Dr. Addison Shepherd during a bomb scare at Seattle Grace while Dr. Derek Shepherd was operating on Tucker, who crashed his car on the way to the hospital for the birth. George O'Malley helped coach Bailey through her labor, and she thanked him by naming her son William George Bailey Jones (although he is nicknamed "Tuck" for his father). ("As We Know It")
When Tuck was still very young, his mother brought him into the hospital with her. She took him into an OR gallery, where they observed part of Jake Burton's surgery. She took him out of the gallery when Jake coded. ("Yesterday")
Once her maternity leave ended, she had to bring Tuck into the hospital with her because the nursery was full and Tucker was out of town. When she got paged into surgery, she had Cristina babysit him. ("Band-Aid Covers the Bullet Hole")
Tucker took a year off work so that he could take care of Tuck at home. Miranda always felt bad about not having enough time to spend with him so she started to call them from the hospital, once making a late-night call to sing "God Bless the Child" to him. ("Staring at the Sun")
Once, he flooded his house after sticking a toy down the toilet.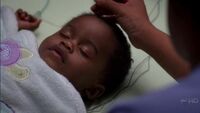 One day, Tuck went to his mother's office in search of her and a bookshelf fell on him. Tuck was rushed to the ER so they could assess his injuries. They ran a full trauma panel and took him for a CT. The CT revealed that his stomach was in his chest and his colon was ruptured. They took him into surgery. When Bailey came into the OR while they were operating, Erica stopped and refused to continue until Bailey left. In order to get her to leave, Cristina agreed to hold Tuck's hand. The surgery was successful, but there was still fluid in his chest, so they didn't know how soon he'd be able to breathe on his own. Desperate to help her son, Bailey invited a faith healer, Elizabeth Archer, to do a healing ritual on Tuck. Afterward, he started breathing on his own and was able to be extubated. ("Lay Your Hands on Me")
Conflict at Day Care
Edit
When he was fourteen months old, he punched someone in his day care named Harrison over a graham cracker. Bailey had to bribe the director to keep Tuck there with medical perks for some of the staff and supplying fruit slices. Tucker told her it had happened numerous times before. ("Losing My Mind")
Visiting His Grandparents
Edit
After the hospital shooting, Tuck went with his mother to see his grandparents for a month. ("With You I'm Born Again")
Disappearance From Day Care
Edit
While his mom was treating Holly Wheeler, a kidnapping victim, she came to collect Tuck from the hospital daycare to find he was not there. She had been deeply disturbed by the circumstances under which Holly had been abducted from the street by her kidnapper and she jumped to the conclusion that the same had happened to Tuck. It turned out that he had been taken to see a nurse as he had a nose bleed and was reunited with Miranda just after she insisted that another teacher call a 'Code Pink'. ("The Girl with No Name")
Mother's Wedding
Edit
Tuck attended his mother's wedding to Ben Warren. ("Things We Said Today")
Halloween
Edit
Tuck told Ben he wanted to be a mad scientist for Halloween, so Ben spent a lot of time helping him create the perfect costume and the two of them decorated the house to look like his lab. ("Thriller")
Amusement Park Visit
Edit
His mother and Ben took him to an amusement park. He was an inch too short to ride one of the rides, so he tried to scam the ticket taker. He wanted to stuff his shoes with his socks to make himself look taller. He threw a fit when his mom wouldn't let him. ("You're Gonna Need Someone on Your Side")
School Fight
Edit
Tuck was sent home from school after punching a kid in his class. Bailey let him sit in her office, not wanting to bring the hammer down on him after spending all day doing so with her employees. Ben convinced her to tap him in and he used a "scare straight" attempt, showing Tuck Andrew's scans and lying to say that Andrew was blind in one eye and Alex was in jail for punching him. It was effective and Tuck handed his phone over to his mother for two weeks and promised to apologize to the kid and never do it again. ("I Ain't No Miracle Worker")
Maggie's Science Camp
Edit
During a teacher work day, Tuck and his friend, Rocco, didn't have school, so they came to the hospital. Ben was supposed to sign Tuck up for Science Camp, but he forgot, so Maggie offered to do a science camp with the kids instead. They enjoyed the science she showed them and asked how she did it. ("Personal Jesus")
After treating Eric Sterling, Ben and Bailey knew it was time to give Tuck The Talk. They taught him how, as a black person, to deal with interactions with the police, telling him to be polite and respectful, even when others aren't. They told him his only job was to make it home safe at the end of the day, so he could become everything he wanted to be. ("Personal Jesus")
History Presentation
Edit
Tuck had a history presentation to give at school, so he got dressed up. He was embarrassed by his mother taking a picture of him on the drive to school because his tie wasn't straight. He later told his mother the presentation went well and he got a standing ovation from all the teachers. ("(Don't Fear) the Reaper")
Fire Alarm
Edit
Tuck pulled the fire alarm at his school to get Ben there as quickly as possible with no questions. He needed Ben's help because his friend Ava Linsley was in labor. Tuck then helped Ben and Vic deliver Ava's baby. To keep Tuck from getting in trouble, Ben told him to turn his sweatshirt inside out and cleaned his hands with a wipe so no one would know he had pulled the alarm. ("Invisible to Me")
Dia De Los Muertos
Edit
On Dia De Los Muertos, Tuck decorated a sugar skull and told his mom about the day. ("Flowers Grow Out of My Grave")
Learning Consent
Edit
After learning that Tuck was "talking to" a girl, Ben and Bailey decided they needed to talk to him about dating and consent and condoms. Ben offered to do it as his father had done for him. He took Tuck for burgers and explained to him that consent is necessary and if at any point, anyone he's with isn't having fun, everything stops. ("Silent All These Years")
Station Visit
Edit
Tuck visited Ben at the station and had a meal with him and the rest of the team. When Tuck left abruptly, Ben tried to stop him, but Tuck called him out on not having much time for them lately because of his Medic One training. At the end of the day, while driving Tuck home, he told him the story of what happened with Elliot and his daughter. Tuck agreed that it really sucked. Inspired by Elliot, however, Ben decided to spend the night outside with Tuck looking at the stars. ("The Dark Night")
Joey Phillips
Edit
When Joey Phillips was discharged without anywhere to go, Bailey took him to her house, where he played video games with Tuck. ("Snowblind")
Playing Basketball
Edit
Ben came home after a long shift to find Joey and Tuck playing basketball together. He then joined their game. ("Something About What Happens When We Talk")
Spaghetti Fundraiser
Edit
Tuck and Joey came with Bailey to the spaghetti dinner fundraiser to help raise money for Pruitt's funeral. They ate voraciously, then discussed their mutual desire to go down the fire pole, which Ben said they couldn't do. When they cleared their plates, they asked if they could go get more, which Ben said they could. ("The Ghosts That Haunt Me")
Relationships
Edit
His parents tried to conceive for ten years unsuccessfully when his mother was surprised to find she was pregnant.
His parents then divorced when he was three. By a few years later, his parents had both remarried. He gets along really well with his stepfather Ben Warren and even calls him dad.
Friendships
Edit
He is friends with Ava Linsley and they are in debate club together. ("Invisible to Me")
Notes and Trivia
Edit
George had a very close relationship to Tuck, as a result of him supporting Miranda during labor. He offered himself to take care of Tuck or entertain him whenever Tucker and Miranda were about to have a fight in the hospital.
Tuck dressed as a mad doctor for Halloween.
He plays the French horn. He was terrible at it at first, but Bailey didn't allow him to quit, and now he's first chair.[1]
He's in the school debate club.[2]
Episode Stills
Edit
Appearances
Edit
Grey's Anatomy

,

Season 2

#01
"Raindrops Keep Falling On My Head"
#10
"Much too Much"
#19
"What Have I Done to Deserve This?"
#02
"Enough is Enough"
#11
"Owner of a Lonely Heart"
#20
"Band-Aid Covers the Bullet Hole"
#03
"Make Me Lose Control"
#12
"Grandma Got Run Over By a Reindeer"
#21
"Superstition"
#04
"Deny, Deny, Deny"
#13
"Begin the Begin"
#22
"The Name of the Game"
#05
"Bring the Pain"
#14
"Tell Me Sweet Little Lies"
#23
"Blues for Sister Someone"
#06
"Into You Like a Train"
#15
"Break on Through"
#24
"Damage Case"
#07
"Something to Talk About"
#16
"It's the End of the World"
#25
"17 Seconds"
#08
"Let It Be"
#17
"As We Know It"
#26
"Deterioration of the Fight or Flight Response"
#09
"Thanks for the Memories"
#18
"Yesterday"
#27
"Losing My Religion"
Grey's Anatomy

,

Season 5

#01
"Dream a Little Dream of Me, Part 1"
#09
"In the Midnight Hour"
#17
"I Will Follow You Into the Dark"
#02
"Dream a Little Dream of Me, Part 2"
#10
"All By Myself"
#18
"Stand By Me"
#03
"Here Comes the Flood"
#11
"Wish You Were Here"
#19
"Elevator Love Letter"
#04
"Brave New World"
#12
"Sympathy for the Devil"
#20
"Sweet Surrender"
#05
"There's No 'I' in Team"
#13
"Stairway to Heaven"
#21
"No Good at Saying Sorry (One More Chance)"
#06
"Life During Wartime"
#14
"Beat Your Heart Out"
#22
"What a Difference a Day Makes"
#07
"Rise Up"
#15
"Before and After"
#23
"Here's to Future Days"
#08
"These Ties That Bind"
#16
"An Honest Mistake"
#24
"Now or Never"
Grey's Anatomy

,

Season 6

#01
"Good Mourning"
#09
"New History"
#17
"Push"
#02
"Goodbye"
#10
"Holidaze"
#18
"Suicide is Painless"
#03
"I Always Feel Like Somebody's Watchin' Me"
#11
"Blink"
#19
"Sympathy for the Parents"
#04
"Tainted Obligation"
#12
"I Like You So Much Better When You're Naked"
#20
"Hook, Line and Sinner"
#05
"Invasion"
#13
"State of Love and Trust"
#21
"How Insensitive"
#06
"I Saw What I Saw"
#14
"Valentine's Day Massacre"
#22
"Shiny Happy People"
#07
"Give Peace a Chance"
#15
"The Time Warp"
#23
"Sanctuary"
#08
"Invest in Love"
#16
"Perfect Little Accident"
#24
"Death and All His Friends"
Grey's Anatomy

,

Season 7

#01
"With You I'm Born Again"
#09
"Slow Night, So Long"
#17
"This is How We Do It"
#02
"Shock to the System"
#10
"Adrift and at Peace"
#18
"Song Beneath the Song"
#03
"Superfreak"
#11
"Disarm"
#19
"It's a Long Way Back"
#04
"Can't Fight Biology"
#12
"Start Me Up"
#20
"White Wedding"
#05
"Almost Grown"
#13
"Don't Deceive Me (Please Don't Go)"
#21
"I Will Survive"
#06
"These Arms of Mine"
#14
"P.Y.T. (Pretty Young Thing)"
#22
"Unaccompanied Minor"
#07
"That's Me Trying"
#15
"Golden Hour"
#08
"Something's Gotta Give"
#16
"Not Responsible"
Grey's Anatomy

,

Season 8

#01
"Free Falling"
#09
"Dark Was the Night"
#17
"One Step Too Far"
#02
"She's Gone"
#10
"Suddenly"
#18
"The Lion Sleeps Tonight"
#03
"Take the Lead"
#11
"This Magic Moment"
#19
"Support System"
#04
"What is It About Men"
#12
"Hope for the Hopeless"
#20
"The Girl with No Name"
#05
"Love, Loss and Legacy"
#13
"If/Then"
#21
"Moment of Truth"
#06
"Poker Face"
#14
"All You Need is Love"
#22
"Let the Bad Times Roll"
#07
"Put Me In, Coach"
#15
"Have You Seen Me Lately?"
#23
"Migration"
#08
"Heart-Shaped Box"
#16
"If Only You Were Lonely"
#24
"Flight"
Grey's Anatomy

,

Season 9

#01
"Going, Going, Gone"
#09
"Run, Baby, Run"
#17
"Transplant Wasteland"
#02
"Remember the Time"
#10
"Things We Said Today"
#18
"Idle Hands"
#03
"Love the One You're With"
#11
"The End is the Beginning is the End"
#19
"Can't Fight This Feeling"
#04
"I Saw Her Standing There"
#12
"Walking on a Dream"
#20
"She's Killing Me"
#05
"Beautiful Doom"
#13
"Bad Blood"
#21
"Sleeping Monster"
#06
"Second Opinion"
#14
"The Face of Change"
#22
"Do You Believe in Magic"
#07
"I Was Made for Lovin' You"
#15
"Hard Bargain"
#23
"Readiness is All"
#08
"Love Turns You Upside Down"
#16
"This is Why We Fight"
#24
"Perfect Storm"
Grey's Anatomy

,

Season 10

#01
"Seal Our Fate"
#09
"Sorry Seems to Be the Hardest Word"
#17
"Do You Know?"
#02
"I Want You With Me"
#10
"Somebody That I Used to Know"
#18
"You Be Illin'"
#03
"Everybody's Crying Mercy"
#11
"Man on the Moon"
#19
"I'm Winning"
#04
"Puttin' on the Ritz"
#12
"Get Up, Stand Up"
#20
"Go It Alone"
#05
"I Bet It Stung"
#13
"Take It Back"
#21
"Change of Heart"
#06
"Map of You"
#14
"You've Got to Hide Your Love Away"
#22
"We Are Never Ever Getting Back Together"
#07
"Thriller"
#15
"Throwing it All Away"
#23
"Everything I Try to Do, Nothing Seems to Turn Out Right"
#08
"Two Against One"
#16
"We Gotta Get Out of This Place"
#24
"Fear (of the Unknown)"
Grey's Anatomy

,

Season 13

#01
"Undo"
#09
"You Haven't Done Nothin'"
#17
"Till I Hear It From You"
#02
"Catastrophe and the Cure"
#10
"You Can Look (But You'd Better Not Touch)"
#18
"Be Still, My Soul"
#03
"I Ain't No Miracle Worker"
#11
"Jukebox Hero"
#19
"What's Inside"
#04
"Falling Slowly"
#12
"None of Your Business"
#20
"In the Air Tonight"
#05
"Both Sides Now"
#13
"It Only Gets Much Worse"
#21
"Don't Stop Me Now"
#06
"Roar"
#14
"Back Where You Belong"
#22
"Leave It Inside"
#07
"Why Try to Change Me Now"
#15
"Civil War"
#23
"True Colors"
#08
"The Room Where It Happens"
#16
"Who Is He (And What Is He To You)?"
#24
"Ring of Fire"
Grey's Anatomy

,

Season 14

#01
"Break Down the House"
#09
"1-800-799-7233"
#17
"One Day Like This"
#02
"Get Off on the Pain"
#10
"Personal Jesus"
#18
"Hold Back the River"
#03
"Go Big or Go Home"
#11
"(Don't Fear) the Reaper"
#19
"Beautiful Dreamer"
#04
"Ain't That a Kick in the Head"
#12
"Harder, Better, Faster, Stronger"
#20
"Judgment Day"
#05
"Danger Zone"
#13
"You Really Got a Hold on Me"
#21
"Bad Reputation"
#06
"Come on Down to My Boat, Baby"
#14
"Games People Play"
#22
"Fight For Your Mind"
#07
"Who Lives, Who Dies, Who Tells Your Story"
#15
"Old Scars, Future Hearts"
#23
"Cold as Ice"
#08
"Out of Nowhere"
#16
"Caught Somewhere in Time"
#24
"All of Me"
Grey's Anatomy

,

Season 15

#01
"With a Wonder and a Wild Desire"
#10
"Help, I'm Alive"
#19
"Silent All These Years"
#02
"Broken Together"
#11
"The Winner Takes It All"
#20
"The Whole Package"
#03
"Gut Feeling"
#12
"Girlfriend in a Coma"
#21
"Good Shepherd"
#04
"Momma Knows Best"
#13
"I Walk the Line"
#22
"Head Over High Heels"
#05
"Everyday Angel"
#14
"I Want a New Drug"
#23
"What I Did for Love"
#06
"Flowers Grow Out of My Grave"
#15
"We Didn't Start the Fire"
#24
"Drawn to the Blood"
#07
"Anybody Have a Map?"
#16
"Blood and Water"
#25
"Jump Into the Fog"
#08
"Blowin' in the Wind"
#17
"And Dream of Sheep"
#09
"Shelter from the Storm"
#18
"Add It Up"
Grey's Anatomy

,

Season 16

#01
"Nothing Left to Cling To"
#08
"My Shot"
#15
"Snowblind"
#02
"Back in the Saddle"
#09
"Let's All Go to the Bar"
#16
"Leave a Light On"
#03
"Reunited"
#10
"Help Me Through the Night"
#17
"Life on Mars?"
#04
"It's Raining Men"
#11
"A Hard Pill to Swallow"
#18
"Give a Little Bit"
#05
"Breathe Again"
#12
"The Last Supper"
#19
"Love of My Life"
#06
"Whistlin' Past the Graveyard"
#13
"Save the Last Dance for Me"
#20
"Sing It Again"
#07
"Papa Don't Preach"
#14
"A Diagnosis"
#21
"Put on a Happy Face"
Station 19

,

Season 1

#01
"Stuck"
#05
"Shock to the System"
#09
"Hot Box"
#02
"Invisible to Me"
#06
"Stronger Together"
#10
"Not Your Hero"
#03
"Contain the Flame"
#07
"Let It Burn"
#04
"Reignited"
#08
"Every Second Counts"
Station 19

,

Season 2

#01
"No Recovery"
#07
"Weather the Storm"
#13
"The Dark Night"
#02
"Under the Surface"
#08
"Crash and Burn"
#14
"Friendly Fire"
#03
"Home To Hold Onto"
#09
"I Fought the Law"
#15
"Always Ready"
#04
"Lost and Found"
#10
"Crazy Train"
#16
"For Whom the Bell Tolls"
#05
"Do a Little Harm..."
#11
"Baby Boom"
#17
"Into the Wildfire"
#06
"Last Day on Earth"
#12
"When It Rains, It Pours!"
References
Edit
Community content is available under
CC-BY-SA
unless otherwise noted.